STCC students build camera obscuras in their homes during lockdown
By LAURIE LOISEL
SPRINGFIELD, Mass. – In March 2020, when Sondra Peron, Springfield Technical Community College assistant professor of photography, sent students home for what she thought would be a few weeks, she was worried.
"What are we going to do?" she thought. "How am I going to teach photography without a darkroom?"
More than a year later, Peron and her students still haven't made it back to the STCC darkroom, but Peron came up with a novel workaround.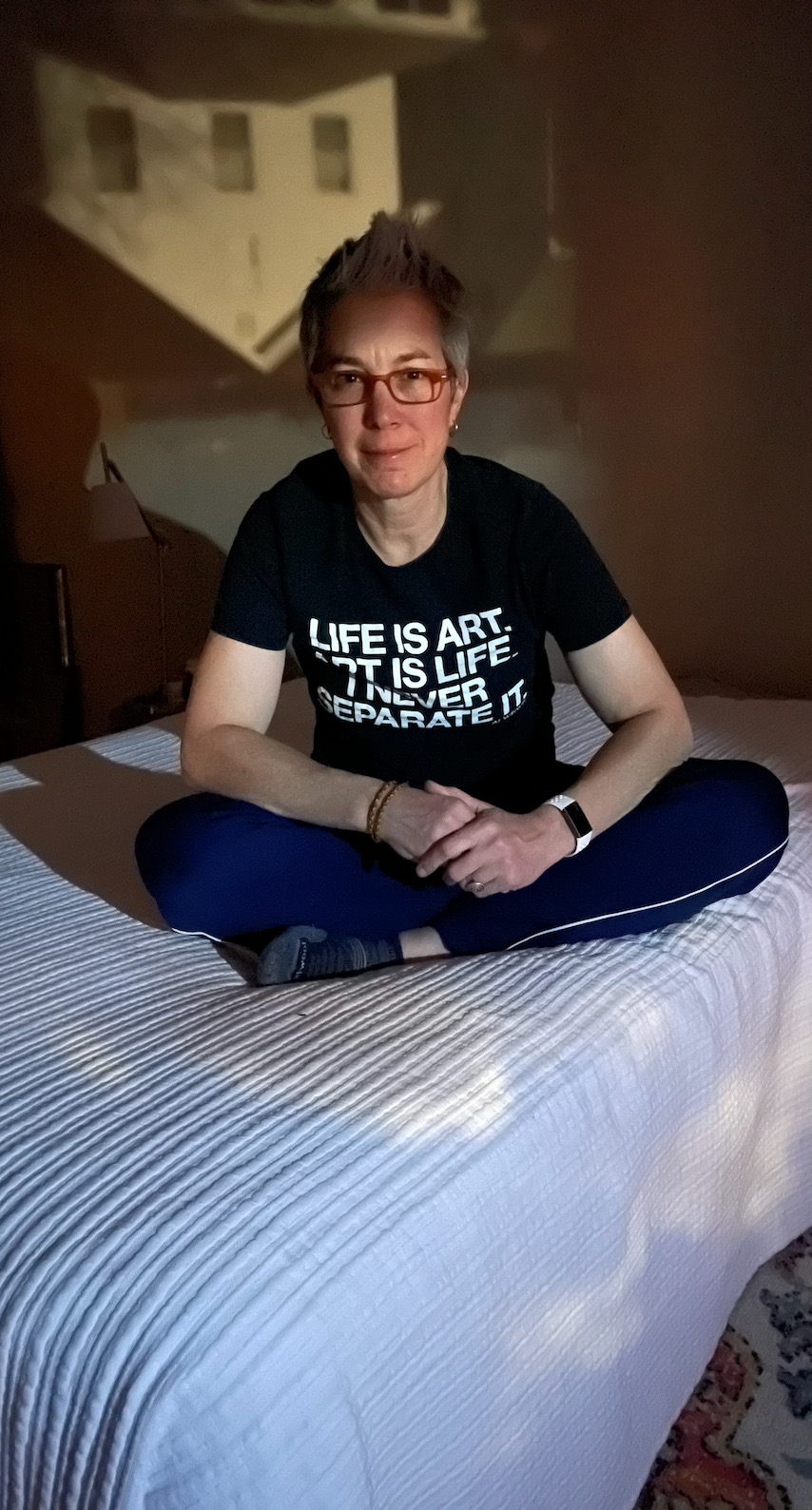 Four sections of students in her introduction to photography course – two in the fall semester and two more in the spring – basically built dark rooms in their homes. Technically speaking, the students built a camera obscura (Latin for dark chamber or dark room) which is a box-like device (or an entire room) that lets light inside to reflect images from outside in much the same way a camera works.
"I find it endlessly fascinating," said Peron, a Holyoke resident. "You're basically standing inside what functions as a kind of camera and that is also how the eye works."
In 2012, Peron turned her office off the Carberry Fine Arts Gallery on the STCC campus into a camera obscura and then began using it as a teaching tool.
Covering all the windows with black plastic, she then made a small hole – known in the language of photography as an aperture. Light coming through the aperture transforms into something amazing inside: It displays the scene outside upside down and reversed. What that looks like in her office is the scene on Pearl Street in Springfield, right outside the office windows, with trees, a parking lot, other buildings and the sky.
"On a beautiful day you can see it in full color and in motion," said Peron. "On the ceiling you see the ground, you see people walking and on the floor is the sky."
The set up shows students the technical aspects of how cameras work and the law of optics. It also, says Peron, inspires philosophical discussions around what is a camera, the role of time and slowing down to create art and the impermanence of art. In the camera obscura, students see that images reflected in the room are temporary, disappearing when the door opens, and that they take time to see.
"An image will not instantly appear, you have to give yourself a little bit of time to sit and be in the space," she said. She encourages students to think about what they want to take pictures of, inspired by the images created in the camera obscura.
"Instead of taking this machine gun approach to art making, it is very much about slowing down," she said. "It's very meditative."
Richard Greco, dean of the School of Liberal Arts and Professional Studies, said Peron's approach illustrates how technical learning at STCC runs through every program.
"There are technical elements to our science, technology, engineering and math (STEM) programs at STCC, but we strive to make sure that students also gain technical knowledge in liberal arts courses like the photography class," Greco said. "I'm thrilled that Professor Peron has figured out a way to bring the camera obscura into the students' homes and give them an engaging, hands-on learning experience."
Teaching hands-on experiences at STCC in an online environment
When Peron realized she would be teaching off site for an unknown period, she spent the summer months working with STCC's instructional design staff learning how to teach online, incorporating remote platforms and other technologies.
Quickly she realized that she could easily have photography students take pictures on their cellphones, even if they couldn't use the darkroom to develop images. For assignments, Peron sends students on scavenger hunts searching for images to capture on their phones.
But the camera obscura seemed harder to replicate at home. And then she had a brainstorm.
On a beautiful day you can see it in full color and in motion. On the ceiling you see the ground. You see people walking and on the floor is the sky. Sondra Peron,

Assistant Professor of Photography
"What if I have students build a camera obscura where they live with what they have?" she mused.
"It was a leap of faith," she said, and she knew it might not work. But it was a risk worth taking.
"I'm really passionate about this," she said in a Zoom interview from her home office. She was wearing a black t-shirt with white lettering that read Life is art. Art is life. I never separate it. "I really want people to think outside the box."
In preparation, she had students watch YouTube videos showing what a camera obscura is and how to make one. They watched the documentary "Shadow of the House," filmed over seven years, about Abelardo Morell, a Cuban-American photographer and his artistic process.
When time came to make their camera obscura, the only limitation she set was that they not purchase any supplies.
And this: "There's not one answer. There's an infinite number of possibilities."
How students built camera obscuras in their homes
Some students used black plastic, others used cardboard some used drapes or dark curtains and clips to make the aperture. Peron said she was delighted to see students engage others in their households to help.
"Some of them really got into it," she said. "Suddenly it turns into a team effort so whole families were involved."
Some students had never heard of a camera obscura and some couldn't quite believe they would actually project images, making the finished project all the more rewarding
"There is a 'wow' factor to this," she said. "When you actually see your neighbor's house appearing in your house, there is a wow."
One of those students from the fall semester, Genesis Gonzalez, was wowed.
Gonzalez said through trial and error with help from her sister, she managed to see the clouds from outside her second story window reflected inside her darkened room.
"I never knew that was possible," she said. "It was really cool to see how light works."
Peron said having students make their own camera obscuras turned out to be a much more enriching assignment than having them walk into one she had already made.
"This could fail, and I'm OK with that," she warned them. Most of them rose to the occasion. "There is an element of problem-solving that it wasn't before."
Peron said the project was so successful she imagines she'll find a way to incorporate it even after classes return to campus full time.
"There's kind of no going back. We have crossed the line."
Interested in applying to STCC? Visit stcc.edu/apply or call Admissions at (413) 755-3333.
About Springfield Technical Community College
STCC, the Commonwealth's only technical community college, continues the pioneering legacy of the Springfield Armory with comprehensive and technical education in manufacturing, STEM, healthcare, business, social services, and the liberal arts. STCC's highly regarded workforce, certificate, degree, and transfer programs are the most affordable in Springfield and provide unequalled opportunity for the vitality of Western Massachusetts. Founded in 1967, the college – a designated Hispanic Serving Institution – seeks to close achievement gaps among students who traditionally face societal barriers. STCC supports students as they transform their lives through intellectual, cultural, and economic engagement while becoming thoughtful, committed and socially responsible graduates.
MEDIA CONTACT:
Jim Danko, (413) 755-4812, jdanko@stcc.edu