STCC students celebrated for their entrepreneurial spirit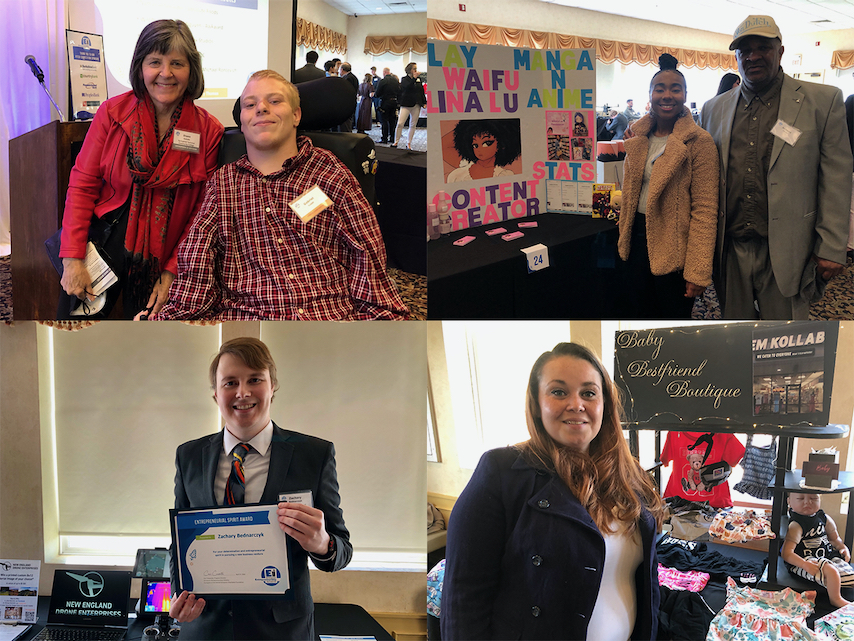 Top from left: Professor Diane Sabato with student Gabriel Luppi, student Jahlina Carter with her father, Anthony Carter; Bottom from left: Students Zachary Bednarczyk and Rena Gomez.
SPRINGFIELD, Mass. – Springfield Technical Community College students seized the opportunity to network and talk up their business ideas at the Grinspoon Entrepreneurship Initiative's celebratory event on April 27 at the Log Cabin in Holyoke.
The event put a spotlight on Grinspoon's 2022 Entrepreneurial Spirit Award winners and celebrated the entrepreneurial spirit of the region. Some students participated in a "live elevator pitch contest."
Four STCC students won Grinspoon Entrepreneurship Initiative Entrepreneurial Spirit Awards for 2022: Rena Gomez, Jahlina Carter, Zachary Bednarczyk and Mariah Flores.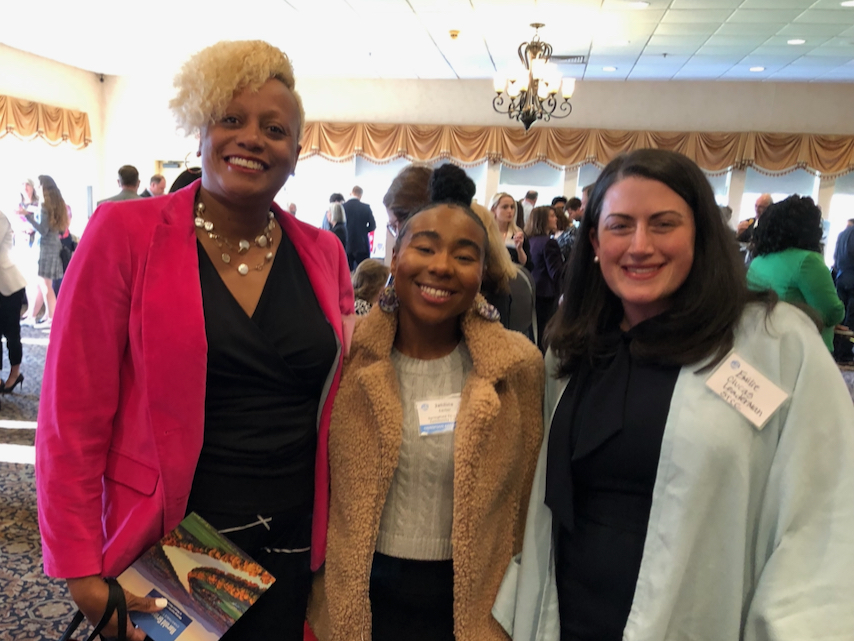 A fifth student, Gabriel Luppi, was the STCC Business Pitch Competition representative. He gave a 90-second pitch for his business idea, Wheeltronics Exotics. Luppi, a mechanical engineering student at STCC, uses a wheelchair and wants to own a business that enhances assistive technology.
STCC was one of 14 participating colleges. Several STCC faculty and staff came to the Log Cabin to support and congratulate the students for their achievement.
"I loved meeting STCC's talented student entrepreneurs and hearing their business pitches. It's exciting to see them being recognized," said Dr. Shai Butler, Vice President of Advancement and External Affairs. "We are proud of them and wish them the best as they balance their studies at STCC with their entrepreneurship."
Diane Sabato, a business professor at STCC who advises participating students, said the event provides a valuable opportunity.
"STCC has been a part of the Grinspoon Entrepreneurship Initiative since it started about 20 years ago," Sabato said. "We're part of a group of educators and an ecosystem in Western Massachusetts that supports students as they launch their businesses."
STCC offers a course in entrepreneurship as a business elective. Additionally, Sabato serves as an entrepreneurship liaison and assists students with business plans, connects them with resources and introduces them to a regional entrepreneurship network.
I feel exuberant. One month ago I didn't have any content creating platform and now I have reached (over 22,000) accounts in a month … I feel empowered. Jahlina Carter,

STCC student and Spirit Award winner
The STCC students, while all entrepreneurial-minded, are not necessarily studying business. They come from a range of academic disciplines. Rena Gomez, a medical assistant student at STCC, sells children's clothing through her business called Baby Best Friend Boutique, which was inspired by her love of dressing her five children. She was excited to be a part of the Grinspoon event.
"It's awesome. I like to help my community, and I do that with selling my clothes. They're not expensive, so the community can afford it," said Gomez of Chicopee.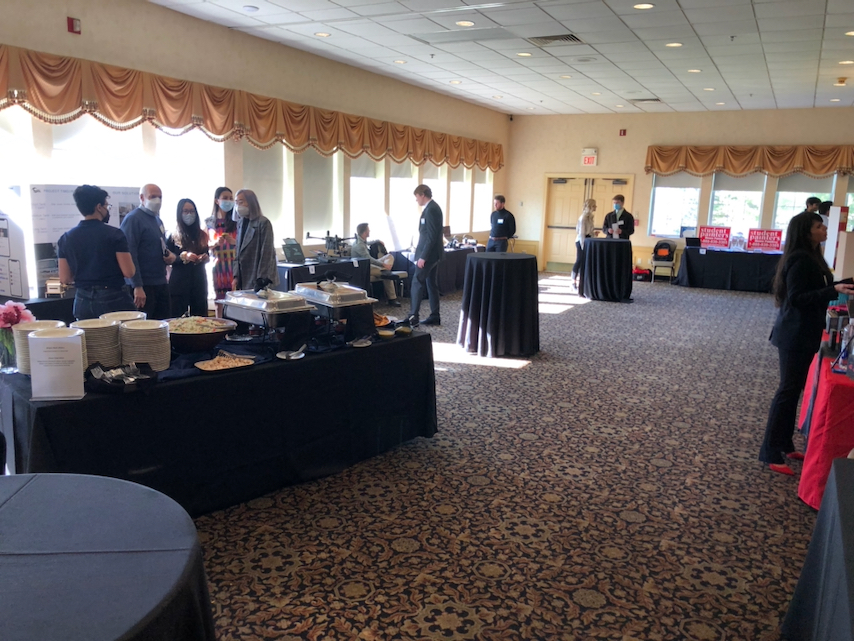 Student Jahlina Carter of Springfield, who is in the business transfer program at STCC, is following her passion as a content creator, which allows her to feature topics inspired by her love for anime and manga (comics or graphic novels originating from Japan), cosplay and her enthusiasm for beauty products. She calls her business Waifu Lina Lu.
"I feel exuberant," she said at the event. "One month ago I didn't have any content creating platform and now I have reached (over 22,000) accounts in a month … I feel empowered."
Zachary Bednarczyk of West Springfield founded New England Drone Enterprises at the start of the pandemic. He saw a unique opportunity while being out of work. He already had an LLC from a previous contracting job and decided to use it to put his knowledge of drones to use and start his business.
Bednarczyk is studying optics and photonics, which prepares engineering technicians with the knowledge and skills of lasers, optics, and electronics needed to design, test and maintain complex optics and photonics systems.
Bednarczyk described the Grinspoon event as a "big deal" for him and his fellow students.
"It's very exciting and also very nerve wracking because I don't know what to expect out of it," he said. "I spent the whole week running around trying to make sure I had everything perfect lined up for this event. It's a big deal because you get to network with a lot of people who may have similar interests, dissimilar interests or may have a vision for your product – or how you never envisioned it. You have an opportunity to grow."
Mechanical engineering technology student Gabriel Luppi of Holyoke calls his business Wheeltronics Exotics. He was selected as the business pitch competition representative.
"It's scary, but it's pretty good. I can give a 90-second pitch about what I want to do. I've wanted to do (custom) wheelchairs for so long," he said.
One of the spirit award winners, Mariah Flores, who studies nursing, has created a business called Fragrant Hearts that offers bath bombs, which are fun, fizzy, bubbly, effervescent spheres made of compressed ingredients that slowly dissolve and fizz in a bath of warm water.
Harold Grinspoon, real estate entrepreneur, founded the Grinspoon Entrepreneurship Initiative (EI) in 2003 (a program of the Harold Grinspoon Charitable Foundation) to elevate the importance of entrepreneurship and recognize entrepreneurial excellence among college students. A regional collaboration of Pioneer Valley Colleges and Universities, Grinspoon EI hosts two high-profile events, and recognizes outstanding students with Entrepreneurial Spirit Awards.
Interested in applying to STCC? Visit stcc.edu/apply or call Admissions at (413) 755-3333.
About Springfield Technical Community College
STCC, the Commonwealth's only technical community college, continues the pioneering legacy of the Springfield Armory with comprehensive and technical education in manufacturing, STEM, healthcare, business, social services, and the liberal arts. STCC's highly regarded workforce, certificate, degree, and transfer programs are the most affordable in Springfield and provide unequaled opportunity for the vitality of Western Massachusetts. Founded in 1967, the college – a designated Hispanic Serving Institution – seeks to close achievement gaps among students who traditionally face societal barriers. STCC supports students as they transform their lives through intellectual, cultural, and economic engagement while becoming thoughtful, committed and socially responsible graduates.
MEDIA CONTACT:
Jim Danko, jdanko@stcc.edu, (413) 755-4812