STCC students collaborate on motorcycle parking project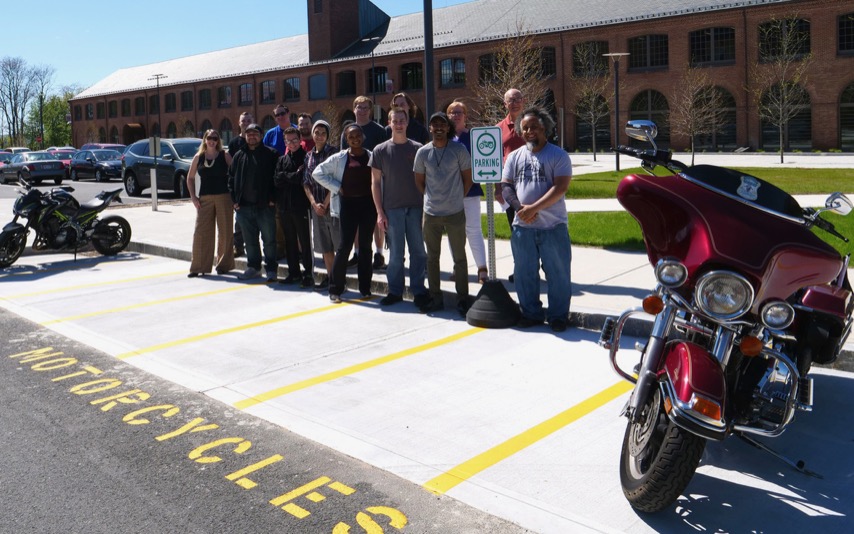 SPRINGFIELD, Mass. – Students from two different classes and majors at Springfield Technical Community College helped pave the way for a new motorcycle parking area on campus.
Students in classes taught by professors Beth McGinnis-Cavanaugh and Cynthia DeSellier collaborated with the STCC Facilities Department on the project.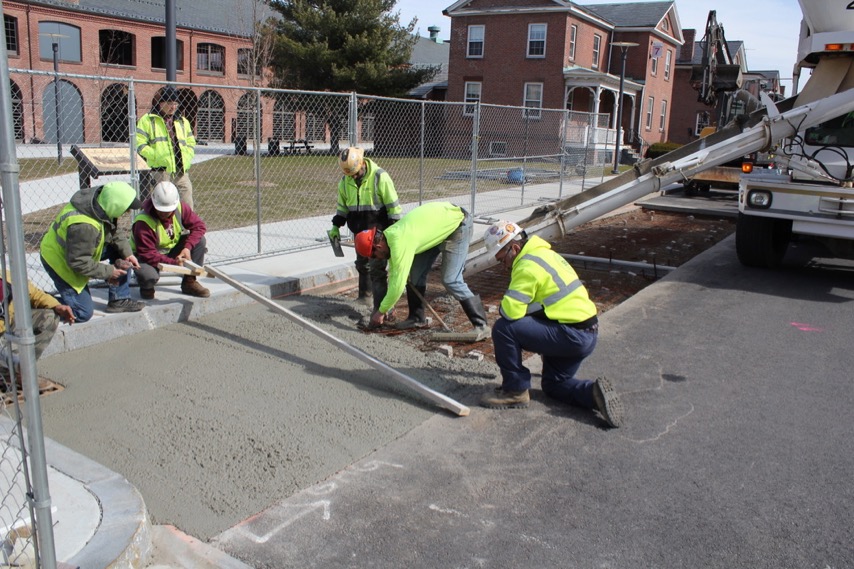 McGinnis-Cavanaugh's students – engineering transfer majors in a Strengths of Materials lab – and DeSellier's students – civil engineering students in a Structures class – gained insight into how the construction process works at a state institution, from site location and design to the bidding process and construction.
Students broke into teams of three to look at different potential locations to park motorcycles on campus. They considered why some places would work better than others. Students had to make decisions based on usage and constructability, among other factors.
Ultimately, it was decided to create a motorcycle pad near the Student Learning Commons, across from Building 13. The new pad is one of two designated motorcycle parking places on campus.
"This was a terrific, hands-on learning experience for the students," said McGinnis-Cavanaugh, a physics and engineering professor at STCC. "It brought them outside of the classroom and gave them the opportunity to apply theoretical concepts about structural design and engineering materials to an actual construction project. Additionally, it gave students the chance to work with the Facilities Department on a project that benefits their fellow students. We look forward to collaborating again in the future."
Interested in applying to STCC? Visit stcc.edu/apply or call Admissions at (413) 755-3333.
About Springfield Technical Community College
Founded in 1967 and located on 35 acres of the Springfield Armory National Historic Site, STCC is a major resource for the economic vitality of Western Massachusetts. As the only technical community college in Massachusetts, STCC, a designated Hispanic Serving Institution and an Achieving the Dream Leader College, offers a variety of career programs unequalled in the state. STCC's highly regarded transfer programs in business, engineering, liberal arts, science and technology continue to provide the most economical options for students pursuing a four-year degree. With an annual enrollment of more than 6,400 day, evening, weekend and online students, STCC is a vibrant campus rich in diversity.
For more information about STCC, visit www.stcc.edu. Follow us on Facebook, Twitter (@S_T_C_C) and Instagram (@stccpics).
MEDIA CONTACT:

Jim Danko, (4123) 755-4812, jdanko@stcc.edu