STCC students present their research at Arizona conference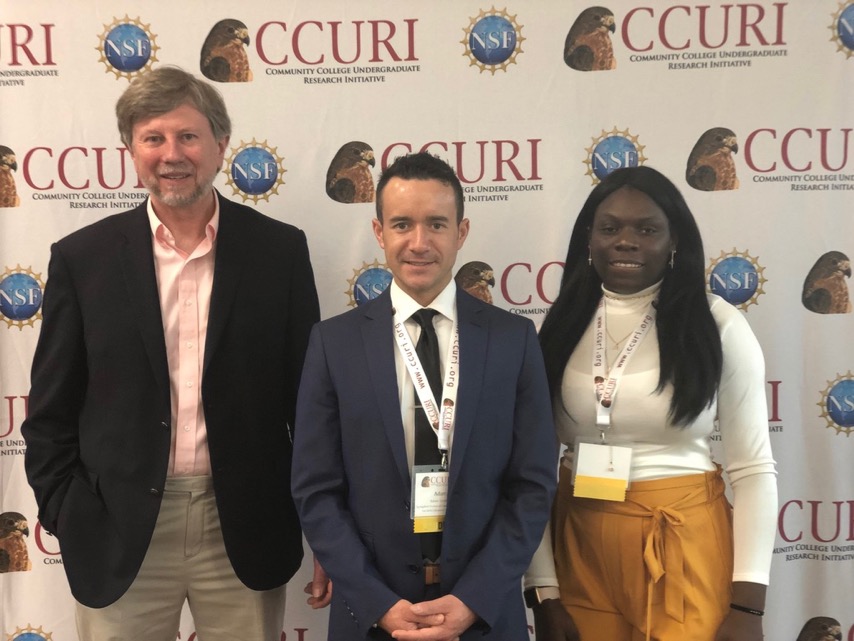 Left to right: Dr. Robert Dickerman, dean of Science and Engineering Transfer, and students Adam Lesieur and Altavise Chinn.
SPRINGFIELD, Mass. – Two Springfield Technical Community College students traveled to Arizona where they presented results of biological research projects they designed to other community college students and faculty from across the country.
STCC students Adam Lesieur, of Springfield, and Altavise Chinn, of Holyoke, said they were thrilled to get the opportunity to attend the annual meeting of the Community College Undergraduate Research Initiative (CCURI) in Glendale, Ariz., from Nov. 29-Dec. 1. They traveled with Robert Dickerman, dean of Science and Engineering Transfer at STCC.
"It was just a really great experience to be in a room full of students from all over the country," Chinn said. "I had never been on a plane before, so that was a new experience as well."
CCURI brings together a community of educators interested in providing authentic scientific research experiences to students at the community college level. More than 130 community college students from throughout the nation attended along with 40 professors and administrators.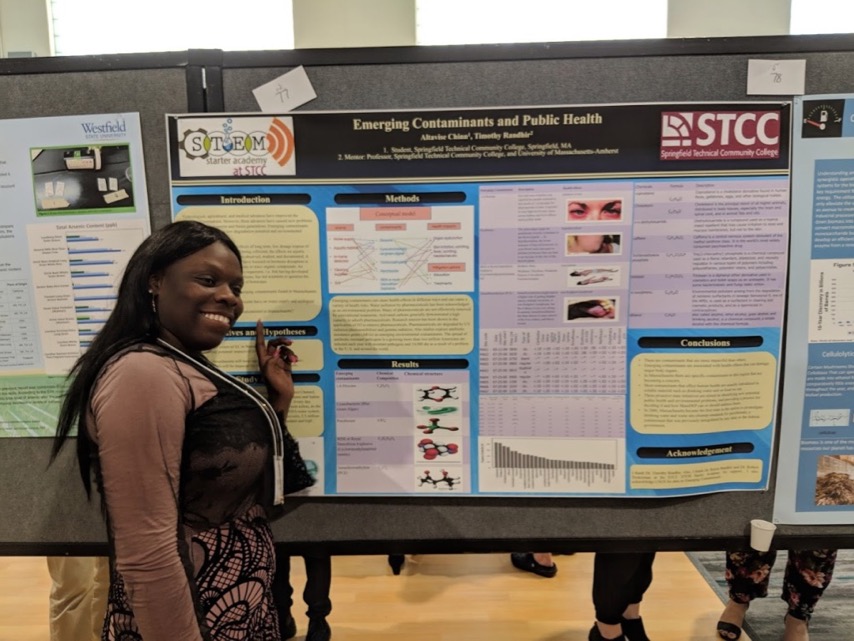 "A big part of science is communicating your results, and Adam and Altavise were given a chance to do just that in Arizona. The students learned a lot about the world of research while also gaining valuable experience in presenting in a professional environment," Dickerman said. "It was a great experience that was made possible through funding from the STEM Starter Academy."
The STEM Starter Academy is funded by a grant from the state legislature with the goal of helping more students enroll in and complete science, technology, engineering and math (STEM) programs at STCC and other community colleges in the state.
Among other initiatives, the STEM Starter Academy has for the last two summers helped fund students as they participate in the STCC course "Topics in Biological Research." Students taking the course explore the urban ecology of the STCC campus while also designing and completing a research project of their own.
Lesieur presented research on the impact of dams on watershed ecosystems. Chinn presented on emerging environmental contaminants and public health.
It was just a really great experience to be in a room full of students from all over the country. I had never been on a plane before, so that was a new experience as well. Altavise Chinn,

STCC student
Lesieur said he was excited to travel to Arizona and discuss his project with other students and faculty.
"It was a mixture of surprise and delight. I was honored to be asked," he said. "One of the highlights was meeting other students and getting to see the kind of scope in fields such as bioengineering, biotechnology and environmental sciences. The scope of work in terms of research is infinite. There's just so much there."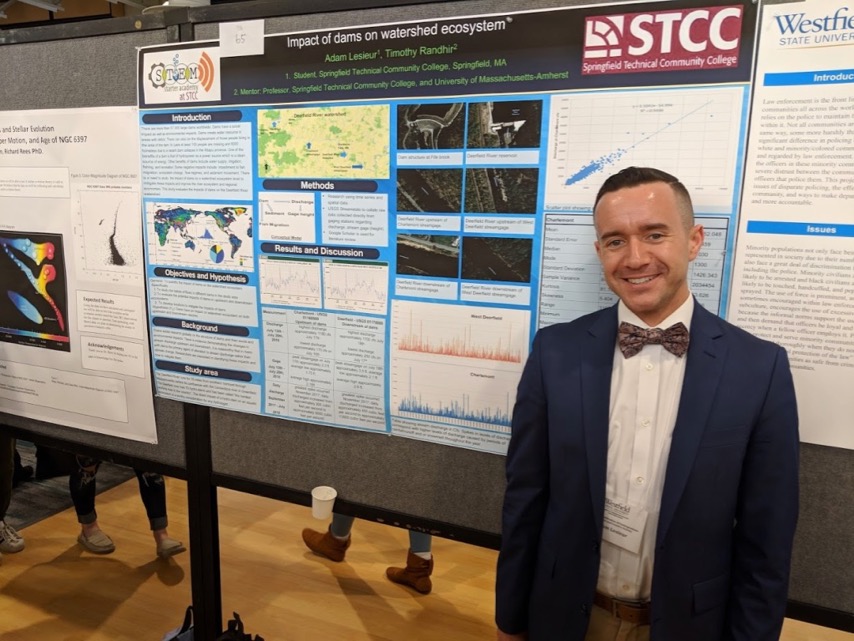 Now in his first year of two years at STCC as a biology transfer student, Lesieur hopes to transfer to a four-year institution after he receives his associate degree. His goal is to work in a hospital, possibly as a nurse or physician's assistant.
Chinn, who is enrolled in the pre-health option under general studies at STCC, presented her research on "emerging environmental contaminants and public health."
She had considered a career in nursing, but the Arizona experience has her rethinking her goals.
"I'm now thinking about some bioresearch fields," Chinn said.
Chinn enjoyed meeting new people and getting a chance to see a different part of the United States.
"It was wonderful to be in a room full of students from all over the country," she said. "I met students from Oregon. I met a girl from New Mexico. It was really cool to converse with people who were doing research like I did. Their projects were really amazing, too. Arizona really was an amazing experience."
President John B. Cook said the STCC experience extends beyond the campus borders.
"We're proud of Adam and Altavise and thrilled to give them an opportunity to travel and present their research," Cook said. "We encourage our students to take advantage of learning opportunities outside of the classroom, whether it's working as an intern at a Massachusetts business or traveling out of state for a conference."
Interested in applying to a STEM program at STCC? Spring semester classes start Jan. 22. Visit stcc.edu/apply or call Admissions at (413) 755-3333.
About Springfield Technical Community College
Founded in 1967 and located on 35 acres of the Springfield Armory National Historic Site, STCC is a major resource for the economic vitality of Western Massachusetts. As the only technical community college in Massachusetts, STCC, a designated Hispanic Serving Institution and an Achieving the Dream Leader College, offers a variety of career programs unequalled in the state. STCC's highly regarded transfer programs in business, engineering, liberal arts, science and technology continue to provide the most economical options for students pursuing a four-year degree. With an annual enrollment of more than 7,400 day, evening, weekend and online students, STCC is a vibrant campus rich in diversity.
For more information about STCC, visit www.stcc.edu. Follow us on Facebook, Twitter (@S_T_C_C) and Instagram (@stccpics).
MEDIA CONTACT:
Jim Danko, jdanko@stcc.edu, (413) 755-4812