STCC surgical technology instructor honored as clinical educator of the year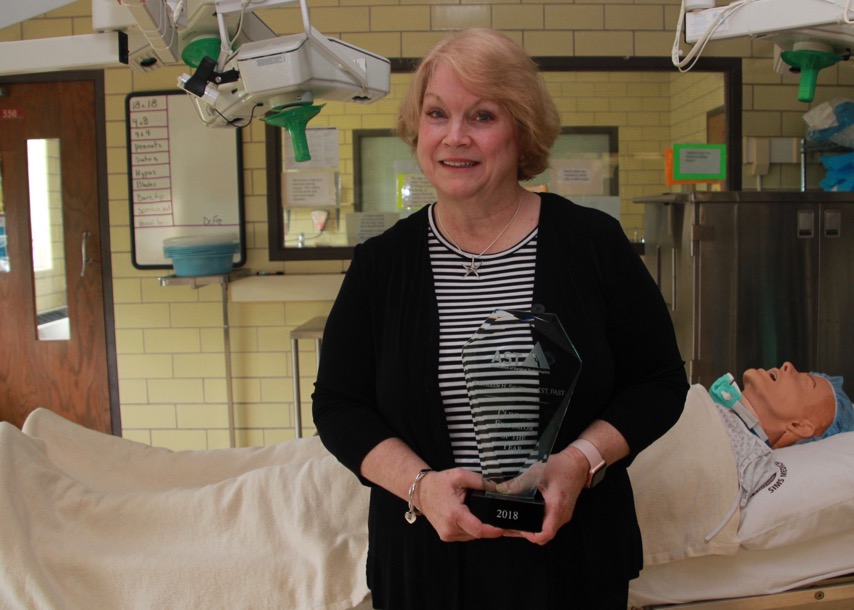 Kathleen Sawtelle holds her Clinical Educator of the Year Award in front of a patient simulator at STCC.
SPRINGFIELD, Mass. – A clinical and lab instructor in the surgical technology program at Springfield Technical Community College received the Clinical Educator of the Year Award for 2018.
Instructor Kathleen Sawtelle said she was surprised to hear her name called during the Association of Surgical Technologists 2018 conference in Lake Buena Vista, Fla., on May 31. She was at the conference as a delegate for the organization.
"It's a huge honor," said Sawtelle, of Enfield, Conn. "Nominees come from throughout the country. They narrowed it down to six finalists, and I was chosen for the award."
According to the Association of Surgical Technologists website, the award recognizes one clinical educator who has gone above and beyond the call of duty for students. Sawtelle received a $500 award, a trophy and recognition at the annual conference.
"I am very proud a clinical educator from the STCC community was chosen for this award," said Mary Jayne Rossman, program director and department chair for the Surgical Technology Program. "Kathy gives 110 percent of herself to the Surgical Technology Program here at STCC. We are fortunate to have such a strong advocate for our students."
Kathy gives 110 percent of herself to the Surgical Technology Program here at STCC. We are fortunate to have such a strong advocate for our students. Mary Jayne Rossman,

Chair for Surgical Technology Program
STCC Vice President of Academic Affairs Geraldine de Berly said, "We're proud to have faculty like Kathy Sawtelle, who bring a passion for their work into the classroom. She exemplifies dedication and professionalism and is most deserving of this award."
A 1976 graduate of STCC's surgical technology program, Sawtelle has worked in the field for 42 years. She has been coordinator of clinical education for the program at STCC for the past three years, and has taught at the college for 11 years.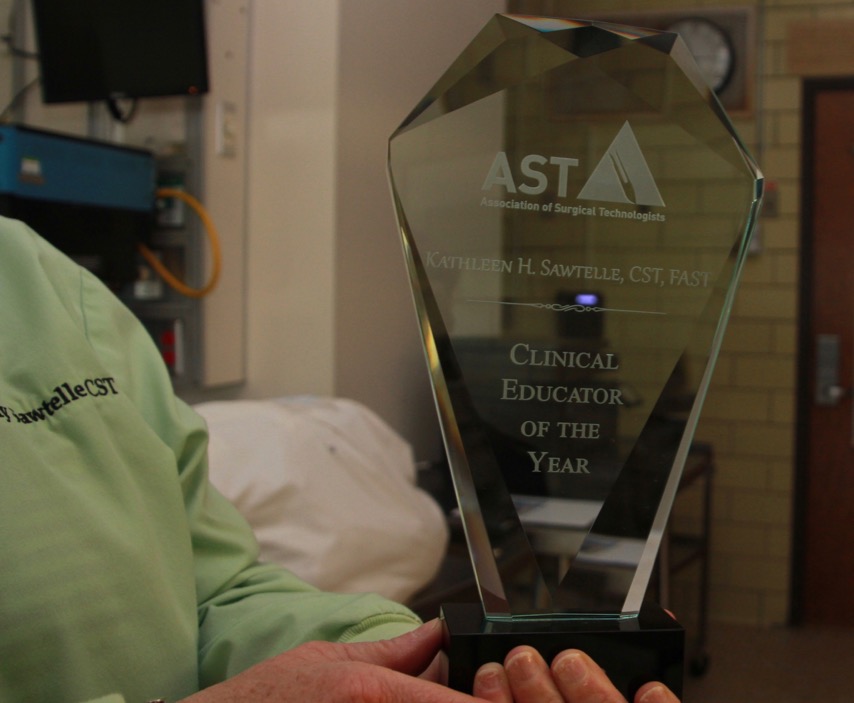 Sawtelle has worked as a certified surgical technologist at Baystate Medical Center in Springfield for 28 years and on a per diem basis for 10 years.
She previously received the designation of Fellow of the Association of Surgical Technologists (FAST), which recognizes surgical technologists who have upheld the highest professional, ethical and moral standards and traditions of the profession.
Surgical technologists are responsible for preparing the operating room and protecting patients from harmful bacteria. They arrange equipment and hand instruments to the surgeon, among other operating room responsibilities.
Sawtelle said she loves her work both in and out of the classroom.
"It's an outstanding field," she said. "It's my passion."
Interested in studying to be a surgical technologist? Apply to the program at www.stcc.edu/apply. For more information, call the STCC Admissions Office at (413) 755-3333.
To see jobs in this field, click here.
About Springfield Technical Community College
Founded in 1967 and located on 35 acres of the Springfield Armory National Historic Site, STCC is a major resource for the economic vitality of Western Massachusetts. As the only technical community college in Massachusetts, STCC, a designated Hispanic Serving Institution and an Achieving the Dream Leader College, offers a variety of career programs unequalled in the state. STCC's highly regarded transfer programs in business, engineering, liberal arts, science and technology continue to provide the most economical options for students pursuing a four-year degree. With an annual enrollment of more than 7,700 day, evening, weekend and online students, STCC is a vibrant campus rich in diversity.
For more information about STCC, visit www.stcc.edu. Follow us on Facebook and Twitter (@S_T_C_C).
MEDIA CONTACT:
Jim Danko, (413) 755-4812, jdanko@stcc.edu