STCC Theater Workshop to perform 10-minute plays May 3-6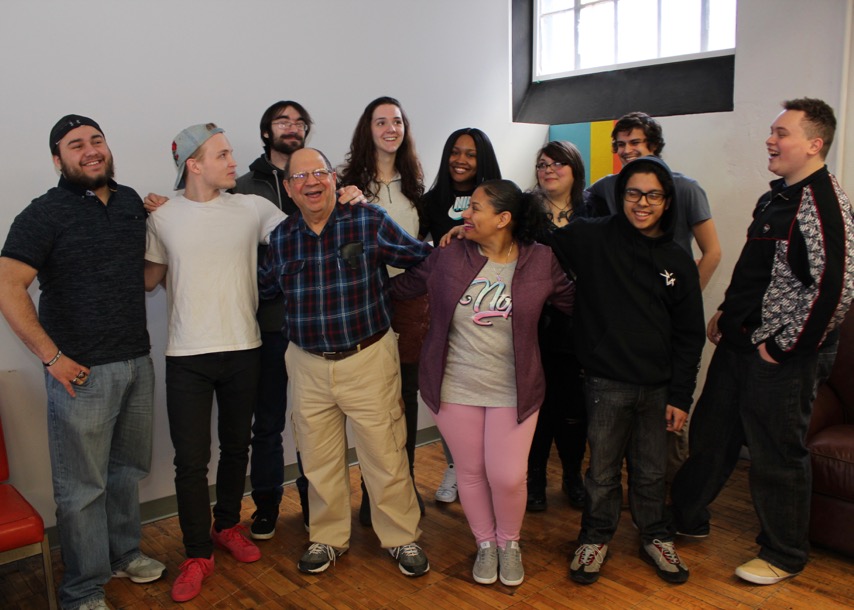 Members of the STCC Theater Workshop take a break from rehearsing the spring play, "All-Nighters: Original, 10-Minute Plays from 24-Hour Theater Festivals," which will be performed May 3-6. They are, from left: Ricangelo Faour, of Springfield; Stephen Osgood, of Chicopee; Justin Ryan, of Chicopee; Samuel Sam, of Westfield; Oliwia Bragiel, of Ludlow; Christal Vaz, of Springfield; Cynthia Claudio, of Chicopee; Madison Fischetto, of Agawam; Nick Serrano, of Springfield; Yeshua Rodriguez, of Springfield; and Daniel Pagan, of Springfield.
SPRINGFIELD, Mass. – Springfield Technical Community College Theater Workshop will perform five separate plays for its spring production, but they all share a common thread: The plays are only 10 minutes long and originally were written and performed in just 24 hours.
Phil O'Donoghue, an assistant professor of English and theater at STCC who wrote one of the plays, said audiences will have a chance to see students act out the original scripts created by Western Massachusetts playwrights.
"This is the first time we've done original scripts," he said.
The show, titled "All-Nighters: Original, 10-Minute Plays from 24-Hour Theater Festivals," will be performed at the theater in Scibelli Hall at STCC on the following dates and times:
Thursday, May 3, 11 a.m.
Friday, May 4, 7 p.m.
Saturday, May 5, 7 p.m.
Sunday, May 6, 2 p.m.
General admission tickets, available at the door, will cost $10 for adults and $5 for students.
Audiences will see all five plays during each performance: "Thrift Shop" by Emily Savin, "The Session" by O'Donoghue, "Surgery" by Peter Shelburne and "The Beast Within" and "Show Me Yours," both by Meryl Cohn.
"Two are funny, two are serious and one is surrealistic," O'Donoghue said. "It's a good mix."
All but "The Session" were written as part of the Northampton 24-Hour Theater Project, which was founded in 2002 by playwright Tanyss Martula. O'Donoghue wrote "The Session" for the University of Massachusetts' Play in a Day Festival, which followed the same creative process. Playwrights are given 12 hours, beginning at 7 p.m., to create separate one-act plays. At 7 a.m., the writers hand off their scripts to directors who then have 12 hours to work with actors and create finished plays to be performed in the evening.
Since 2002, 10-minute original plays have been produced about a dozen times through the Northampton 24-Hour Theater Project. O'Donoghue was an original member of the project's executive committee and wrote original scripts for 10 projects.
Proceeds from the Saturday night performance will benefit the Read/Write/Now Adult Literacy Program at Springfield City Library. The literacy program has helped adults achieve their educational dreams at no cost to them. Using a self-directed learning model, students in the program are taught to value the strengths and experiences they bring to learning.
"A beginning reader is not a beginning thinker," one student told Janet Kelly, manager of the literacy program.
"Our students have loved coming to performances in the past, so we're excited about this year's play," Kelly said.
O'Donoghue said the STCC Theater Workshop is thrilled to honor the Read/Write/Now Adult Literacy Program.
"For years this wonderful group has come to our student matinee and has always been enthusiastic and supportive," he said. "We are grateful and thank them for their support, and are hoping for a big house to do so."
About Springfield Technical Community College
Founded in 1967 and located on 35 acres of the Springfield Armory National Historic Site, STCC is a major resource for the economic vitality of Western Massachusetts. As the only technical community college in Massachusetts, STCC, a designated Hispanic Serving Institution and an Achieving the Dream Leader College, offers a variety of career programs unequalled in the state. STCC's highly regarded transfer programs in business, engineering, liberal arts, science and technology continue to provide the most economical options for students pursuing a four-year degree. With an annual enrollment of more than 7,700 day, evening, weekend and online students, STCC is a vibrant campus rich in diversity.
For more information about STCC, visit www.stcc.edu. Follow us on Facebook and Twitter (@S_T_C_C).
MEDIA CONTACT:
Jim Danko, (413) 755-4812, jdanko@stcc.edu