STCC to celebrate International Women's Day on March 8
SPRINGFIELD, Mass. – The Hispanic Association in Higher Education (HAHE) at Springfield Technical Community College will host the 14th Annual International Women's Day Celebration featuring discussions about challenges and adversities women face.
The public is invited to attend the event on Friday, March 8, between 6 p.m. and 8:30 p.m., in Scibelli Hall (Building 2), Seventh Floor, on the STCC campus. The event serves as a relaunch of the association's "Café Con Leche" series which highlights local community members making a difference in our communities.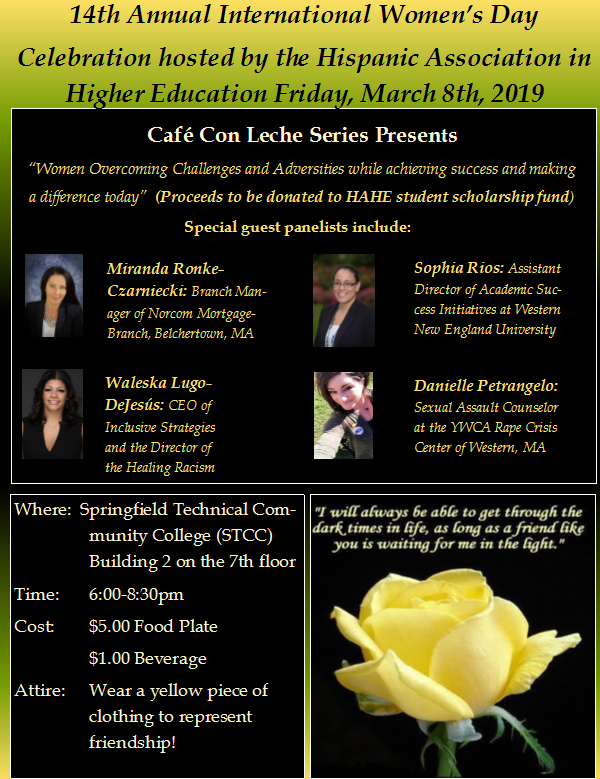 The cost is $5 for a food plate and $1 for a beverage. Attendees are asked to wear a yellow piece of clothing to represent friendship.
This year's theme is "Women Overcoming Challenges and Adversities While Achieving Success and Making a Difference Today."
"All women, friends and family are highly encouraged to attend this special presentation," said Jennifer Wallace-Johnson, chair of the Hispanic Association. "We have put together an amazing panel and are excited to hear them share their stories."
Speakers include:
Miranda Ronke-Czarniecki, Branch Manager, Norcom Mortgage of Belchertown
Sophia Rios, Assistant Director for Academic Success Initiatives at Western New England University
Waleska Lugo-DeJesús, CEO of Inclusive Strategies and the Director of the Healing Racism Institute of Pioneer Valley
Danielle Petrangelo, a sexual assault counselor at the YWCA of Western Massachusetts
If you have any questions, contact Jennifer Wallace-Johnson at (413) 755-4832.
About Springfield Technical Community College
Founded in 1967 and located on 35 acres of the Springfield Armory National Historic Site, STCC is a major resource for the economic vitality of Western Massachusetts. As the only technical community college in Massachusetts, STCC, a designated Hispanic Serving Institution and an Achieving the Dream Leader College, offers a variety of career programs unequalled in the state. STCC's highly regarded transfer programs in business, engineering, liberal arts, science and technology continue to provide the most economical options for students pursuing a four-year degree. With an annual enrollment of more than 7,400 day, evening, weekend and online students, STCC is a vibrant campus rich in diversity.
For more information about STCC, visit www.stcc.edu. Follow us on Facebook, Twitter (@S_T_C_C) and Instagram (@stccpics).
MEDIA CONTACT:
Jim Danko, (413) 755-4812, jdanko@stcc.edu