STCC to host panel discussion about documentary film exploring refugee crisis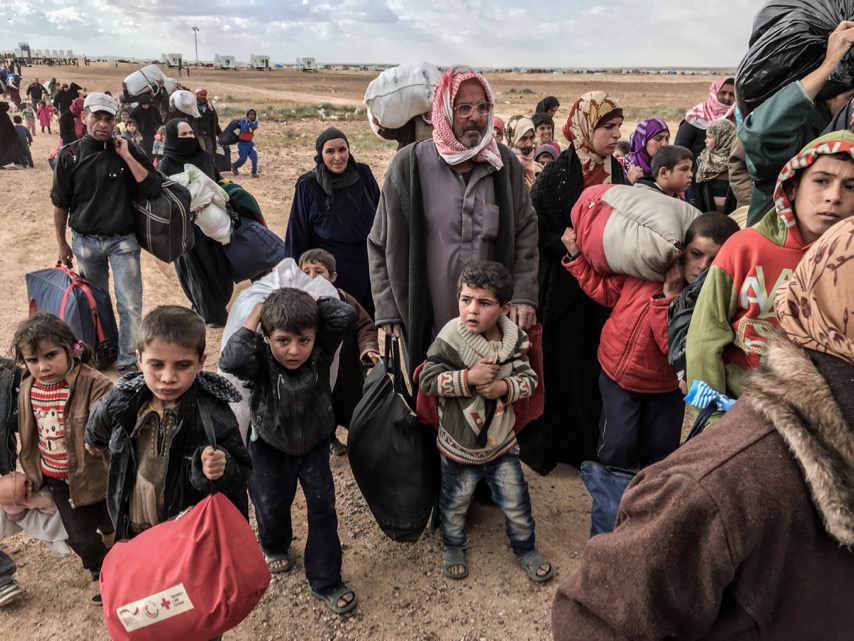 A scene from "Human Flow," an Amazon Studios release. Photo courtesy of Amazon Studios.
SPRINGFIELD, Mass. – Springfield Technical Community College will host a panel discussion about the powerful documentary film "Human Flow," which follows the forced migration of some of the more than 65 million refugees who exist in the world today.
The discussion follows an abbreviated screening of the documentary, which runs 2 hours and 20 minutes.
(Here's a link to the Human Flow Program).
Students and the public are invited to attend the free screening and panel discussion at 10 a.m. on Nov. 15 in Scibelli Hall Theater. The discussion will be streamed live on STCC's Facebook page. Additional seating will be available on the 7th Floor of Scibelli Hall, where attendees can watch a broadcast of the film and panel discussion.
Sondra Peron, coordinator of the Amy H. Carberry Fine Arts Gallery and cultural programming at STCC, will moderate the discussion with experts on the ongoing human migration.
"We want to unpack the complicated issues associated with the refugee crisis," Peron said. "We have a diverse population on our campus and in our community. The issues raised in the film and during the discussion will hit close to home for many people living in Western Massachusetts – residents who either came here as refugees or know refugees. The panel discussion is a tremendous opportunity for our students and the public to hear from speakers who are close to the crisis."
We think it will be an unforgettable experience for the students and community members who attend. John B. Cook,

President, STCC
The panel will include:
Kathryn Buckley-Brawner, executive director of Catholic Charities Agency of the Diocese of Springfield. She has worked with Catholic Charities and Catholic Relief Services for 15 years and has had the privilege of participating in the development projects in Haiti, Ethiopia, Tanzania and Burundi. In 2017, Catholic Charities became a Reception and Placement Agency site for the U.S. refugee resettlement program.
Maria Beatrice Castillo Canas, a refugee who was born in Ilobasco, El Salvador. She said the crime and violence in El Salvador forced her family to leave the country. "Here in the United States, we feel safe. We have no fear. … Our lives are changing, and there are many good people who help us, and we feel happy."
Ibrahim Nuru, who was born in Moshi, Tanzania. Nuru said he helped refugees in Africa and in the United States.
"Globally we are witnessing an unprecedented number of displaced persons," Buckley-Brawner said. "At the same time we are also experiencing a rise in fear, distrust and a seeming inability to comprehend the circumstances driving this flow of humanity. As a people, as individuals, we need to educate ourselves to the global forces that impel people to flee, to seek asylum, to risk all in that journey toward safety and wholeness. By increasing our understanding, we can break through the rhetoric of fear and begin the dialogue of compassionate response."
STCC President John B. Cook will introduce the panelists.
"The film and panel discussion presents a great opportunity for our students to learn about issues that are featured every day in the news," Cook said. "They will get to hear stories from people with first-hand experience dealing with the refugee crisis. We think it will be an unforgettable experience for the students and community members who attend."
Humanflow.com describes the film as "an epic film journey led by the internationally renowned artist Ai Weiwei (that) gives a powerful visual expression to this massive human migration.
"The documentary elucidates both the staggering scale of the refugee crisis and its profoundly personal human impact, following a chain of urgent human stories that stretches across the globe in countries including Afghanistan, Bangladesh, France, Greece, Germany, Iraq, Israel, Italy, Kenya, Mexico, and Turkey."
The project is supported in part with funding from the STCC Library. STCC digital media students, with guidance from Professor LuAnne Carbaugh, co-chair of Digitial Media Production, will record the event.
About Springfield Technical Community College
Founded in 1967 and located on 35 acres of the Springfield Armory National Historic Site, STCC is a major resource for the economic vitality of Western Massachusetts. As the only technical community college in Massachusetts, STCC, a designated Hispanic Serving Institution and an Achieving the Dream Leader College, offers a variety of career programs unequalled in the state. STCC's highly regarded transfer programs in business, engineering, liberal arts, science and technology continue to provide the most economical options for students pursuing a four-year degree. With an annual enrollment of more than 7,400 day, evening, weekend and online students, STCC is a vibrant campus rich in diversity.
For more information about STCC, visit www.stcc.edu. Follow us on Facebook, Twitter (@S_T_C_C) and Instagram (@stccpics).
MEDIA CONTACT:
Jim Danko, (413) 755-4812, jdanko@stcc.edu