STCC to offer free tax preparation assistance to Springfield community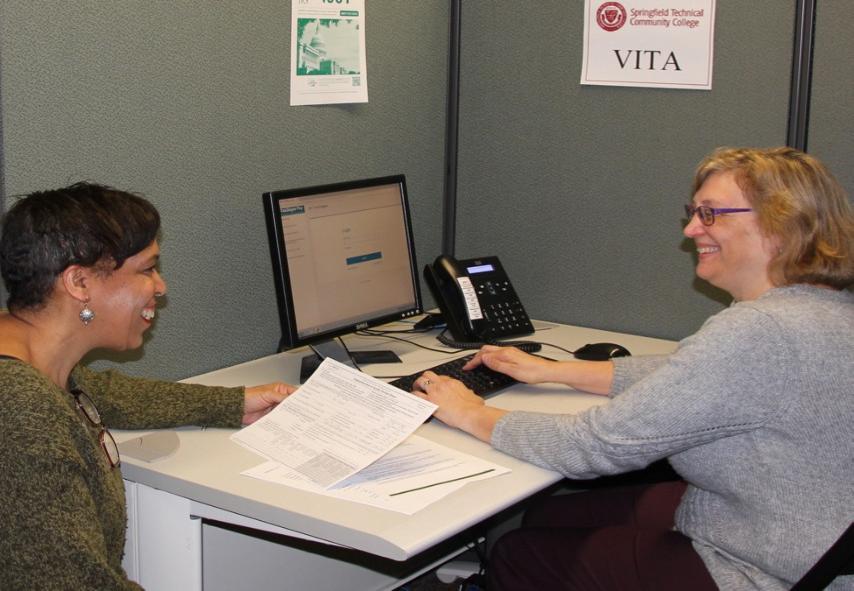 SPRINGFIELD, Mass. – Starting Jan. 24, Springfield Technical Community College (STCC) will once again offer free income tax filing assistance for low-to-moderate income taxpayers.
The Volunteer Income Tax Assistance (VITA) program will help STCC students and surrounding community residents prepare and file their basic federal and state tax returns. Tax help will be available by appointment from Wednesday, Jan. 24, through Saturday, April 14.
IRS-trained volunteers from the community, including STCC students, are certified to help filers prepare and securely submit their returns electronically. Volunteers are members of the Massachusetts Tax Assistance Coalition and can also prepare taxes for Connecticut and other surrounding states.
Administered through the School of Business and Information Technologies (SBIT), the service is available to area residents who make less than $54,000 a year, including taxpayers who are disabled, limited English speaking and/or elderly. The program will help filers claim all available tax credits including the Earned Income Tax Credit (EITC), Child Tax Credit, and Education credits.
"Through VITA, filers will get their refund just as fast as they would if they went to a commercial tax preparation company," said Janet Cummings, STCC's VITA site coordinator. "It can often cost as much as $200 to $300 to have an outside company prepare a family's taxes, but our program is free, so there's significant savings."
While this program is open to the community at large, STCC students are especially encouraged to use this resource to have their taxes prepared. Janet Cummings,

STCC's VITA site coordinator
The program serviced over 135 returns during its first year and the number increased to over 740 returns last year, said Leona Ittleman, STCC dean of the School of Business and Information Technologies. As a result, the program – now in its fifth year at STCC – returned over $1,601,000 in refunds and savings to the surrounding community.
Because of relationships with various financial literacy initiatives, one of the advantages of filing taxes at STCC is that clients can be referred to additional state and federal resources as well as local community services. One of the program's goals is to help students overcome economic barriers, continue with their education and move toward economic mobility.
"While this program is open to the community at large, STCC students are especially encouraged to use this resource to have their taxes prepared," Cummings said. "At STCC we want to fulfill the educational needs for our students, but we know they have many other issues and worries. We want to help improve their school-life balance. If you're a student, contact us for an appointment and let us help you check another task off your list."
Appointments are available Wednesdays through Fridays, 12:30 p.m. to 3:30 p.m., and Saturdays, 9 a.m. to 2 p.m. The VITA office is located in Scibelli Hall (Building 2), Room 414.
"It's a friendly atmosphere," Cummings said. "It's a place to go where people will understand what folks are going through. At VITA, there's no sales promotion, no pressure. We're just here to help them do their taxes."
Anyone who would like to take advantage of the VITA program can learn more by visiting www.stcc.edu/vita or calling (413) 755-4215 for an appointment. If accommodations for a disability are required to participate in this service, please let the office know when making an appointment. It may take up to two weeks to accommodate some requests.
About Springfield Technical Community College
Founded in 1967 and located on 35 acres of the Springfield Armory National Historic Site, STCC is a major resource for the economic vitality of Western Massachusetts. As the only technical community college in Massachusetts, STCC, a designated Hispanic Serving Institution and an Achieving the Dream Leader College, offers a variety of career programs unequalled in the state. STCC's highly regarded transfer programs in business, engineering, liberal arts, science and technology continue to provide the most economical options for students pursuing a four-year degree. With an annual enrollment of more than 7,700 day, evening, weekend and online students, STCC is a vibrant campus rich in diversity.
For more information about STCC, visit www.stcc.edu. Follow us on Facebook and Twitter (@S_T_C_C).
PHOTO CAPTION:
Janet Cummings, right, STCC's VITA site coordinator, sits down with Linda Belton, Chair, Office Information Technologies, in a space where qualifying students and community residents can get their taxes completed for free.
FOR APPOINTMENT:
Call (413) 755-4215