STCC to offer 'green' major
Real Estate Planning and Sustainable Development addresses environmental concerns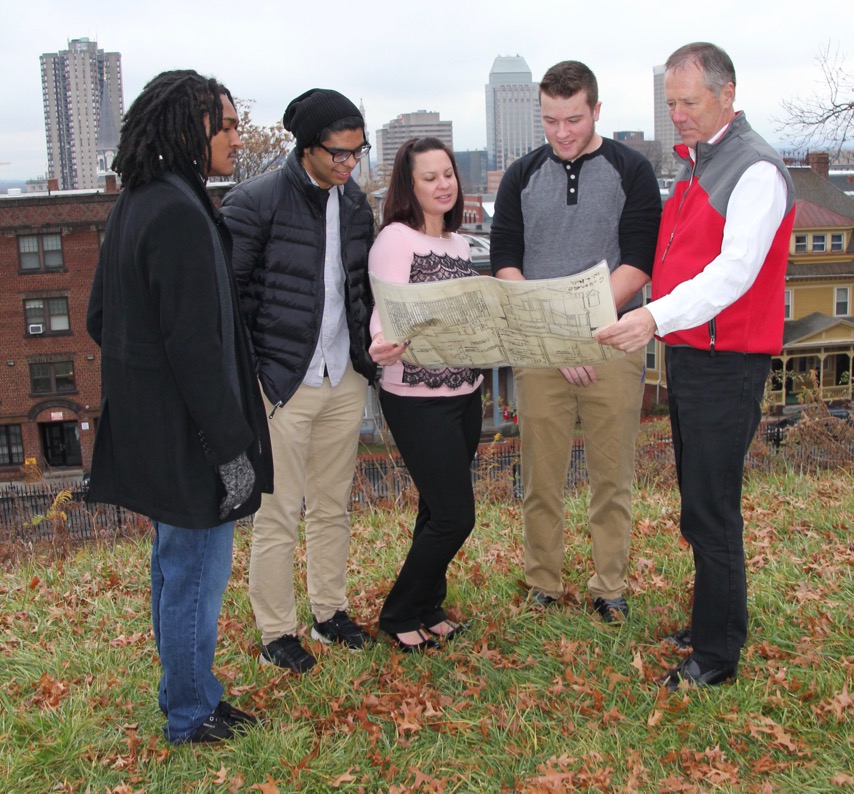 From left to right: Springfield Technical Community College students Marquez Pharms, Isaac Hearn, Melanie Gagnon and Derek Tripp stand with Professor Warren Hall. The Springfield skyline is visible in the background. Hall developed a new program called Real Estate Planning and Sustainable Development.
SPRINGFIELD, Mass. – Melanie Gagnon, a working student who is in real estate sales, sees a new program at Springfield Technical Community College as a terrific opportunity to take her career to a higher level.
"I personally don't want to devote my life 100 percent to just selling houses," said Gagnon, 36, of Springfield. "I don't want to be residential. I want to be a part of bigger things, and this helps."
What types of bigger things? That could mean possibly working as a community or regional planner, or taking a job that requires emergency planning such as when a city is devastated by a natural disaster.
Gagnon is one of four students currently pursuing a degree through a new STCC major called Real Estate Planning and Sustainable Development. Professor Warren Hall, department chair in the Architecture and Building Technology program at STCC, developed the option for students like Gagnon and others who have an eye on a career in sustainable community development, architectural design or a related field.
Real Estate Planning and Sustainable Development provides students with necessary training and an affordable path to a bachelor's degree, or even a master's degree, said Hall, who served for seven years on the Planning Board in Pelham and also was Pelham's commissioner to the Pioneer Valley Planning Commission.
The fact is with so much of what we do today we need to look through that lens of sustainability. That's something the industry has been stressing. Warren Hall,

Professor, Architecture and Building Technology
Hall said the new program was designed in response to changes in the building and planning industry.
"The fact is with so much of what we do today we need to look through that lens of sustainability," Hall said. "That's something the industry has been stressing."
"Sustainability" in community development refers to the concept of planning to meet not only the current needs of residents, but to ensure adequate resources are available for future generations. Hall teaches students to consider factors such as the environmental impact of community development. Sustainable development also considers the social impact involved with urban growth and sprawl.
Real Estate Planning and Sustainable Development is one of three options in STCC's Architecture and Building Technology program. The others are Architecture and Project Management. The new option officially starts in fall 2017.
The Real Estate Planning and Sustainable Development major was created for students who plan to complete at least their bachelor's degree after earning their associate degree from STCC. After earning a bachelor's degree, students may choose to explore career options, but they also might decide to continue their academic studies in a variety of graduate-degree programs, such as Master of Architecture, Master of Design Studies or Master of Regional Planning.
Hall highlighted one of the exciting and affordable options his students can choose: They can continue to earn their master's in regional planning through a unique "2+2+1" agreement between STCC and the University of Massachusetts at Amherst.
Students complete two years at STCC and then transfer to UMass or Westfield State University for another two years to receive a bachelor's degree. After earning the bachelor's degree, they would enroll in a one-year master's in regional planning program at UMass.
"These students can have a master's degree in regional planning in five years. That's amazing," Hall said.
In the first year at STCC, students will build a solid foundation in the areas of architectural design, construction estimating, computer aided design and fine arts.
In the second year, they will study in-depth community planning, building codes, sustainability and the built environment as well as the principles of real estate and real estate development.
As a MassTransfer degree program, Real Estate Planning and Sustainable Development allows students to transfer all of their credits, and when they complete the program with a 3.0 or higher GPA, attend UMass with "tuition assistance," making their second two years virtually tuition free.
Derek Tripp, 22, of Palmer, one of Hall's students, switched from Architecture to Real Estate Planning and Sustainable Development because of the opportunities he says a degree will present. He hopes to continue at UMass and eventually earn his master's degree.
"Community planning is a good way to have a nice, steady job," Tripp said. "I'm interested in real estate but I always liked sustainable development. It teaches you about green energy and the long-term impact of decisions. You learn about the big picture."
Tripp plans to obtain his real estate broker's license while seeking his master's degree. With a license, he can sell houses part-time to work his way through college.
Professor Hall said his new program is a good fit for people working in real estate sales or taking courses through STCC's Workforce Training non-credit programs.
Day and night classes are available, which allows working students the flexibility of taking classes during times that fit their own personal schedules.
Once they have their degrees, graduates will have many options, Hall said. They might want to stay in Western Massachusetts and work for a town, a city or a regional agency such as the Pioneer Valley Planning Commission. Some may want to relocate to big cities, which sometimes employ hundreds of planners who need to deal with social issues and environmental disasters.
He cited Hurricane Sandy as an example of a disaster that requires skilled planners. The storm flooded streets, tunnels and subway lines in New York City in 2012.
"You've got to have people who are educated, who can write proposals and who can work with the federal government to get grants and federal aid," Hall said. "Those are all the things you're going to learn in an undergraduate and graduate level. There's definitely a call for this profession. These are interesting careers. They're not just careers where you're sitting in an office. You're very active. I think it is exciting stuff."
If you're interested in applying for the Real Estate Planning and Sustainable Development program, call STCC Admissions at (413) 755-3333. You also can apply online: www.stcc.edu.
For more details about the new program, click here.
About Springfield Technical Community College
Founded in 1967 and located on 35 acres of the Springfield Armory National Historic Site, STCC is a major resource for the economic vitality of Western Massachusetts. As the only technical community college in Massachusetts, STCC, an Achieving the Dream Leader College, offers a variety of career programs unequalled in the state. STCC's highly regarded transfer programs in business, engineering, liberal arts, science and technology continue to provide the most economical options for students pursuing a four-year degree. With an annual enrollment of more than 8,500 day, evening, weekend and online students, STCC is a vibrant campus rich in diversity.
For more information about STCC, visit www.stcc.edu. Follow us on Facebook and Twitter (@S_T_C_C).
Media Contact: Jim Danko, (413) 755-4812, jdanko@stcc.edu