STCC unveils new name for online cybersecurity program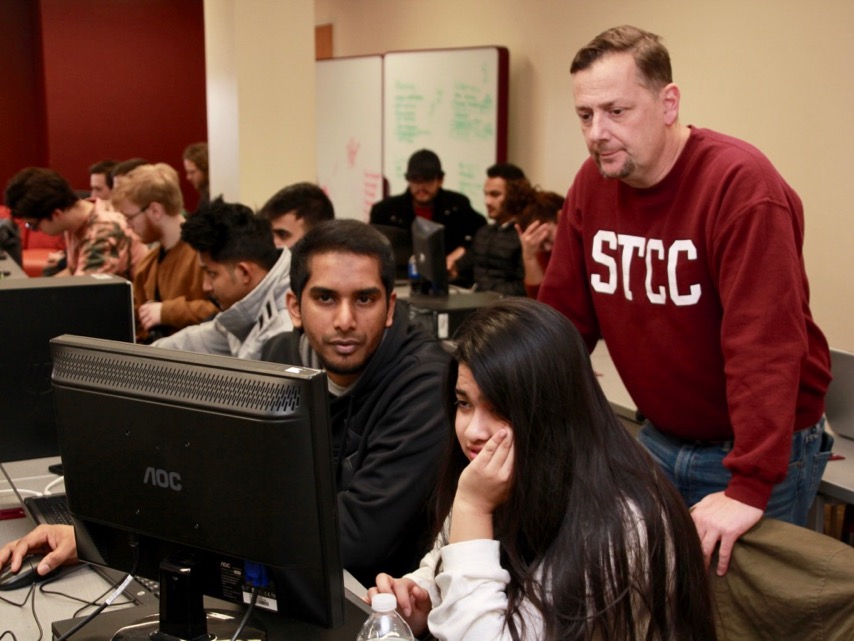 SPRINGFIELD, Mass. – About 20 years ago, the computer and information technology security program at Springfield Technical Community College was breaking new ground.
With the internet growing rapidly, security threats were becoming a serious problem for companies which needed to hire people to help protect their systems.
"STCC really was a pioneer, certainly for community colleges, with a cybersecurity program," said Jason Alves, an assistant professor of computer technologies.
The name "cybersecurity," however, wasn't universally accepted. Like many colleges and universities, STCC went with the name computer and information technology security, or CITS.
But today, "cybersecurity" is part of the industry's lexicon. STCC decided it was time for a name change to reflect mainstream language used both by those in the industry and the general public, said Lara Sharp, dean of the School of STEM.
"It made sense to change the name to something that's more industry standard," added Alves.
After receiving a request from the college, the state Department of Higher Education approved the program title change, which went into effect June 15. The DHE also approved name changes for two other programs.
The Computer and IT Security degree and certificate programs are now known as "Cybersecurity." The Microcomputer Specialist Certificate is now known as "Help Desk Associate."
Sharp noted that the programs are taught completely online, which provides convenience and flexibility.
The Cybersecurity program gives students the option to pursue a two-year associate degree or one-year certificate.
Courses in Cybersecurity at STCC focus on topics including access, control systems, network security concepts, security management and more. Students learn Python, a high level programming language commonly used for developing websites and software.
STCC really was a pioneer, certainly for community colleges, with a cybersecurity program. Jason Alves,

Assistant Professor of Computer Technologies
The Cybersecurity program prepares students to work in an industry where there are too few professionals to fill available positions. Cybersecurity, which focuses on the protection of computers, systems, networks and data from digital attacks, continues to be a fast-growing field.
Alves said more companies and organizations are facing cyberattacks, which can be costly and threaten security. Companies depend on cybersecurity staff for protection and to educate employees working with computers.
Jobs include information security analysts who earn $102,600 a year (2021 median pay), according to the U.S. Bureau of Labor Statistics. The BLS reports the job growth rate between 2020 and 2030 is 33 percent, which is much faster than average)
The Help Desk Associate certificate program prepares students for an entry level Information Technology (IT) help desk position.
The BLS reports that computer support specialists earned a median pay of $57,910 in 2021. Projected job growth between 2020 and 2030 is 9 percent.
Cybersecurity at STCC is part of the evolution of one of STCC's legacy programs. When the college was founded in 1967, students could enroll in a program called "Data Processing Technology."
Today, students who enroll in cybersecurity or another program option, computer programming, will work toward an associate degree. They also have the option to pursue a one-year certificate in those programs.
Sharp said there may be a new name, but students should expect the same high quality experience the program has always offered.
Alves teaches upper level information security classes. Other faculty include Professor Brian Candido, who teaches operating systems classes and programming classes. Professor Wesley Crouch teaches networking.
The professors offer skill-building instruction and are available and supportive of their students, Sharp said.
They help students understand the technical material, but also guide them so they know "soft skills" to strengthen interpersonal skills needed in all industries, Sharp said.
"We have a well-established and highly regarded program with excellent faculty, including professors Alves, Candido and Crouch," Sharp said. "STCC is the only technical community college in Massachusetts. Students who choose to study cybersecurity or any of our computer information technology programs know they have made a smart investment in their future."
Interested in applying to STCC? Visit stcc.edu/apply or call Admissions at (413) 755-3333.
About Springfield Technical Community College
STCC, the Commonwealth's only technical community college, continues the pioneering legacy of the Springfield Armory with comprehensive and technical education in manufacturing, STEM, healthcare, business, social services, and the liberal arts. STCC's highly regarded workforce, certificate, degree, and transfer programs are the most affordable in Springfield and provide unequaled opportunity for the vitality of Western Massachusetts. Founded in 1967, the college – a designated Hispanic Serving Institution – seeks to close achievement gaps among students who traditionally face societal barriers. STCC supports students as they transform their lives through intellectual, cultural, and economic engagement while becoming thoughtful, committed and socially responsible graduates.
MEDIA CONTACT:
Jim Danko, (413) 755-4812, jdanko@stcc.edu