STCC welcomes artist-in-residence during Black History Month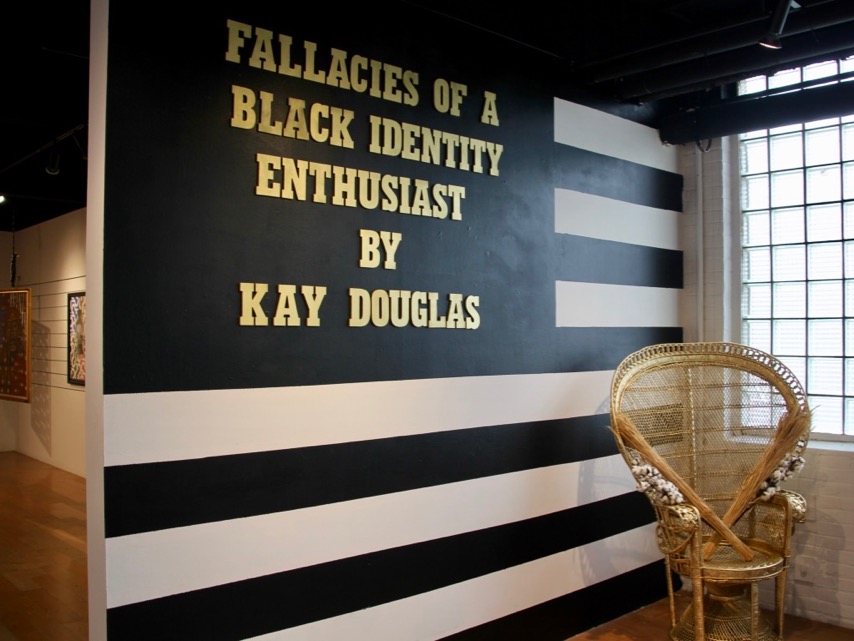 SPRINGFIELD, Mass. – Springfield Technical Community College will feature artist-in-residence Kiayani Douglas throughout Black History Month, including a kickoff event on Saturday, Feb. 8.
Her exhibit, "Fallacies of a Black Identity Enthusiast," is on view through Feb. 29 at the Amy H. Carberry Fine Arts Gallery in Building 28.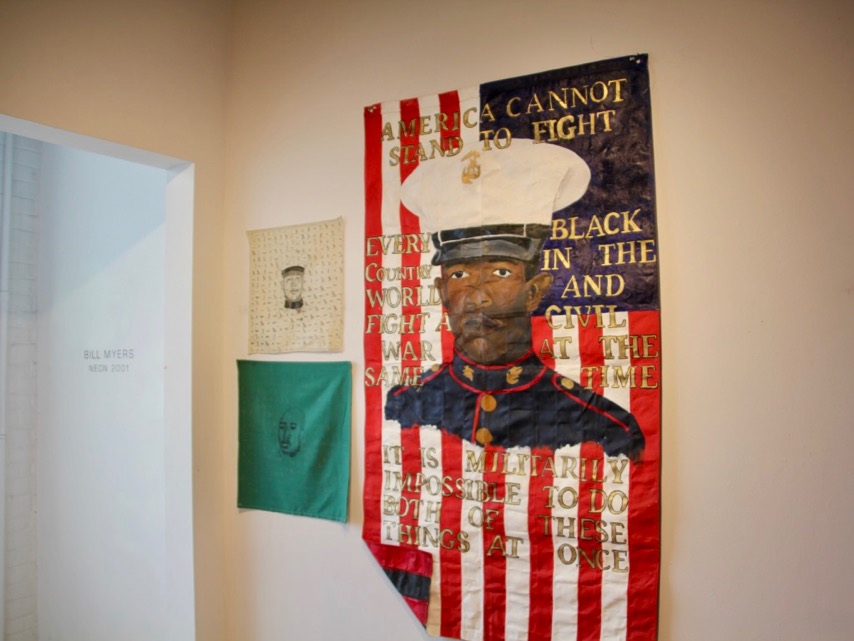 The public is invited to an evening celebration with Douglas on Saturday, Feb. 8, 6 p.m. to 8 p.m. Light refreshments will be served. All gallery events are free and open to the public.
Other Black History Month events featuring the artist include:
Wednesday, Feb. 12: Wearable art workshop in the gallery, 10 a.m.-1:30 p.m.
Thursday, Feb. 27: Special artist talk held at the Student Learning Commons (Building 19) Forum, 10 a.m.-11:30 a.m.
Douglas has spent the last three years developing an interdisciplinary body of work called Black Identity Enthusiast, which is geared toward curating conversations rooted in race history and privilege.
She uses the Black Panthers Party for Self-Defense 10-Point Program to critique and make visual connections to social injustices that have plagued African Americans.
According to Sondra Peron, the Amy H. Carberry Fine Arts Gallery coordinator, Douglas' talents as an educator and an artist come together effortlessly to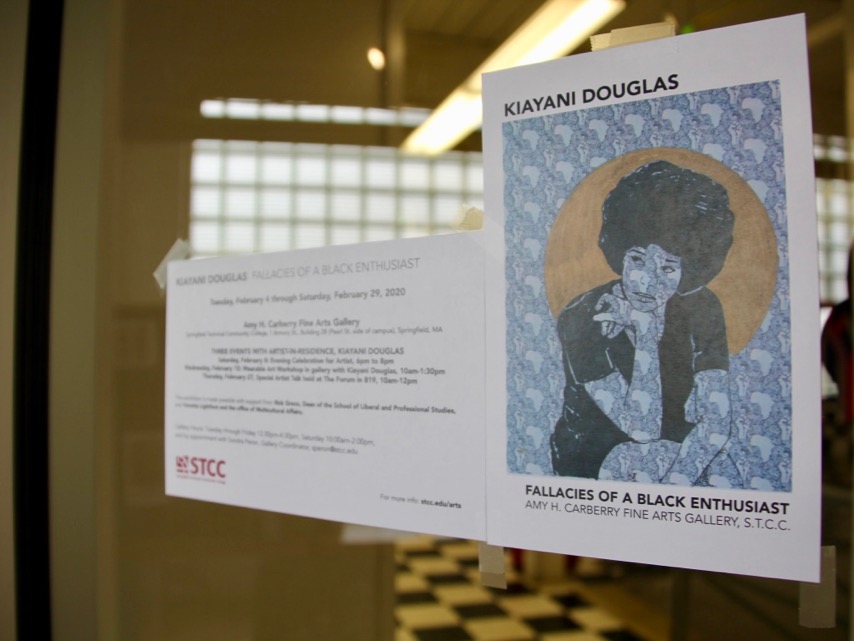 build much needed conversations in brave places. She creates workshops where students of all disciplines can learn about American black history, while making connections to math, science, history and literature. Her desire to make these spaces stems from her not having them herself.
Born and raised in Hartford, Douglas has a deep passion for advancing her community, culturally, economically and intellectually. She is a recent graduate of the University of Hartford in 2018 with her MFA in Interdisciplinary Art. She also holds her bachelor of fine arts in ceramics with a double minor in painting and psychology, also from the University of Hartford.
"I make art as a way to cope with the social injustices that are happening in America," she said in a statement. "I have always been a maker of many things, but my love for portraits and the body have always shown through in all the mediums I manage. My interest in non-traditional drawing has allowed me to think about how we interact with two-dimensional pieces. My love for sculpture has allowed me the ability to expand my two-dimensional works and create forms to further express my conceptual thinking."
The exhibit is co-sponsored by the Office of Multicultural Affairs and Vonetta Lightfoot, Multicultural Affairs operations manager.
The Gallery hours are Tuesday through Friday, 12:30 p.m. to 4:30 p.m., Saturday 10 a.m. to 2 p.m. or by appointment. The gallery is open to the public and there is no charge to view the exhibitions.
About the Gallery
The Amy H. Carberry Fine Arts Gallery at Springfield Technical Community College presents six exhibits each academic year, featuring works by artists of local and national repute as well as STCC student work. The gallery is located in Building 28, first floor, on the Pearl Street side of the STCC campus. The gallery is supported in part by funding from the School of Liberal and Professional Studies. Find the Amy H. Carberry Fine Arts Gallery on Facebook or follow on Twitter @STCCArtGallery.
About Springfield Technical Community College
Founded in 1967 and located on 35 acres of the Springfield Armory National Historic Site, STCC is a major resource for the economic vitality of Western Massachusetts. As the only technical community college in Massachusetts, STCC offers a variety of career programs unequalled in the state. STCC's highly regarded transfer programs in business, advanced manufacturing, healthcare, liberal arts, and STEM fields continue to provide the most affordable options for students pursuing a four-year degree. With an annual enrollment of about 7,000 day, evening, weekend, and online students, STCC is a vibrant campus rich in diversity.
For more information about STCC, visit www.stcc.edu. Follow us on Facebook, Twitter (@S_T_C_C) and Instagram (@stccpics).
MEDIA CONTACT:
Jim Danko, (413) 755-4812, jdanko@stcc.edu