STCC, Worcester State University form partnership for urban studies program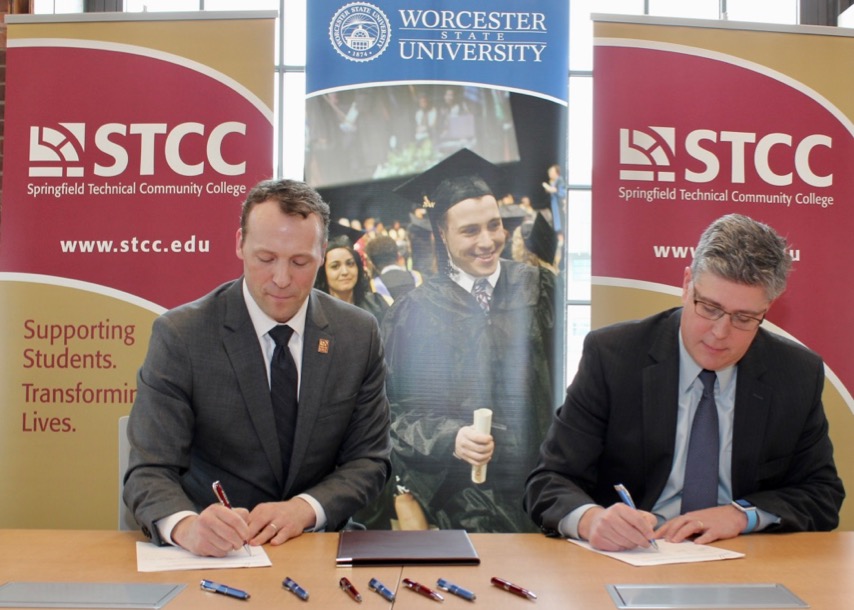 STCC President John B. Cook, left, and Worcester State University President Barry M. Maloney formally sign transfer agreements during a ceremony on April 5.
SPRINGFIELD, Mass. – Beginning this fall, Springfield Technical Community College will offer a new urban studies program to prepare students for careers that can help the growth of gateway cities like Springfield and Worcester.
After graduating from the program, STCC students can transfer credits to Worcester State University where they can pursue a bachelor's degree in urban studies. Alternatively, STCC graduates can transfer to sociology baccalaureate programs offered at four-year colleges or universities in Massachusetts.
In a ceremony on April 5, STCC President John B. Cook and WSU President Barry M. Maloney signed an agreement creating a partnership between the schools.
"With appreciation to our talented faculty, it is very exciting to now have an urban studies pathway with Worcester State University, which has a well-established program," Cook said. "With a Springfield to Worcester option, we are excited to offer Western Massachusetts students with an affordable way to develop skills that will transform their communities. This agreement with Worcester State is truly unique, and opens doors to an important set of career choices."
Maloney said, "We seek partnerships that align with our strategic mission which benefit the student and serve the community. This urban studies pathway accomplishes both."
As part of the agreement, students who enroll in the two-year urban studies program at STCC and earn their associate degree can transfer to Worcester State. At WSU, students can pursue a bachelor's degree in urban studies, which typically takes two years. They will have the option to continue their education and pursue a master's degree, which typically takes one year in a 4 + 1 track.
Richard Greco, interim dean for the School of Arts, Humanities and Social Sciences at STCC, said the urban studies curriculum prepares students for careers in areas such as civic engagement, municipal planning, public policy, community organization and nonprofit management.
"The idea for urban studies grew out of the need to solve problems within the city of Springfield such as socio-economic hardships and public health disparities," Greco said. "Most of our students come from Springfield and stay here after graduation. This is an opportunity for them to help create positive changes in their community."
Students will learn that the challenges facing urban cities like Springfield are not unique. "Cities like Springfield, Worcester and a number of other gateway cities that were once thriving hubs are starting to see a resurgence. This program has the ability to aid and help these cities bounce back," Greco said.
This agreement with Worcester State is truly unique, and opens doors to an important set of career choices John B. Cook,

President of STCC
The urban studies program at STCC will expose students to courses offered in different academic disciplines throughout the college, including architecture and building technology, public health, sociology, history, economics and literature. Students will need to earn 62 credits to graduate from the program, which will include some online studies.
As part of the final project, students will develop a proposed solution to an actual challenge facing the city of Springfield and present it to the community.
"They will get a deep appreciation for what it's like to get immersed in an urban revitalization project," Greco said.
Students in the STCC and WSU programs will have opportunities to take field trips to Springfield and Worcester and learn about each other's cities, Greco said.
"We're excited. We're actually quite thrilled," said Associate Professor Thomas E. Conroy, Urban Studies Department chair at Worcester State. "This gives us the opportunity to take in students who have been immersed in an urban studies curriculum already. If they have a two-year degree from STCC and come to us, we can push them further to work on more complicated research projects with our faculty, secure more advanced practica and internship experiences, and conduct more sophisticated fieldwork."
Conroy said he looks forward to helping students complete their senior-year research and projects to prepare for jobs. Other students may choose to apply for one of three master's degree programs: public management, public administration & policy, or Nonprofit Management.
"There are a lot of opportunities that I think connecting STCC and Worcester State through this avenue achieves," Conroy said.
Worcester State offers the only urban studies bachelor's degree program in the Massachusetts higher education system, Conroy said.
While students in the new STCC urban studies program can choose the pathway to Worcester State, they have other options after graduation. They can transfer to another four-year institution in Massachusetts and pursue a bachelor's degree in sociology, said Matthew Gravel, dean of Academic Initiatives at STCC.
The urban studies curriculum meets the requirement for the "MassTransfer" associate-to-bachelor's pathway in sociology, Gravel said. MassTransfer gives students the choice to begin their academic career and then transfer to a state university or public college at a significant cost-savings. Visit www.stcc.edu to learn more about MassTransfer benefits.
To learn more about the Urban Studies program at STCC, visit www.stcc.edu/explore/programs/urbn.aa.
To learn more about Worcester State University's program, visit www.worcester.edu/Urban-Studies.
Interested in applying to STCC? Visit stcc.edu/apply or call Admissions at (413) 755-3333.
About Springfield Technical Community College
Founded in 1967 and located on 35 acres of the Springfield Armory National Historic Site, STCC is a major resource for the economic vitality of Western Massachusetts. As the only technical community college in Massachusetts, STCC, a designated Hispanic Serving Institution and an Achieving the Dream Leader College, offers a variety of career programs unequalled in the state. STCC's highly regarded transfer programs in business, engineering, liberal arts, science and technology continue to provide the most economical options for students pursuing a four-year degree. www.stcc.edu
About Worcester State University
Worcester State University is a nationally recognized public university that champions academic excellence in a diverse, student-centered environment and fosters scholarship, creativity, and global awareness. A Worcester State education equips students with knowledge and skills necessary for lives of professional accomplishment, engaged citizenship, and intellectual growth. www.worcester.edu
MEDIA CONTACT:
Jim Danko, (413) 755-4812, jdanko@stcc.edu