STCC wrestling coach looks back at successful NCWA season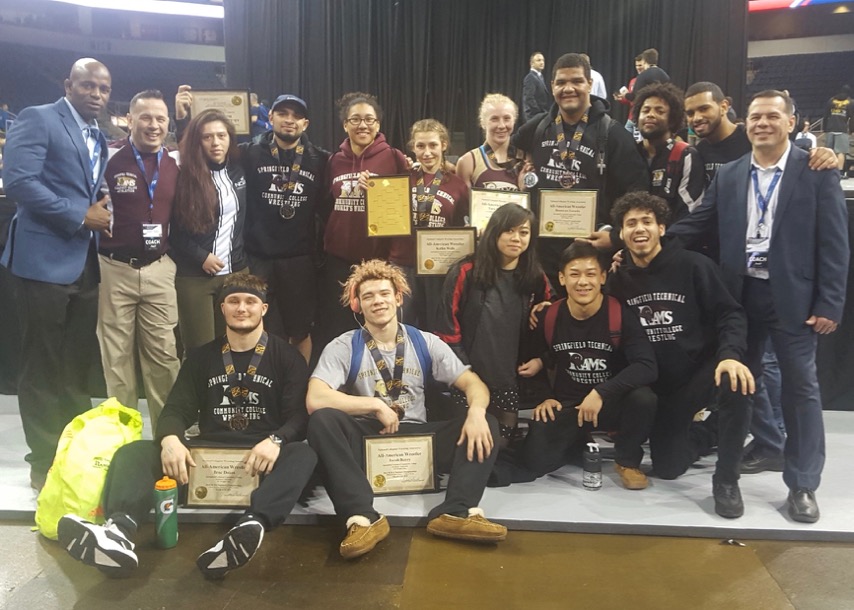 Wrestlers from STCC who competed in the NCWA championship gather with their coaches in Allen, Texas.
SPRINGFIELD, Mass. – The Springfield Technical Community College men's wrestling team captured sixth place among 79 colleges that qualified to compete in the 2018 National Collegiate Wrestling Association championship in Allen, Texas, March 9-11.
Individually, STCC had a national runner-up in the 165-pound weight class, Richard Viruet, from Central High School in Springfield, Mass.; two wrestlers who placed third, Jacob Berry (174 pounds), from Somers (Conn.) High School, and Donavan Lozada (285 pounds), from Chicopee (Mass.) High School; and one wrestler who placed sixth, Broc Dokos (197 pounds) from Tewksbury (Mass.) High School. The four wrestlers earned All-American honors.
The team's performance in the national championship capped off a highly successful second season with the NCWA, said STCC men's wrestling coach Alberto Nieves, who in February was honored as Coach of the Year for the Northeast Conference of the NCWA for the second straight year.
The Rams won the New England championship, and for the second time in as many years took the top team score in the NCWA Northeast Conference championship held at the University of New Hampshire, Durham. STCC then advanced to the National Dual Meet Championships, where the team earned a fourth-place finish.
At the NCWA national championship, eight wrestlers competed. The team was down seven men due to injuries, said Nieves, who believes the team could have placed higher were it not for injuries.
"This year, we took sixth in the nationals and brought home four All-Americans. So we saw some improvement," Nieves said. "Last year, we took seventh at the national tournament and we had three All-Americans.
"We finished 11-3 as a dual team," Nieves said. "We saw progress this year. We had one less loss. We moved up one notch, and we had one more All-American than last year."
Six appears to have been a lucky number for STCC.
The women's team took sixth place among 37 colleges that advanced wrestlers to the NCWA women's national championships. Katlin Wells, from Marcus Whitman High School, in Rushville, N.Y., captured first place, and Tara Linneman, from New Paltz (N.Y.) High School, took second. They were both named All-American wrestlers.
The women's team advanced to the nationals after earning their first title at the Northeast Conference Championships in February.
About Springfield Technical Community College
Founded in 1967 and located on 35 acres of the Springfield Armory National Historic Site, STCC is a major resource for the economic vitality of Western Massachusetts. As the only technical community college in Massachusetts, STCC, a designated Hispanic Serving Institution and an Achieving the Dream Leader College, offers a variety of career programs unequalled in the state. STCC's highly regarded transfer programs in business, engineering, liberal arts, science and technology continue to provide the most economical options for students pursuing a four-year degree. With an annual enrollment of more than 7,700 day, evening, weekend and online students, STCC is a vibrant campus rich in diversity.
For more information about STCC, visit www.stcc.edu. Follow us on Facebook and Twitter (@S_T_C_C).
MEDIA CONTACT:
Jim Danko, (413) 755-4812, jdanko@stcc.edu