STCC's Carberry Fine Arts Gallery to feature work by Fafnir Adamites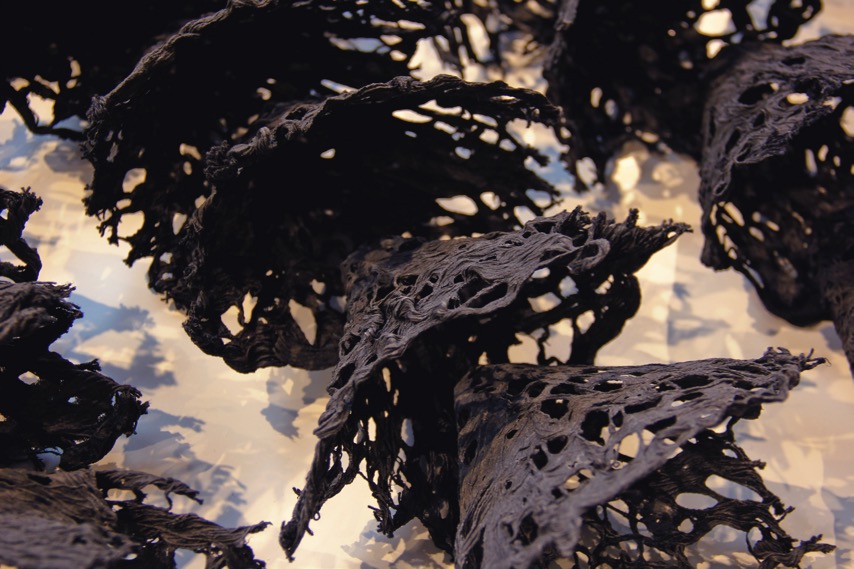 SPRINGFIELD, Mass. – Amy H. Carberry Fine Arts Gallery at Springfield Technical Community College will feature art by Fafnir Adamites, of Turners Falls, throughout September.
"Fafnir Adamites, Insight That Accrues" will run from Sept. 4 through Sept. 29. The public is invited to a meet-and-greet reception with the artist on Sept. 19, 10:30 a.m.-1 p.m.
Using felt making and other traditional craft processes, Adamites creates sculptural and installation work that serve as meditations on trauma, memory and the legacy of emotional turmoil inherited from past generations. Using repetitious processes such as felt-making allows the artist to physically engage with and meditate on the concepts she is working with. Material exploration is the starting point for all of her work and plays a key role in building the conceptual backing of each piece.
Adamites holds a master of fine arts degree from the Fiber and Material Studies Department at the School of the Art Institute of Chicago and a bachelor of arts in Photography and Women's Studies from the University of Massachusetts, Amherst.
She teaches at Snow Farm: The New England Craft Program, UMass Amherst, Massachusetts College of Liberal Arts and at The Academy at Charlemont.
Visit fafniradamites.com to see Adamites' artwork.
The exhibition is made possible with support from the School of Arts, Humanities and Social Sciences at STCC and Interim Dean Richard Greco.
This program is supported in part by a grant from the Springfield Cultural Council, a local agency which is supported by the Mass Cultural Council, a state agency. For more information, visit stcc.edu/arts.
Located in Building 28, first floor, on the Pearl Street side of STCC, the Amy H. Carberry fine Arts Gallery is open Tuesday through Friday, 12:30 p.m. to 4:30 p.m., Saturday, 10 a.m.-2 p.m., and by appointment.
About the Gallery
The Amy H. Carberry Fine Arts Gallery at Springfield Technical Community College presents six exhibits each academic year, featuring works by artists of local and national repute as well as STCC student work. The gallery is located in Building 28, first floor, on the Pearl Street side of the STCC campus. The gallery is supported in part by funding from the School of Arts, Humanities, and Social Sciences. Find the Amy H. Carberry Fine Arts Gallery on Facebook or follow on Twitter @STCCArtGallery.
About Springfield Technical Community College
Founded in 1967 and located on 35 acres of the Springfield Armory National Historic Site, STCC is a major resource for the economic vitality of Western Massachusetts. As the only technical community college in Massachusetts, STCC, a designated Hispanic Serving Institution and an Achieving the Dream Leader College, offers a variety of career programs unequalled in the state. STCC's highly regarded transfer programs in business, engineering, liberal arts, science and technology continue to provide the most economical options for students pursuing a four-year degree. With an annual enrollment of more than 7,700 day, evening, weekend and online students, STCC is a vibrant campus rich in diversity.
For more information about STCC, visit www.stcc.edu. Follow us on Facebook and Twitter (@S_T_C_C).
MEDIA CONTACTS:
Jim Danko, Coordinator of Media Relations, (413) 755-4812, jdanko@stcc.edu
Sondra Peron, Gallery Coordinator, (413) 755-5258, speron@stcc.edu