STCC's fire science program sparks interest of Western Mass. firefighters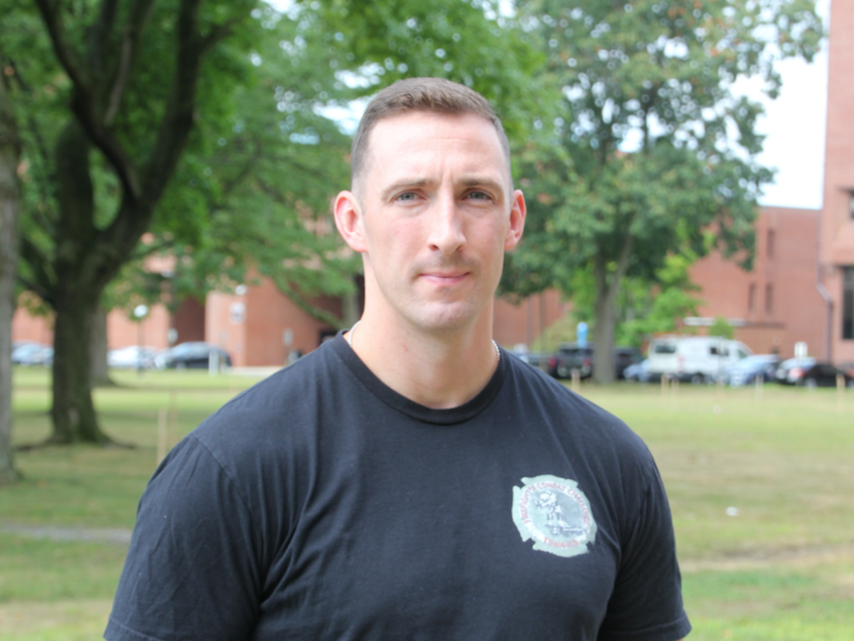 SPRINGFIELD, Mass. – When he's not working as a lieutenant with the Springfield Fire Department, on many nights Nathan Lavallee is cracking the books in pursuit of a degree from Springfield Technical Community College.
Lavallee, a firefighter since 2015, is a student in the Fire Protection and Safety Technology program and hopes to get his associate degree in the spring 2023.
While it is open to anyone who hopes to start a career in firefighting, the program also draws full-time firefighters like Lavallee. The highest-ranking member of the department – Springfield Fire Commissioner Bernard J. "BJ" Calvi – earned an associate degree from STCC in the fire science program. Other members of fire departments in the region have earned degrees from STCC.
The program also prepares graduates for other careers, including city, town and state firefighting; military and airport first-responder positions; departmental or regional positions; fire investigation; and emergency medical services.
Lavallee, an Army veteran who served in Afghanistan, saw the many benefits in enrolling at STCC. After he gets his degree, he will receive a pay raise. He will apply lessons from the classroom to the real world of being a professional firefighter.
"The classes are really designed to expand your knowledge of the fire service," Lavallee said.
He said the degree can lead to promotions for firefighters. In addition, the program helps him learn more about the job.
"(The program) really breaks it down specifically into prevention, arson, HAZMAT (hazardous materials) … every category," he said.
Lavallee said taking classes such as Building Construction and Firefighting Strategy and Tactics has helped him be a better firefighter. "For me, it's really opened my eyes to different aspects of the job," he said.
The faculty are great. They're very knowledgeable. They know their craft and know their job. Nathan Lavallee,

STCC student and Springfield firefighter
He recommends the program to any firefighter or anyone interested in the career. He said it's important for firefighters to keep developing their skills and knowledge.
"I think the day you stop learning is the day you probably should retire," he said.
The evening program at STCC trains and educates competent leaders in fire protection, prevention, and administration. The program is looking to offer a blended option of online, hybrid and in person this spring.
Lavallee said the schedule works well for firefighters who work "four days on, four days off." The program's flexibility means he is able to log on to do school work when he's not on a call.
Lavallee applies lessons from STCC to his work on the job. His knowledge from being a firefighter also helps him in the classroom. He is familiar with some of the concepts taught and can understand acronyms used.
BJ Calvi, Springfield's fire commissioner, said a degree from STCC can help a firefighter advance through the ranks as he did.
"STCC's program opens doors for firefighters and also is a good value. My degree from STCC paved the way for me not only to further my education but to also become Fire Commissioner," said Calvi, a 2001 graduate.
What students in the fire program appreciate is that the faculty bring real-world experience to the classroom. Peter Buonome, one of the instructors, is head of the Connecticut Fire Department Instructors Association. He previously served as fire chief/chief of emergency services at Bradley International Airport and fire chief and fire marshal for the Town of Branford in Connecticut.
"We offer a strong educational experience in part because the instructors have been active firefighters and have served in leadership roles in communities," Buonome said.
Other faculty include Enfield Connecticut Fire Chief Edward Richards; Laurence Brandoli, retired from the Springfield Fire Department who is now a nationally recognized fire investigator; and Richard Martin, who is captain and fire marshal for the Springfield Fire Department.
"The faculty are great. They're very knowledgeable. They know their craft and know their job," Lavallee said. "They're not only teaching you from the book, but they can give you life examples of things they've experienced and gone through and apply it to the classes. I think that helps a lot."
Interested in applying to STCC? Visit stcc.edu/apply or call Admissions at (413) 755-3333.
About Springfield Technical Community College
STCC, the Commonwealth's only technical community college, continues the pioneering legacy of the Springfield Armory with comprehensive and technical education in manufacturing, STEM, healthcare, business, social services, and the liberal arts. STCC's highly regarded workforce, certificate, degree, and transfer programs are the most affordable in Springfield and provide unequaled opportunity for the vitality of Western Massachusetts. Founded in 1967, the college – a designated Hispanic Serving Institution – seeks to close achievement gaps among students who traditionally face societal barriers. STCC supports students as they transform their lives through intellectual, cultural, and economic engagement while becoming thoughtful, committed and socially responsible graduates.
MEDIA CONTACT:
Jim Danko, (413) 755-4812, jdanko@stcc.edu