STCC's Maureen Socha named state agency's member of the year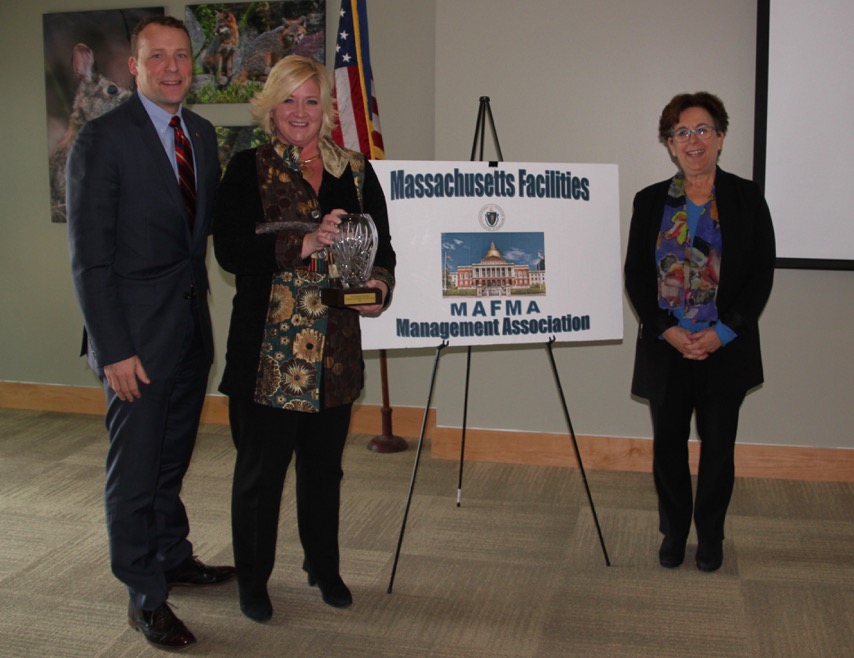 SPRINGFIELD, Mass. – Springfield Technical Community College Assistant Vice President of Administration and Facilities Maureen Socha was named Massachusetts Facilities Management Association's member of the year.
Socha accepted the award at MAFMA's semi-annual meeting on Dec. 8. Commissioner Carol Gladstone of the state Division of Capital Asset Management and Maintenance presented an award to Socha, a Ludlow resident.
Established by DCAMM, MAFMA is a network of state facilities personnel whose members share best practices in facilities management and work together to find solutions to a variety of challenges. DCAMM works with state agencies, including STCC, to create and manage sustainable buildings.
Gladstone said STCC has the oldest college buildings in the state system. The college, which opened in 1967, is located on 35 acres of the Springfield Armory National Historic Site. The historical nature of the campus, combined with the aging infrastructure, translates into expensive and often unplanned maintenance costs.
"You have a unique challenge," Gladstone told Socha during the award ceremony held at the Division of Fisheries and Wildlife facility in Westborough. "Essentially, you were grace under fire. You've been a wonderful partner in working with us."
Speaking to about 75 MAFMA members gathered for the meeting, Gladstone praised Socha for showing a commitment that goes beyond the normal workday schedule.
"Whether a planned repair, or a response to an unplanned repair, she guides her team to incorporate the newest, most efficient energy savings available," Gladstone said. "She consistently works hard to maximize the capital improvement budget by constantly evaluating, planning, prioritizing and organizing facility capital improvements and upgrades."
Socha's staff submitted an application to MAFMA nominating her for the award.
STCC President John B. Cook said, "With one million square feet of campus, and with our major infrastructure project underway at STCC in the form of the $50 million Student Learning Commons, I could not imagine a more talented individual to lead our efforts. We are tremendously proud of this recognition for Maureen, and it is very well-deserved."
Socha said, "I am so honored to have received this award. I share the recognition with my incredible team. We have our challenges with such an old campus. We work very hard to create a positive environment for our students, staff, faculty and visitors. This award is a wonderful acknowledgement of our hard work and dedication to the college."
About Springfield Technical Community College
Founded in 1967 and located on 35 acres of the Springfield Armory National Historic Site, STCC is a major resource for the economic vitality of Western Massachusetts. As the only technical community college in Massachusetts, STCC, a designated Hispanic Serving Institution and an Achieving the Dream Leader College, offers a variety of career programs unequalled in the state. STCC's highly regarded transfer programs in business, engineering, liberal arts, science and technology continue to provide the most economical options for students pursuing a four-year degree. With an annual enrollment of more than 7,700 day, evening, weekend and online students, STCC is a vibrant campus rich in diversity.
For more information about STCC, visit www.stcc.edu. Follow us on Facebook and Twitter (@S_T_C_C).
PHOTO CAPTION:
STCC President John B. Cook, Assistant Vice President of Administration and Facilities Maureen Socha, and Division of Capital Management and Maintenance (DCAMM) Commissioner Carol Gladstone at the semi-annual Massachusetts Facilities Management Association's meeting on Dec. 8.
MEDIA CONTACT:
Jim Danko, (413) 755-4812, jdanko@stcc.edu