STCC's STEM Center director wants students to 'thrive'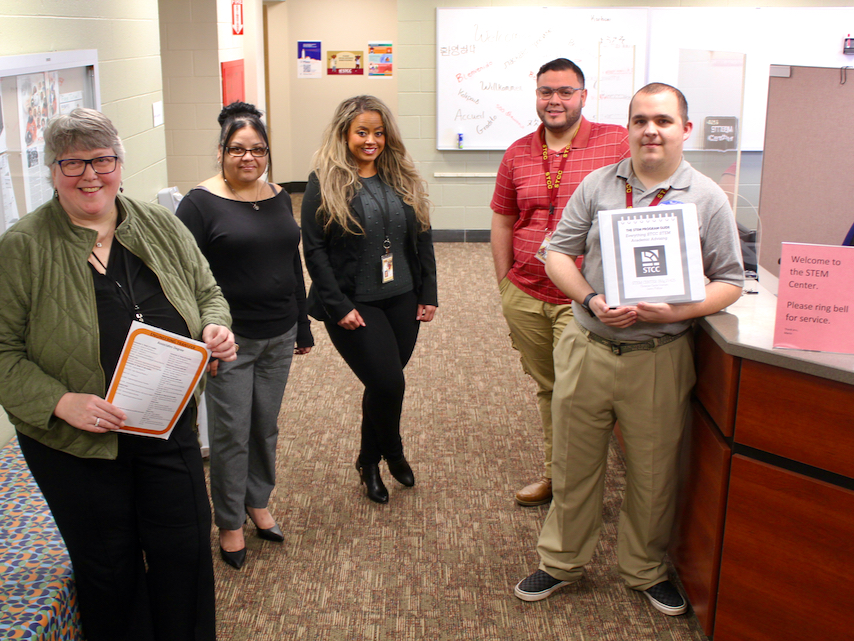 From left, Stephanie Brown, HSI STEM grant activity director; Marta Burgos-Vega, HSI STEM clerk; Marlene Johnson, HSI STEM Title V project director; Christian Carde-Guzman, academic counselor; and Jason Phillips, academic counselor.
SPRINGFIELD, Mass. – Springfield Technical Community College's new STEM Center director wants students to know they have access to a resource that will help them achieve success in classes related to science, technology, engineering and math.
"We don't want them to just make it through. We want them to thrive," said Stephanie Brown, who was hired in March as HSI STEM Grant activity director.
She and her staff work out of the center in Putnam Hall (Building 17), Room 425, which is open for in-person help Tuesday, Wednesday and Thursday, 8 a.m.-2 p.m., and operates remotely on Mondays and Fridays.
Brown knows many STCC students are most worried about passing STEM classes. The STEM Center features resources and services such as a study lounge, a computer lab, career exploration, class support and testing. Students can walk in to get help from tutors. Supplemental instruction leaders (students who offer peer tutoring) also hold sessions in the center. Students can use the center to get help on finding internships. The center is available to students virtually and in person.
Lara Sharp, dean of the School of STEM, said the center serves as an essential resource at STCC, the only technical community college in Massachusetts.
"We want the STEM Center to be the gem of STEM," Sharp said. "It is the hub of STEM support on campus, and we encourage all students to use the facility. The center is for everyone, whether they're a general studies student taking their first college math class or they're enrolled in one of the engineering technology programs."
Sharp said she looks forward to working with Brown and the new staff at the STEM Center. "Dr. Brown brings energy and experience to the position," Sharp said. "She's focused on advancing the college's mission to support students as they transform their lives."
Brown's position and the STEM Center is supported by grants from the U.S. Department of Education. The grants, announced by U.S. Rep. Richard E. Neal last fall, are designed to increase enrollment and improve the graduation rates of Latinx and low-income students in STEM majors and help them continue with their studies instead of withdrawing from school. STCC is federally designated as a Hispanic Serving Institution, with 30 percent of the students identifying as Hispanic.
We want the STEM Center to be the gem of STEM. Lara Sharp,

Dean of the School of STEM
In a visit to STCC in October, Neal said he was thrilled to celebrate the success of STCC's two grant applications. STCC was only one of 23 community colleges in the country approved for HSI STEM funding in the fall – and the only community college in Massachusetts to be approved as lead applicant for an HSI STEM grant. The college was awarded more than $7 million in grants, which will run for five years.
"One of our top priorities is to close achievement gaps among students who have faced barriers, which includes many of our Latinx and low-income students. These grants will help support our students and give them a better chance at staying in college and earning their degree," Neal said in October.
Brown, who worked at STCC from 2013-2015, used to run summer camps at the college. She plans to bring back similar programs for young people to get them interested in STEM. Brown said she enjoys seeing young people get excited about STEM fields.
"One of the things I love most is running summer camps," Brown said.
Brown holds an Ed.D. in Educational Leadership from University of Hartford, a master's of architecture from the University of Pennsylvania, a master's in design from UMass Amherst and a bachelor's degree in biology from Northeastern University.
Her work experience includes positions with Cambridge College as a curriculum specialist, undergraduate program coordinator and as a director of advising. In addition, she has held various higher education teaching positions and has owned a professional design firm.
Also hired through the HSI STEM federal grants are Christian Carde-Guzman, academic counselor; Marlene Johnson, HSI STEM Title V project director; and Jason Phillips, academic counselor.
Interested in applying to STCC? Visit stcc.edu/apply or call Admissions at (413) 755-3333.
About Springfield Technical Community College
STCC, the Commonwealth's only technical community college, continues the pioneering legacy of the Springfield Armory with comprehensive and technical education in manufacturing, STEM, healthcare, business, social services, and the liberal arts. STCC's highly regarded workforce, certificate, degree, and transfer programs are the most affordable in Springfield and provide unequaled opportunity for the vitality of Western Massachusetts. Founded in 1967, the college – a designated Hispanic Serving Institution – seeks to close achievement gaps among students who traditionally face societal barriers. STCC supports students as they transform their lives through intellectual, cultural, and economic engagement while becoming thoughtful, committed and socially responsible graduates.
MEDIA CONTACT:
Jim Danko, (413) 755-4812, jdanko@stcc.edu