STEM Day at STCC to showcase career pathways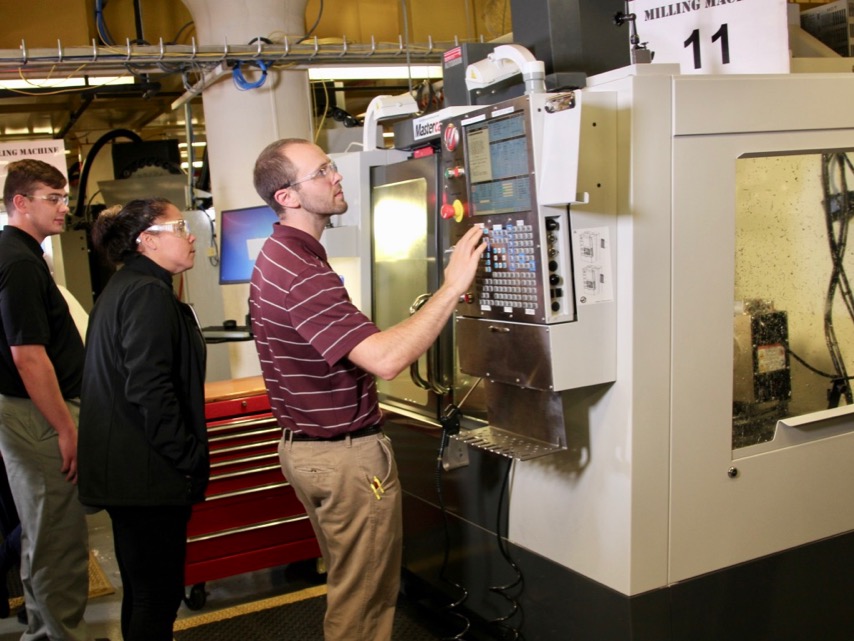 SPRINGFIELD, Mass. – As part of Massachusetts STEM Week, Springfield Technical Community College on Oct. 23 will host an event to showcase the wide variety of science, technology, engineering and mathematics programs at the college.
Designed to be fun and educational, the "STEM Day" event is geared toward local high school students and STCC students with undeclared majors, said Barbara Washburn, Interim Dean for the School of Science, Technology, Engineering and Math. The public also can attend to learn about the programs.
"This is a wonderful introduction to our new School of STEM, which has over 28 programs" Washburn said. "We are thrilled to host the event, which will give students a chance to learn about our STEM programs. The School of STEM at STCC offers pathways to careers in high-demand fields. People who attend STEM Day can talk to faculty and students in mechanical engineering technology, architecture and building technology, landscape design and management, and much more. We also have invited industry representatives."
STEM Day at STCC will take place Oct. 23, from 11 a.m. to 2 p.m., with activities in the Scibelli Hall Gymnasium (Building 2) and on the Seventh Floor of the building. The event is a collaborative effort with the Perkins grant, the Career Development Center, the HSI STEM grant, the STEM Starter Academy and the School of STEM.
Participants can go to the gym to meet industry representatives and faculty from STCC's STEM programs. The seventh floor of Building 2 will be focused on students, who will present their projects from STEM classes as part of a STEM Expo.
The STEM Starter Academy at STCC will gather on the Seventh Floor to celebrate the accomplishments of students in STEM classes. "We will showcase the creativity and diverse talents of our students through interactive student-developed projects, models and research posters," said Dr. Reena Randhir, STEM Starter Academy Director.
STEM Day also will showcase student clubs at STCC including the Society of Women Engineers, STCC chapter; the Spectrum Laser Club; and the eMakers Club, which is for students interested in technology.
During STEM Day, participants will receive "passports" that they can get stamped after visiting with STEM program representatives.
The week of Oct. 21-Oct. 25 is Massachusetts STEM Week, designated by the state Department of Higher Education. STEM Week is a statewide effort to boost the interest, awareness and ability for all learners to envision themselves in STEM education and employment opportunities.
The Pioneer Valley Women in STEM will hold a networking event on Oct. 24, 5 p.m.-8 p.m., at the Garden House at Look Park, Northampton. Invited speaker and author Dr. Becky Wai-Ling Packard will talk to PVIS about the power of mentoring to advance academic and career outcomes. Lunch and dinner at no coast and a cash bar is provided. Click here to register. The PVIS is a collaboration among four community colleges in Western Massachusetts: STCC, Holyoke, Berkshire and Greenfield community colleges.
The theme for the second annual statewide STEM Week is "See Yourself in STEM." Organizers say women, people of color, first-generation students, low-income individuals, English language learners, and people with disabilities are underrepresented in STEM industries and make up an increasing portion of the overall workforce, but the demographics of STEM fields have remained largely the same.
For questions about STEM Day at STCC, contact Dr. Felicia Griffin-Fennell, Activity Director, HSI-STEM. Call (413) 755-4819 or email fdgriffin-fennell@stcc.edu.
About Springfield Technical Community College
Founded in 1967 and located on 35 acres of the Springfield Armory National Historic Site, STCC is a major resource for the economic vitality of Western Massachusetts. As the only technical community college in Massachusetts, STCC, a designated Hispanic Serving Institution, offers a variety of career programs unequalled in the state. STCC's highly regarded transfer programs in business, engineering, liberal arts, science and technology continue to provide the most economical options for students pursuing a four-year degree. With an annual enrollment of about 7,000 day, evening, weekend and online students, STCC is a vibrant campus rich in diversity.
For more information about STCC, visit www.stcc.edu. Follow us on Facebook, Twitter (@S_T_C_C) and Instagram (@stccpics).