STEM Starter Academy at STCC to host presentation on climate change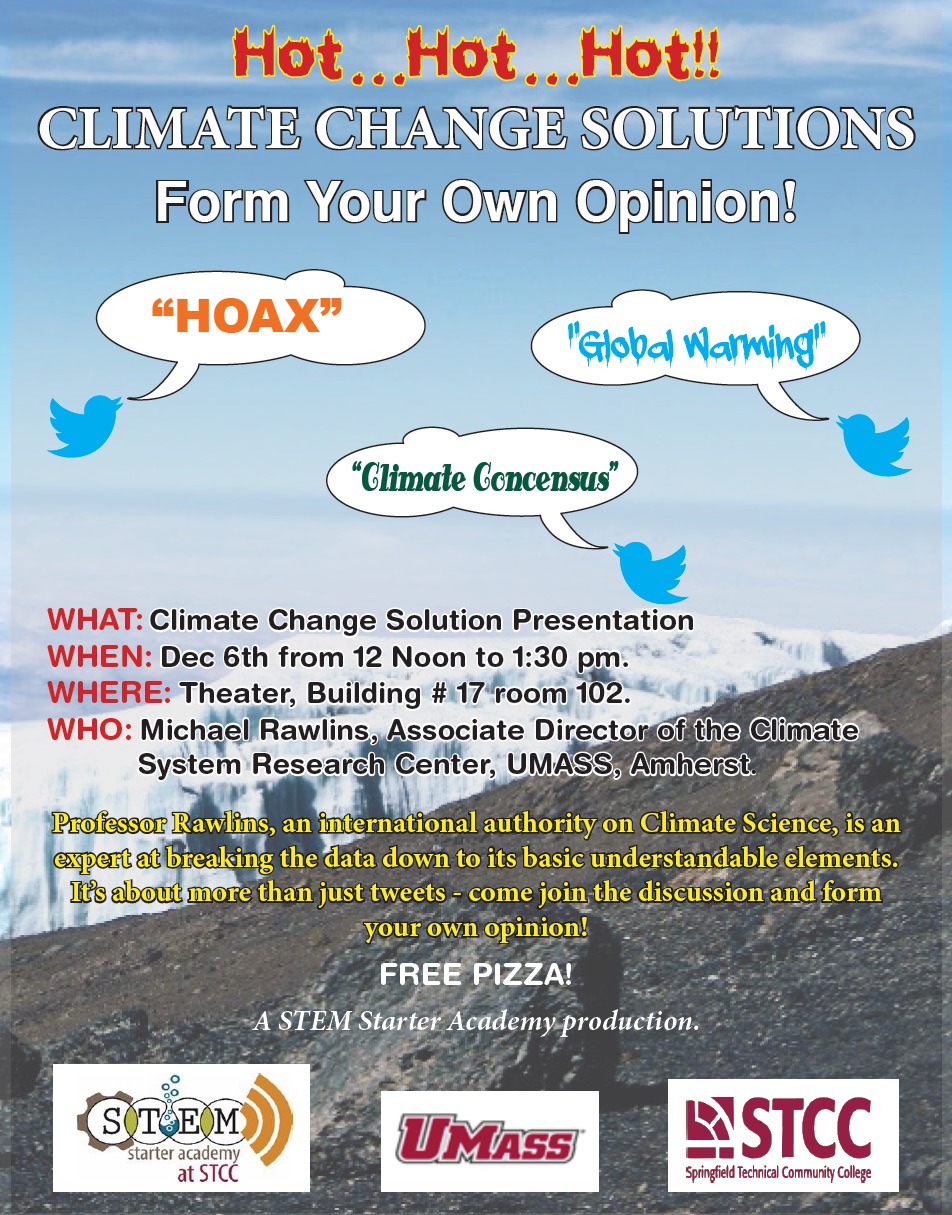 SPRINGFIELD, Mass. – Is there climate change? Can we learn new facts about this complicated subject?
Michael Rawlins, associate director of the UMass Climate System Research Center, will address these questions and more during a presentation hosted by the STEM Starter Academy at Springfield Technical Community College.
WHAT:
Climate Change Solutions presentation. Free pizza will be served.
WHEN:
Wednesday, Dec. 6, noon-1:30 p.m.
WHERE:
STCC, Theater, Building 17, Room 102
WHO:
Michael Rawlins, associate director of the Climate System Research Center, UMass, Amherst. Professor Rawlins, an international authority of climate science, is an expert at breaking the data down to its basic understandable elements. STCC students have been invited to join the discussion.
About STEM Starter Academy at STCC
The STEM Starter Academy provides incoming first year students a jumpstart to their first semester on campus. (STEM stands for science, technology, engineering and mathematics). Participants receive a funded academic experience, launching them into their first year by taking classes, receiving tutoring and coaching, going on field trips, seeing guest speakers, and having hands-on experiences. During the academic year, students will also have access to coaching and tutoring support, and participate in STEM Starter Academy events and activities.
About Springfield Technical Community College
Founded in 1967 and located on 35 acres of the Springfield Armory National Historic Site, STCC is a major resource for the economic vitality of Western Massachusetts. As the only technical community college in Massachusetts, STCC, a designated Hispanic Serving Institution and an Achieving the Dream Leader College, offers a variety of career programs unequalled in the state. STCC's highly regarded transfer programs in business, engineering, liberal arts, science and technology continue to provide the most economical options for students pursuing a four-year degree. With an annual enrollment of more than 7,700 day, evening, weekend and online students, STCC is a vibrant campus rich in diversity.
For more information about STCC, visit www.stcc.edu. Follow us on Facebook and Twitter (@S_T_C_C).
MEDIA CONTACT:
Jim Danko, jdanko@stcc.edu, (413) 755-4812