Stop & Shop donation to help hungry students at STCC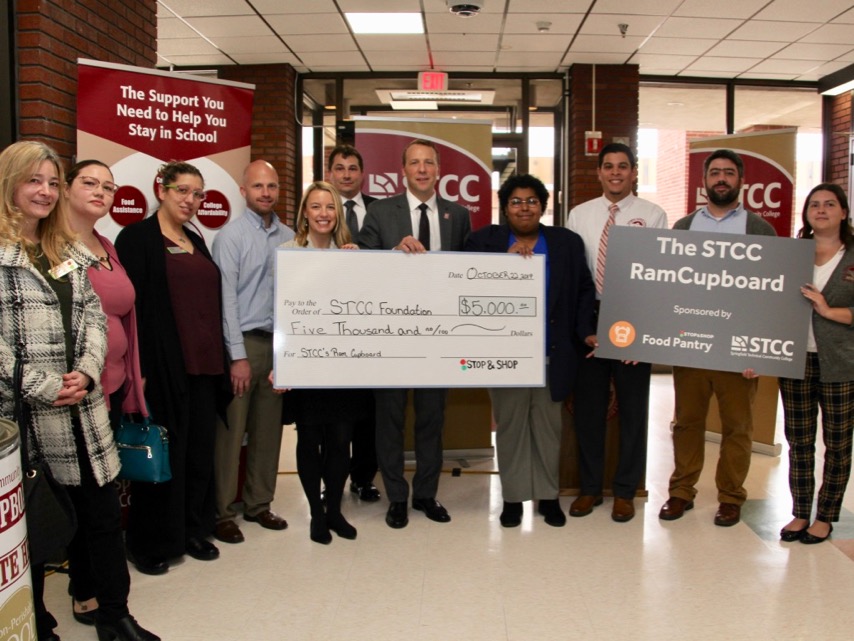 STCC President John B. Cook, center, stands with student Lylandria Wills, Stop & Shop representatives and STCC staff during a ceremony announcing a donation from the supermarket chain.
SPRINGFIELD, Mass. – A gift from Stop & Shop will give a boost to Springfield Technical Community College's food pantry for students in need.
Stop & Shop donated $5,000 to support the Ram Cupboard, an emergency food pantry designed to help support students in meeting basic nutritional needs. Students who qualify receive emergency groceries at no cost to them.
The STCC Center for Access Services (CAS) administers a wide range of services and initiatives, including the Ram Cupboard.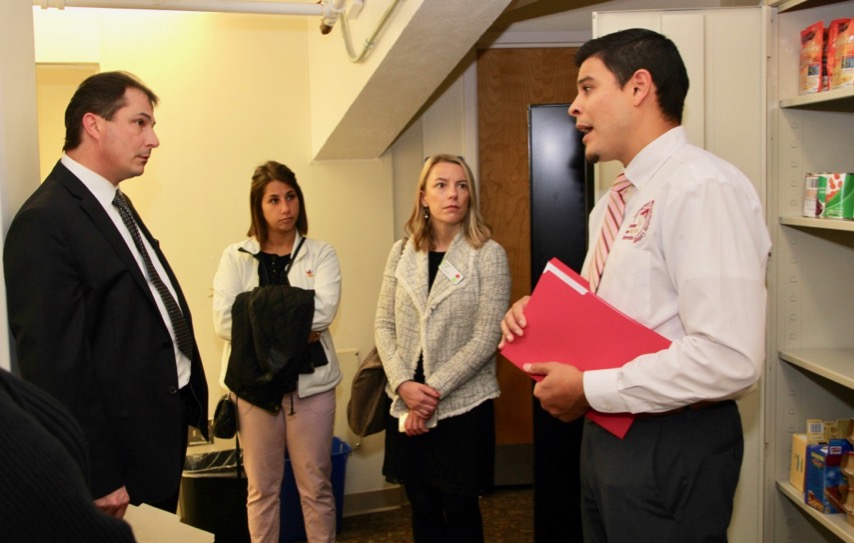 Stop & Shop donated $5,000 in gift cards, which CAS will use to shop for the food pantry. The supermarket chain also gave STCC 400 Stop & Shop reusable bags to pack the food items into.
Speaking at a ceremony at the college on Oct. 22, Jasen Hodge, store manager of Belchertown Stop & Shop, said the goal is to ensure students in the community receive nourishment so they can perform their best.
"Stop & Shop has committed to the STCC food pantry not just for this one-time gift but going forward as well," Hodge said. "We're honored to be a part of this."
STCC President John B. Cook said he was "incredibly grateful" for the support from Stop & Shop, saying the gift of food will help students in need achieve academic success. He also thanked the CAS staff who have helped make sure students who are hungry get fed.
Jose Lopez-Figueroa, director of CAS, said the donation will allow the food pantry program to grow. "We are hoping to ensure that no student is sitting in a class hungry and no student is going home with nothing to eat," Lopez-Figueroa said. "We are grateful to Stop & Shop for their support."
I know that throughout all my personal growth and development, a huge reason why I'm standing here today is because of STCC's Center for Access Services. Lylandria Wills,

STCC student
STCC student Lylandria Wills of Springfield said she used the Ram Cupboard when she arrived at the college in 2017.
"I know that throughout all my personal growth and development, a huge reason why I'm standing here today is because of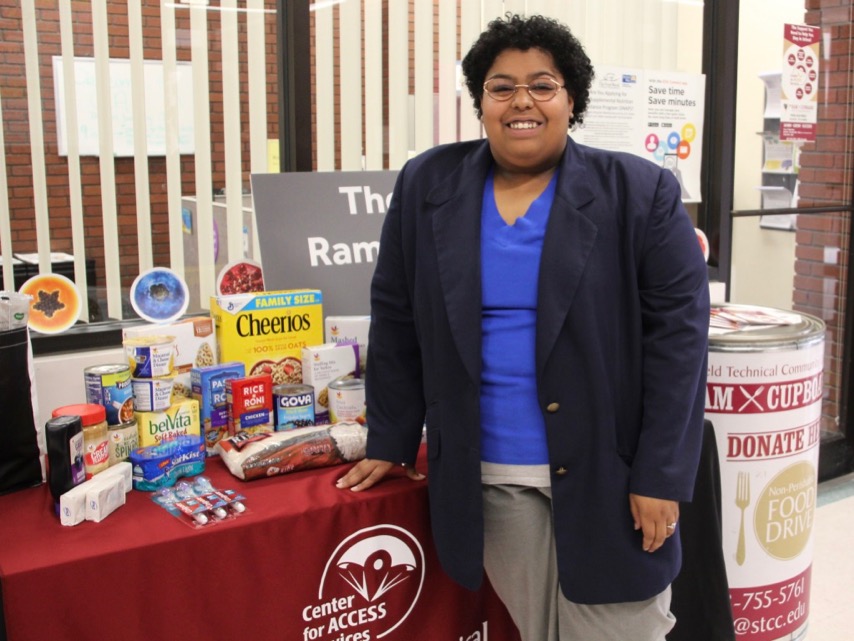 STCC's Center for Access Services," Wills said. "CAS from the beginning of my time here has been essential to my success in my college career. And when reaching for success, we all face many obstacles, such as making sure there are things to eat at home, and for those of us who use benefits, making sure that money last until the end of the month."
Stop & Shop offers a school-based food pantry program to help reduce hunger among students in communities served by the company's more than 400 stores in the Northeast. STCC is the first college in the state of Massachusetts to receive such support.
Stop & Shop works with pre-schools, grade schools and colleges to create a customized program based on the specific needs of the students and the school's infrastructure. The company's goal is to ensure that students have access to food.
"We are so proud to offer our support to STCC and to the community of Springfield," said Jennifer Brogan, Director of Community Relations for Stop & Shop. "Students should never have to wonder where their next meal is coming from, and that's really our goal with the new Stop & Shop School Food Pantry program – making sure students and their families are nourished with the food they need to thrive."
The donation from the supermarket chain was announced on the same day the STCC Foundation launched a major gifts campaign to raise money for scholarships and to enhance support services for students. The Foundation, a nonprofit organization, helps the college meet its goals and commitment to provide superior educational opportunities in the community. The Foundation also provides significant support for CAS.
About Springfield Technical Community College
Founded in 1967 and located on 35 acres of the Springfield Armory National Historic Site, STCC is a major resource for the economic vitality of Western Massachusetts. As the only technical community college in Massachusetts, STCC, a designated Hispanic Serving Institution, offers a variety of career programs unequalled in the state. STCC's highly regarded transfer programs in business, engineering, liberal arts, science and technology continue to provide the most economical options for students pursuing a four-year degree. With an annual enrollment of about 7,000 day, evening, weekend and online students, STCC is a vibrant campus rich in diversity.
For more information about STCC, visit www.stcc.edu. Follow us on Facebook, Twitter (@S_T_C_C) and Instagram (@stccpics).
MEDIA CONTACT:
Jim Danko, (413) 755-4812, jdanko@stcc.edu