Stop & Shop responds to COVID-19 crisis with donation to help STCC students
SPRINGFIELD, Mass. – Stop & Shop donated $2,500 to Springfield Technical Community College's emergency food pantry for students in need.
The supermarket company's latest gift, a response to the threat the COVID-19 virus poses to economically disadvantaged students, adds to earlier donations.
Stop & Shop previously donated $10,000 to the food pantry known as the Ram Cupboard. The latest contribution brings the total to $12,500.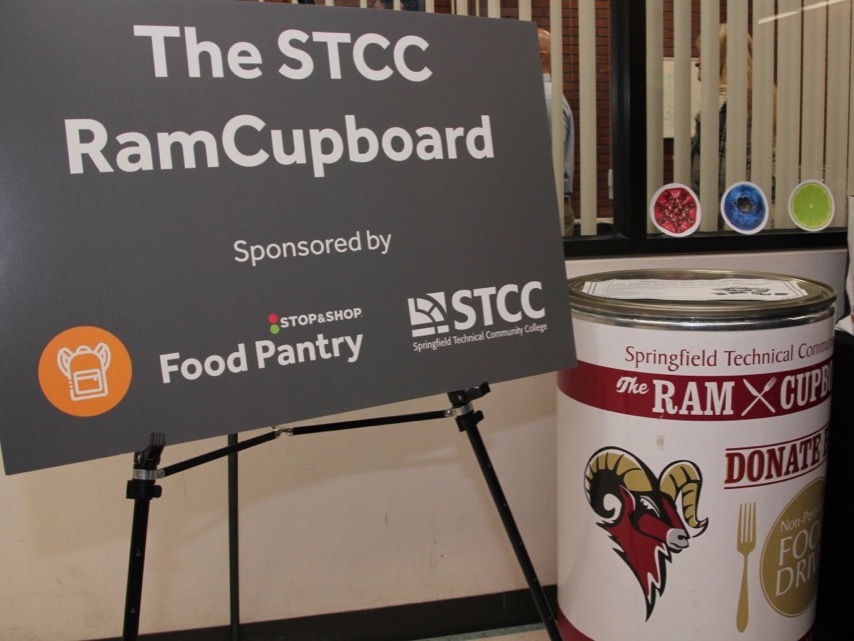 "We recognize the important role that food pantries play in the lives of students and their families. We felt it is integral that we offer additional aide to the STCC School Food Pantry as they continue to work with those economically impacted by COVID-19 by ensuring that they have access to food," said Maura O'Brien, a spokesperson for Stop & Shop.
The Center for Access Services, which administers the Ram Cupboard, will work with students in need, connect them with local support agencies for immediate assistance and mail them a Stop & Shop gift card for additional support.
Jose Lopez-Figueroa, director of CAS, said the gift cards will fill a demand to get food to students who are struggling through the COVID-19 pandemic.
"We are grateful to Stop & Shop for their donation," Lopez-Figueroa said. "This donation will help many students who are worried about getting food on their tables during this difficult time."
This donation will help many students who are worried about getting food on their tables during this difficult time. Jose Lopez-Figueroa,

Director, Center for Access Services at STCC
CAS normally would deliver assistance in person, but Lopez-Figueroa will mail cards to students who send requests to CAS from their STCC student email account.
To avoid the spread of COVID-19, most STCC employees are working remotely and practicing social distancing.
On Friday, March 20, the Ram Cupboard was empty of all perishable and non-perishable food.
CAS provides STCC students with a broad range of non-academic supports. CAS staff help students overcome barriers that stand in the way of self-sufficiency, allowing them to succeed and stay in school.
Last fall, Stop & Shop made an initial donation of $5,000 worth of gift cards to support the Ram Cupboard. The supermarket chain followed up with another $5,000 before contributing the latest $2,500 gift.
Stop & Shop has offered a school-based food pantry program to help reduce hunger among students in communities served by the company's more than 400 stores in the Northeast.
Stop & Shop works with pre-schools, grade schools and colleges to create a customized program based on the specific needs of the students and the school's infrastructure. The company's goal is to ensure that students have access to food.
STCC students who need help should contact CAS by emailing CAS@stcc.edu.
About Springfield Technical Community College
Founded in 1967 and located on 35 acres of the Springfield Armory National Historic Site, STCC is a major resource for the economic vitality of Western Massachusetts. As the only technical community college in Massachusetts, STCC offers a variety of career programs unequalled in the state. STCC's highly regarded transfer programs in business, advanced manufacturing, healthcare, liberal arts, and STEM fields continue to provide the most affordable options for students pursuing a four-year degree. With an annual enrollment of about 7,000 day, evening, weekend, and online students, STCC is a vibrant campus rich in diversity.
For more information about STCC, visit www.stcc.edu. Follow us on Facebook, Twitter (@S_T_C_C) and Instagram (@stccpics).
About Stop & Shop
A neighborhood grocer for more than 100 years, today's Stop & Shop is refreshed, reenergized and inspired, delivering new conveniences for customers. Committed to helping its communities enjoy better food and better lives, Stop & Shop has a longstanding history of giving back to the neighborhoods it serves with a focus on fighting hunger and helping children to enjoy a healthy lifestyle. The Stop & Shop Supermarket Company LLC is an Ahold Delhaize USA Company and employs nearly 60,000 associates and operates over 400 stores throughout Massachusetts, Connecticut, Rhode Island, New York and New Jersey. To learn more about Stop & Shop, visit www.stopandshop.com
MEDIA CONTACT:
Jim Danko, (413) 755-4812, jdanko@stcc.edu