Student chooses STCC over Syracuse during COVID-19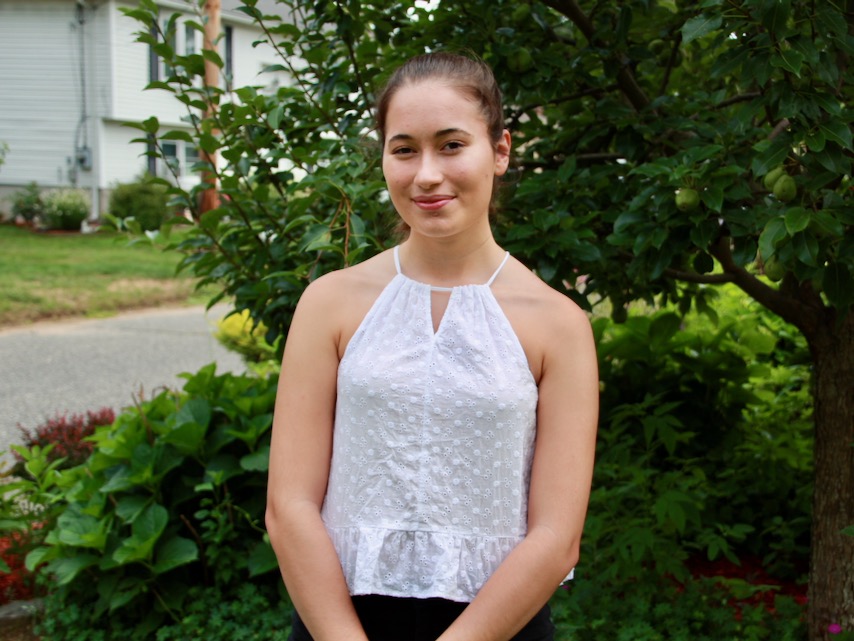 SPRINGFIELD, Mass. – Sara Maria, a recent high school graduate, views Springfield Technical Community College as a smart way to start on her journey to a bachelor's degree.
She's beginning classes this fall as a transfer student. Maria's goal is to finish her first two years at STCC and then transfer to a four-year university.
"My original plan was to go to Syracuse University, but I chose to go to STCC first," said Maria, 18, of Ludlow. "The main reason is because of the cost. I didn't want to be in debt forever. If I went to Syracuse, I'd be paying off student loans when I'm 30."
Syracuse and other four-year colleges and universities cost more money to attend than STCC, which has the lowest tuition and fees of any higher education institution in the city of Springfield and where nearly 60 percent of students graduate debt-free.
At a time when COVID-19 has prompted many colleges and universities to hold online classes and restrict campus activities, many prospective students are looking to enroll at their local community college this fall.
Knowing about STCC's reputation, Maria said she had considered starting as a transfer student even before the COVID-19 crisis.
"I might have started at STCC if we weren't in a pandemic, but the fact that we are in one definitely pushed me to stay at home and go to STCC for at least two more years. I'll then transfer to a big school to be with a big group of students," she said.
STCC Dean of Admissions Louisa Davis-Freeman said she and her staff have fielded questions about STCC from people who are reconsidering their fall plans.
"We've had a number of folks inquiring about our classes," Davis-Freeman said. "They either don't know what their plans are for the fall, or they're graduating from high school now and reassessing whether they want to go away."
"Families are wondering whether they want to pay a lot of money for an online course at a four-year school when the same course can be taken with us at a very reasonable cost," Davis-Freeman said.
My original plan was to go to Syracuse University, but I chose to go to STCC first. Sara Maria,

STCC transfer student
STCC also serves as an option for graduating high school seniors who were considering delaying plans for a year to go to college. Some recent high school graduates choose to take what is known as a "gap year" to travel domestically or internationally, to find an internship or to volunteer or to find a job close to home to save up for an expensive four-year college.
STCC serves as an anchor in the local community, an institution people can turn to for help during difficult times, said John B. Cook, the college president.
"The health pandemic forced us to make adjustments, but we feel we have created a comprehensive instructional plan that is in line with our mission to support students as they transform their lives," Cook said. "We're an option you should consider if you're thinking about higher education for yourself or a family member."
Maria, who plans to study marketing, started taking online STCC classes this summer to get a head start. "If I'm not going to be on campus, I might as well start now because I have time," she said.
Maria said she would prefer face-to-face learning, but was impressed with how the faculty at STCC responds to students. "The professors are good at getting back to you fast and helping you with what you need," she said, reflecting on her summer online classes at STCC.
An honors student when she attended Ludlow High School, Maria enjoys staying active. She served on the student council and as class president during her junior year. She was on the ski team and joined clubs.
She will have plenty of opportunities to stay involved at STCC. The college encourages students to join clubs and organizations and apply for leadership roles. Students can pursue positions with the Student Ambassador Program and the Student Government Association.
While STCC is limiting in-person activities during the fall semester, student groups and clubs will meet virtually through video conferencing.
It will be a semester unlike any other at STCC, but Maria said she is looking forward to the fall and pursuing opportunities at the college before she transfers to a four-year college or university.
She hopes to transfer to Syracuse, but may choose the University of Massachusetts. STCC offers affordable transfer pathways to state colleges and universities.
Students could save tens of thousands of dollars by starting at STCC compared to starting at UMass under the Commonwealth Commitment program.
Davis-Freeman said, "STCC is a great choice to stay local, be safe, earn college credits. Please reach out to us if you have any questions. We're here to help.
Interested in applying to STCC? Visit stcc.edu/apply or call Admissions at (413) 755-3333.
About Springfield Technical Community College
Founded in 1967 and located on 35 acres of the Springfield Armory National Historic Site, STCC is a major resource for the economic vitality of Western Massachusetts. As the only technical community college in Massachusetts, STCC offers a variety of career programs unequalled in the state. STCC's highly regarded transfer programs in business, advanced manufacturing, healthcare, liberal arts, and STEM fields continue to provide the most affordable options for students pursuing a four-year degree. With an annual enrollment of about 7,000 day, evening, weekend, and online students, STCC is a vibrant campus rich in diversity.
For more information about STCC, visit www.stcc.edu. Follow us on Facebook, Twitter (@S_T_C_C) and Instagram (@stccpics).
MEDIA CONTACT:
Jim Danko, (413) 755-4812, jdanko@stcc.edu