Students from overseas pursue their passion for architectural design at STCC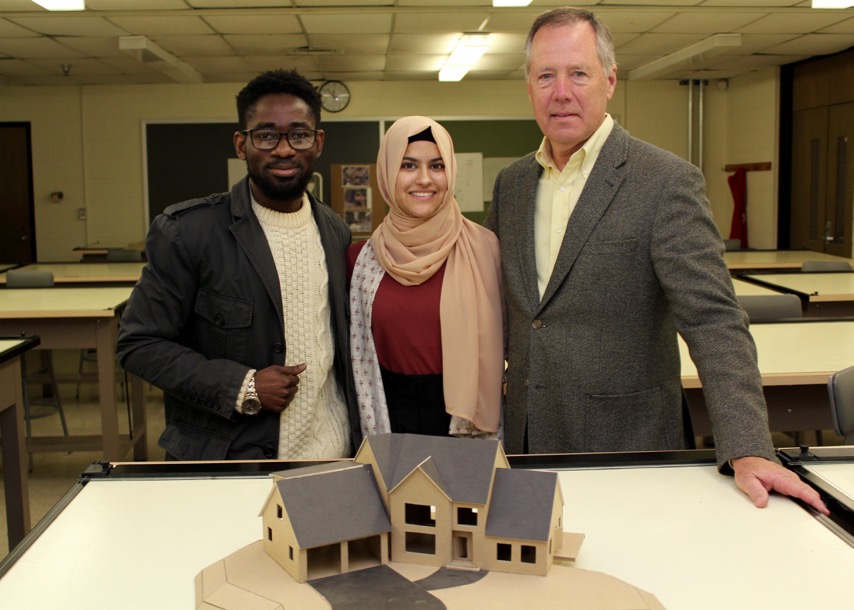 Obed Otabil, left, Asra Afzaal and Warren Hall, chair of the Architecture and Building Technology program at STCC.
SPRINGFIELD, Mass. – They came to the United States from distant lands. Obed Otabil and Asra Afzaal traveled from Ghana and Pakistan, respectively.
They didn't know each other, but carried in their hearts a passion for design. After settling in Western Massachusetts, Otabil and Afzaal ended up enrolling in the Architecture and Building Technology program at Springfield Technical Community College.
Now friends with a shared experience, Otabil and Afzaal on May 31 accepted their degrees at the MassMutual Center in Springfield during STCC's 51st Commencement. In an earlier ceremony, they were honored with the Architecture and Building Technology Faculty Award, which is given to seniors who have demonstrated the greatest academic characteristics, creativity and professional motivation to pursue a successful career in Architecture and Building Technology.
Otabil and Afzaal both found employment as architectural designers here in Western Massachusetts and are continuing their education this fall at the University of Massachusetts, Amherst. The graduates say they are proud to have started at STCC.
"The program at STCC is amazing," Otabil said. "The professors are amazing."
Afzaal added, "It was always my plan to go to a community college first. A community college gives you exposure to your field. The Architecture and Building Technology program was so interesting."
They studied under Professor Warren Hall, the Architecture and Building Technology Department chair. Otabil and Afzaal recalled how Hall would lace his lectures with interesting anecdotes. Hall served for seven years on the Planning Board in Pelham and was Pelham's commissioner to the Pioneer Valley Planning Commission.
There is just so much to admire about these two students, and we have had so many wonderful moments together both in and out of the classroom. Warren Hall,

Architecture and Building Technology Dept. chair
Afzaal said Hall's colorful and lively style of teaching left an impression. "He would share his experiences from his projects," she said. "It was fun and interesting, a great learning process."
Hall said he was impressed by the two students who left their homes, thousands of miles from Springfield, to explore new opportunities.
"There is just so much to admire about these two students, and we have had so many wonderful moments together both in and out of the classroom," Hall said. "They both came to America with a dream and a passion for design. Somehow, they found our Architecture and Building Technology Program and started taking classes, meeting faculty and other students and got involved. They have worked hard and grown professionally. They have shared their enthusiasm, talent, kindness, thoughtfulness and world view with us and enriched our program."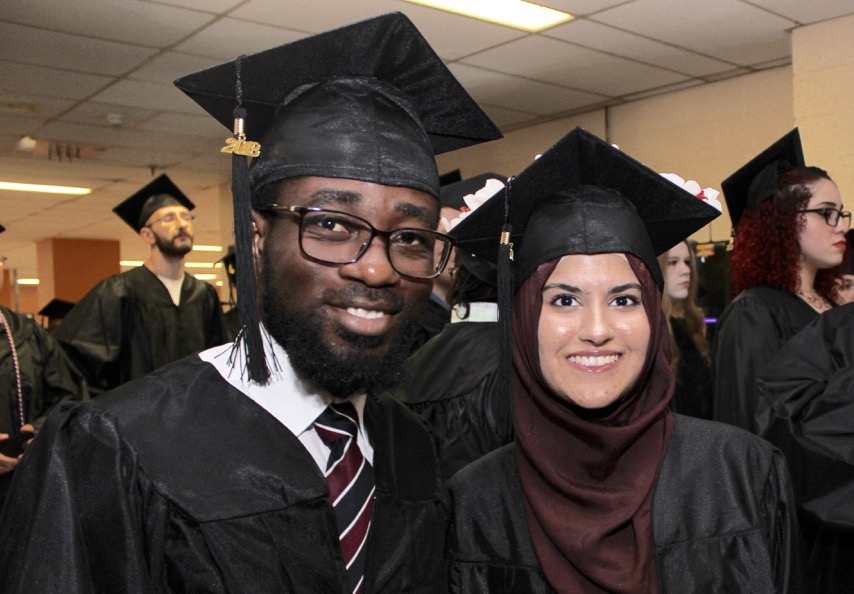 STCC Vice President of Academic Affairs Geraldine de Berly said, "Under Professor Hall's leadership, this important program continues to grow and attract a diverse group of students. We strive to make our students feel at home at STCC, whether they grew up here in Springfield or in a community thousands of miles away."
Born in Ghana, Otabil grew up with eight brothers and a sister. In school, a teacher remarked that he had a special talent for drawing. After high school, he studied architectural drawing and trained as an apprentice as an architectural draftsman.
He immigrated to the United States in 2011 and stayed with a relative in Indian Orchard.
"My first job was working in a group home for two years to pay for my college expenses. STCC was something I heard about from my aunt, from my cousin, from my friends. They were all STCC students. I walked into the Admissions Office at STCC to collect the information I needed for classes. I was admitted for fall 2014," said Otabil, who now lives in Amherst.
He liked the idea of starting his higher education journey at a community college.
"The first day I walked on campus, the advisors talked to me about what classes to take and what not to take. I almost felt like I knew them. I wasn't alone when walking around campus. It was a great experience," Otabil said.
Afzaal was born in Karachi, the largest city in Pakistan, and moved to West Springfield.
"I came to the United States for educational opportunities," Afzaal said. "I came here and started high school as a junior. It was then I realized this was an entirely different world. It was not easy to get into the culture, but somehow I managed and soon started enjoying it."
She loves to travel and check out different designs of buildings. "I think buildings are a prominent part of any culture and tradition. I have seen really old architecture and also new architecture. It is amazing to see how the designs have evolved architecture," Afzaal said.
While in her last semester at STCC, Afzaal accepted a job in the design department of a company in Springfield. In the fall, she begins studying in the Building Construction Technology program at UMass.
"It's a very smooth transition to go from STCC to a four-year university," she said. "I plan to get a master's degree in architecture and keep living my dream."
Hall, who nominated the students for the Faculty Award, said Afzaal and Otabil represent the very best of STCC's student body.
"Asra and Obed are two of our best examples of successful graduates," he said. "We have given them new opportunities, and they have given us so much in return."
If you're interested in applying for the Architecture and Building Technology program, visit www.stcc.edu/apply. For more information, call STCC Admissions at (413) 755-3333.
Click here to see current job listings in the field.
About Springfield Technical Community College
Founded in 1967 and located on 35 acres of the Springfield Armory National Historic Site, STCC is a major resource for the economic vitality of Western Massachusetts. As the only technical community college in Massachusetts, STCC, a designated Hispanic Serving Institution and an Achieving the Dream Leader College, offers a variety of career programs unequalled in the state. STCC's highly regarded transfer programs in business, engineering, liberal arts, science and technology continue to provide the most economical options for students pursuing a four-year degree. With an annual enrollment of more than 7,700 day, evening, weekend and online students, STCC is a vibrant campus rich in diversity.
For more information about STCC, visit www.stcc.edu. Follow us on Facebook and Twitter (@S_T_C_C).
MEDIA CONTACT:
Jim Danko, (413) 755-4812, jdanko@stcc.edu