The sky's the limit for STCC student selected to visit NASA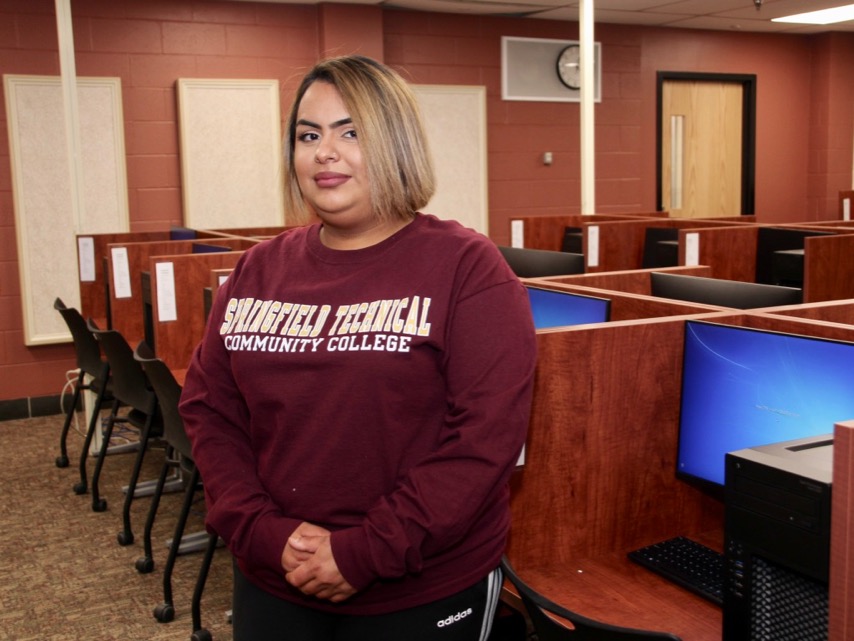 SPRINGFIELD, Mass. – A Springfield Technical Community College student has an opportunity that could help launch her career.
The student, Aminah Bergeron of Westfield, has been selected to attend the NASA Community College Aerospace Scholars (NCAS) Onsite Experience at Wallops Flight Facility in Virginia, March 2-6. She will learn about careers in science and engineering and work with a team to design a prototype Mars rover, among other tasks.
"I think 2020 is off to a great start. It's huge," said Bergeron, one of 524 community college students from across the United States to be part of NCAS. "I'm so excited to go to NASA. I have my luggage all packed."
As part of the application process, Bergeron created images of a 3-D model of a Mars rover, which she submitted to NASA. She also successfully completed a five-week online course which lead to a visit to a NASA center.
Now in her first year at STCC, the 26-year-old engineering transfer student hopes to pursue her bachelor's degree in computer science from a four-year college or university after receiving her associate degree. After college, she said she would love to work for the space agency.
"I've always been a big fan of NASA," Bergeron said. "I love space, the planets and the solar system."
While at NASA in March, students will be part of teams that will establish fictional companies interested in Mars exploration. Each team is responsible for developing and testing a prototype rover, forming a company infrastructure, managing a budget and developing communications and outreach.
The event includes briefings by NASA subject matter experts, information on how to apply for NASA internships and a tour of NASA's unique facilities.
Bergeron said she expects to work long days with her team. She will stay at lodging on the NASA base and focus on the team project. "We're going to be exhausted, but I'm up for it. It's going to be a once-in-a-lifetime opportunity," she said.
One of the great benefits of coming to STCC is access to these kinds of opportunities and the personal support of faculty in pursuing them. Professor Beth McGinnis-Cavanaugh,

Chair of the Civil Engineering Technology Program
Bergeron found out about the Aerospace Scholar program through Professor Beth McGinnis-Cavanaugh, professor and chair of the Civil Engineering Technology program.
"This is a phenomenal opportunity for Aminah, and I'm thrilled she was selected," McGinnis-Cavanaugh said. "I applaud her for taking the initiative to apply for the NASA onsite experience. One of the great benefits of coming to STCC is access to these kinds of opportunities and the personal support of faculty in pursuing them. This will be a life-changing experience for Aminah as well as future students who will apply because of her success.
Bergeron also received help from another faculty member at STCC, Karen Hachadourian, who wrote a recommendation letter to NASA on Bergeron's behalf.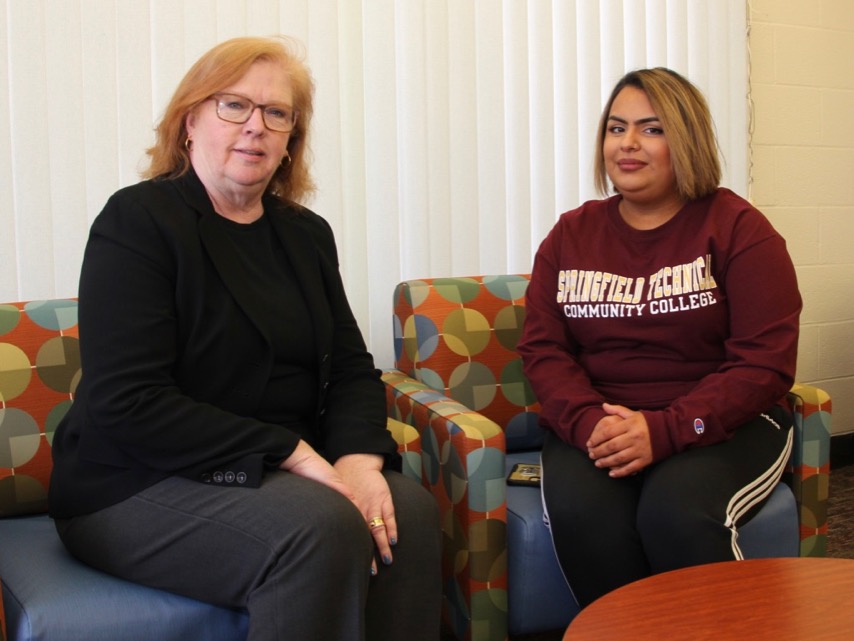 "I'm grateful Professor McGinnis-Cavanaugh for letting me know about this opportunity and am beyond thankful to Professor Hachadourian and my family for being so supportive," Bergeron said. "My family is so proud of me."
According to a NASA press release, the Minority University Research and Education Program, or MUREP, funds NASA Community College Aerospace Scholars. MUREP is committed to engaging underrepresented and underserved students in science, technology, engineering and mathematics (STEM) with authentic learning experiences to sustain a diverse workforce.
With this activity, NASA continues the agency's tradition of engaging the nation in NASA's mission and leading an innovative and sustainable program of exploration to enable human expansion across the solar system and to bring back to Earth new knowledge and opportunities.
"NCAS not only inspires community college students to advance in STEM fields, but it also opens doors for future careers at NASA. NCAS alumni often move on to NASA internships and ultimately enter the NASA workforce. It is rewarding to see the progression of a student from NCAS participant to NASA colleague," said Torry Johnson, Minority University Research and Education Project (MUREP) Manager.
For additional information, please contact National Community College Aerospace Scholars by email at JSC-NCAS@mail.nasa.gov or by phone at 281-244-0104. For more information, visit: https://go.nasa.gov/ncas
For more on MUREP visit: www.nasa.gov/education/murep
Interested in becoming a student at STCC? Visit www.stcc.edu/apply or call admissions at (413) 755-3333.
About Springfield Technical Community College
Founded in 1967 and located on 35 acres of the Springfield Armory National Historic Site, STCC is a major resource for the economic vitality of Western Massachusetts. As the only technical community college in Massachusetts, STCC offers a variety of career programs unequalled in the state. STCC's highly regarded transfer programs in business, advanced manufacturing, healthcare, liberal arts, and STEM fields continue to provide the most affordable options for students pursuing a four-year degree. With an annual enrollment of about 7,000 day, evening, weekend, and online students, STCC is a vibrant campus rich in diversity.
For more information about STCC, visit www.stcc.edu. Follow us on Facebook, Twitter (@S_T_C_C) and Instagram (@stccpics).
MEDIA CONTACT:
Jim Danko, (413) 755-4812, jdanko@stcc.edu