Training program helps women get a 'Foot in the Door'
SPRINGFIELD, Mass. – With the help of Training and Workforce Options (TWO), Suzanne Talaia of Springfield is ready to get her "Foot in the Door."
Talaia, 58, was unemployed for nearly two years when she applied for a workforce readiness program called "Foot in the Door," provided by Dress for Success Western Massachusetts. Dress for Success contracted with TWO, a collaboration between Springfield Technical Community College and Holyoke Community College, to provide the training.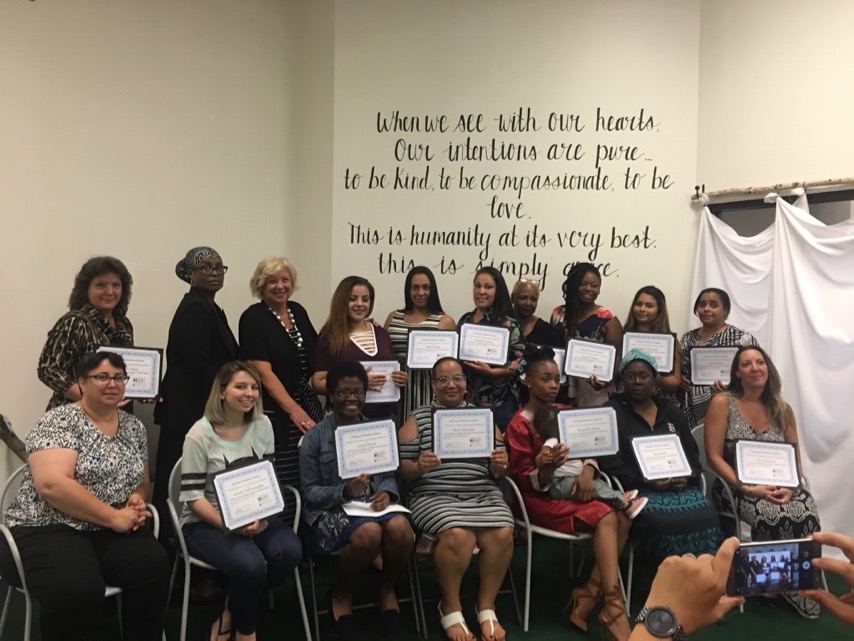 "At the beginning, they called me 'Soft-Spoken Sue,'" Talaia said. "By the end of the class, I was able to get up and speak in front of everybody."
Talai was one of 18 women who earned National Career Readiness Certificates on July 15. They were the second cohort to graduate from the popular workforce readiness program, which is free to participants and funded by local companies, said Sharon Grundel, director of health care training development for TWO.
"Many of our trainees have not been in the workplace for years, others are underemployed and financially struggling. For those who are young and single parents, the training provides a supportive structure to prepare for the workforce," Grundel said.
The success of Foot in The Door is attributed in large part to the partnership between Dress For Success and TWO of the community colleges. The content was developed and is facilitated by a TWO trainer.
Participants included unemployed and underemployed women – those who might be working one or more low-paying part-time jobs. They met on Saturdays between 9 a.m. and 1 p.m. at Square One in Springfield, with transportation and child care provided by Dress for Success.
The goal of Foot in the Door is to help the women develop skills needed to succeed in the workforce. Grundel noted that the program is not about specific technical skills training, but overall interpersonal skills for the workplace.
"It's about learning work-life balance," she said. "Have you got the supports in place that you need to go to work? Is there child care? Is the car running? Is there gas in it? Is it insured? It's a matter of learning how to prioritize and learning how to become resourceful."
Instructor Shawntsi Baret taught the class how to communicate effectively in the workplace as well as how to prepare a resume and explore careers. They also participated in mock interviews in front of volunteers, including some who work at STCC. They learned the basics of budgeting and how to develop critical thinking skills.
"We start with career exploration and pathways, then we continue into employability preparation," she said. "Now you know where you want to go. Let's help you get there. We do mock interviews so they can really test the waters.
"I've had individuals who were working poor, under-employed and individuals who had never been employed at all," Baret said. "In every case there's a common denominator: your self-esteem and self-confidence takes a hit."
Baret said people who have lost their confidence "forget the richness they bring to the table." She sees her job as helping them tap into their potential.
When participants graduate, they receive a certificate, and Dress for Success provides them with a suit to wear to an interview.
Many participants in the recent class expressed gratitude for the opportunity to receive training, motivation and support to build resumes, search for jobs and perfect interview skills. Some sent letters of appreciation.
"It's amazing what can happen when you bring together a group of motivated, hardworking women and match them with organizations who are committed to their personal and professional success," said Dawn Creighton, President of Western Massachusetts Dress for Success. "We are so grateful to the funders who have made this program possible, and to the participants who inspire us to continue to grow this important initiative."
Talaia, the woman who was laid off after 16 years working as a data entry clerk, said the program did more than help her find a path to a new career.
"It built up my self-esteem," she wrote in a letter to Creighton. "It gave me back my confidence. It enabled me to trust people again and find faith in myself."
Grundel said TWO hopes to contract for a third series this fall, but no specific starting time has been confirmed yet.
For more information about Training and Workforce Options, please contact Sharon Grundel, director of Healthcare Training Development for TWO. Call (413) 744-4396 or email sagrundel@stcc.edu.
About Training and Workforce Options (TWO)
Training and Workforce Options (TWO) is a formal workforce development collaborative of Springfield Technical and Holyoke Community College, designed to optimize employer access to high quality training and education at affordable rates. TWO offers customized employee training, organizational planning, workforce needs assessments and assistance with Workforce Training Fund applications.
Between the two colleges there are dozens of training disciplines offered that complement and strengthen one another. TWO is capable of designing and customizing any curriculum to meet employer needs, and will train on-site or at either of the colleges.
About Springfield Technical Community College
Founded in 1967 and located on 35 acres of the Springfield Armory National Historic Site, STCC is a major resource for the economic vitality of Western Massachusetts. As the only technical community college in Massachusetts, STCC, a designated Hispanic Serving Institution and an Achieving the Dream Leader College, offers a variety of career programs unequalled in the state. STCC's highly regarded transfer programs in business, engineering, liberal arts, science and technology continue to provide the most economical options for students pursuing a four-year degree. With an annual enrollment of more than 8,500 day, evening, weekend and online students, STCC is a vibrant campus rich in diversity.
For more information about STCC, visit www.stcc.edu. Follow us on Facebook and Twitter (@S_T_C_C).
Media Contact:
Jim Danko, jdanko@stcc.edu, (413) 755-4812