Amy H. Carberry Fine Arts Gallery
The Amy H. Carberry Fine Arts Gallery presents approximately six exhibits each academic year featuring works by artists of local and national repute, as well as STCC student work. All exhibits are supported in part by funding from STCC Student Activities. The gallery is free, open to the public, and handicapped accessible.
The Amy H. Carberry Fine Arts Gallery is open Tuesday through Friday 12:30 p.m. to 4:30 p.m., and Saturday 10 a.m. to 2
Fall 2017 Events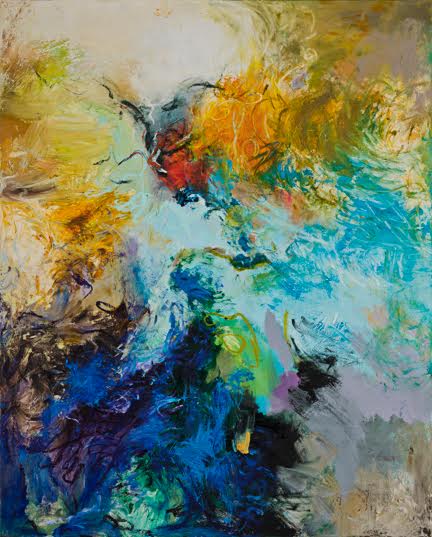 Joanne Holtje
Recent Work: Paintings and Works on Paper
Tuesday, September 12, 2017-Friday, October 6, 2017
Artist Reception: Tuesday, Sept 26, 10am-11:30am
Special Master Class/Studio Visit: Saturday, Sept 23

This collection of paintings and works on paper by Belchertown artist Joanne Holtje, produced over the past five years, exemplifies a wide range of media, content and scale by the artist. Holtje's work celebrates the physicality of paint, with an exuberant use of color and expressive mark-making. Her paintings frequently reference the landscape, some more literally than others at times, which she credits to a youth spent wandering in the woods and fields, along rivers and lakes, drinking in the full sensory experience of being in and of the natural world. She received her BA from Tufts University, and since 2006, she has exhibited in local, regional and national shows including the Massachusetts Artists Biennial, The Fitchburg Art Museum, and the Danforth Museum. Holtje has been a member of Oxbow Gallery, Northampton since 2014 and her work appears in the book, Creating Abstract Art by Dean Nimmer. http://www.joanneholtje.com
Keith Hollingworth
Homage to Art/54 African Americans
Tuesday, October 17, 2017 through Friday, November 9, 2017
Artist Talk and Reception: Tuesday, October 31, 10am-11:30am

Amherst artist Keith Hollingworth will exhibit two series of large-scale collage works, "Homage to Art" and " 54 African Americans," which he has worked on for the past three years. He collects images exclusively from the The New York Times for these collages, which celebrate the inspirational power of great artists and African Americans who have broken a variety of barriers. Hollingworth has shown his artwork in numerous solo and group shows at museums and galleries throughout the country. He is currently an Associate Professor at Westfield State and a graduate of the Rhode Island School of Design. http://www.keithhollingworth.com


STCC Student Art Work: Fall Showcase
Tuesday, November 28, 2017-Saturday, December 9, 2017
Student Artists' Reception: Tuesday, Dec 5, 10:00am-11:30pm

Each year, the Annual Student Fall Exhibition invites the Fine Arts faculty to select work to showcase their students' finest portfolios. From colorful paintings to intricate charcoal drawings to tradition gelatin silver photographs, and many other outstanding design projects, all artwork represents the culmination of a semester's work in the Fine Arts Department at STCC.

Call for Exhibition Proposals
The college invites all area artists, photographers, video and installation artists to an open call for exhibition proposals to present and/or produce an exhibition in collaboration with the fine arts gallery.
Location:
Building 28, first floor, on the Pearl Street side of the STCC campus.
Hours:
Tuesday through Friday 12:30 p.m. to 4:30 p.m.
Saturday 10:00 a.m. to 2:00 pm
Or by appointment
Contact Information:
Sondra Peron
Gallery Coordinator, Amy H. Carberry Fine Arts Gallery
Adjunct/Photography, Fine Arts Department
Darkroom/Office: Building 17, Room 508
http://www.sondraperon.com
speron@stcc.edu
Gallery phone: 413-755-5258
Gallery email: gallery@stcc.edu
Mailing Address:
Amy H. Carberry Fine Arts Gallery
Springfield Technical Community College,
One Armory Square Suite 1
P.O.Box 9000, Springfield, MA 01102-9000