Past Gallery Exhibitions
Spring 2018 Events
Philadelphia fiber artist Dindga McCannon
"Legacy"
Thursday, February 1 through Wednesday, February 28, 2018
"Meet and Greet" Reception: Thursday, Feb 22, 10am-11:30am

This exhibition is made possible with fincncial support from the Springfield Cultural Council, a local agency which is supported by the Mass Cultural Council, a state agency; Vonetta Lightfoot and the office of Multicultural Affairs; and Anne Bonemery, Dean of Arts, Humanities, and Social Sciences. Special thanks to co-curator Rosemary Woods of Art for the Soul Gallery.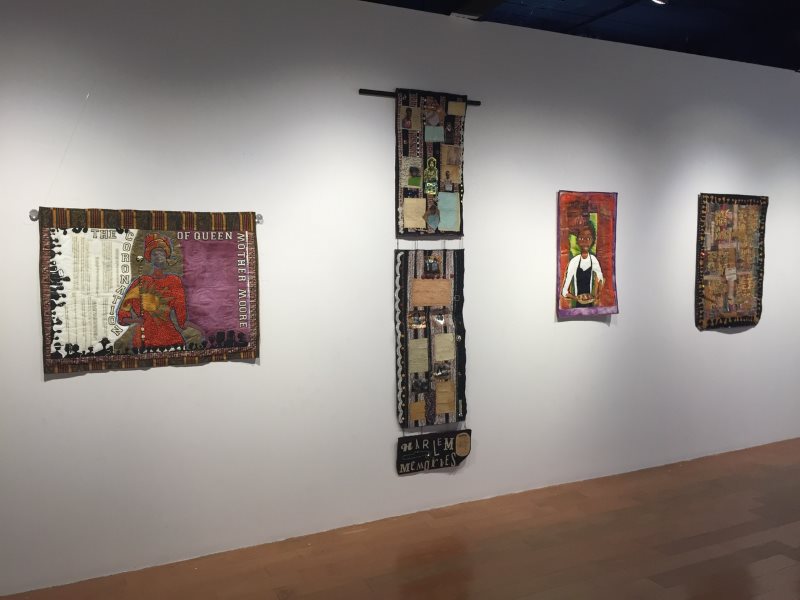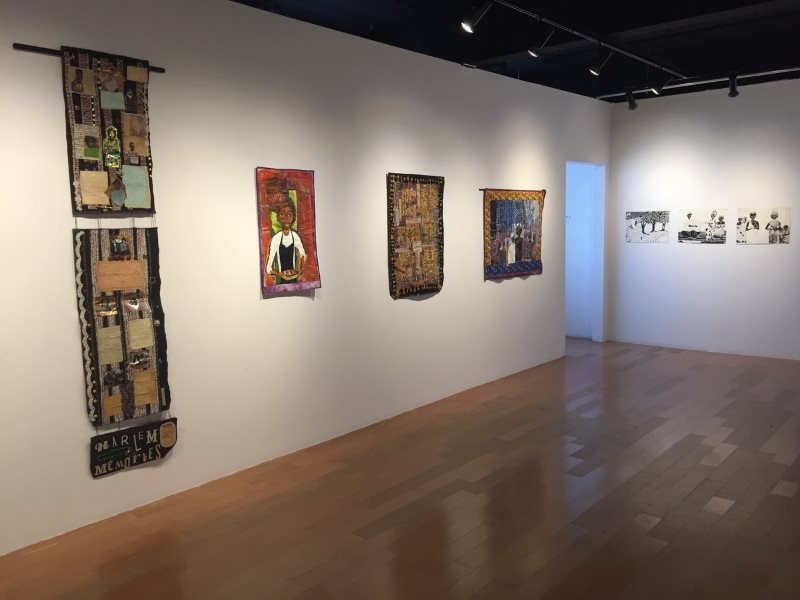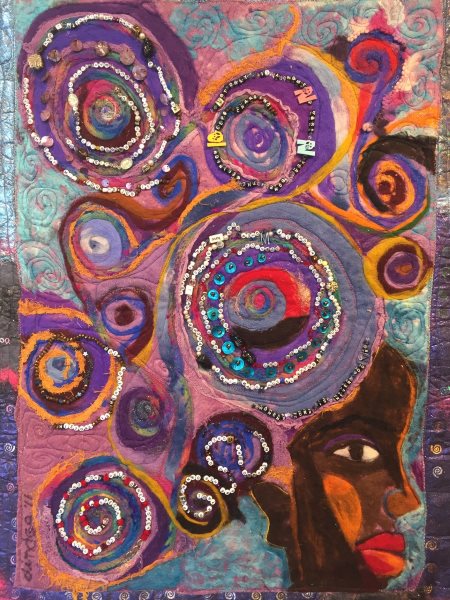 In celebration of Black History Month, the gallery presents McCannon's elaborate and colorful quilt designs highlighting the many women of color who have made significant contributions to the history of African Americans. Examples from this exhibition entitled, "Legacy," include the 1930's trumpeter Valaida Snow to master dancer and choreographer of the 50's and 60's Lavinia Williams to the great Maya Angelou, writer, poet and civil rights activist. All quilts are made of wool and fiber that has been felted, hand-embroidered and beaded into intricate quilt designs.
---
Sean Greene
New Work/Solo Exhibition
Tuesday, March 6 through Saturday, April 7, 2018
"Meet and Greet" Reception: Thursday, March 22, 10am-11:30am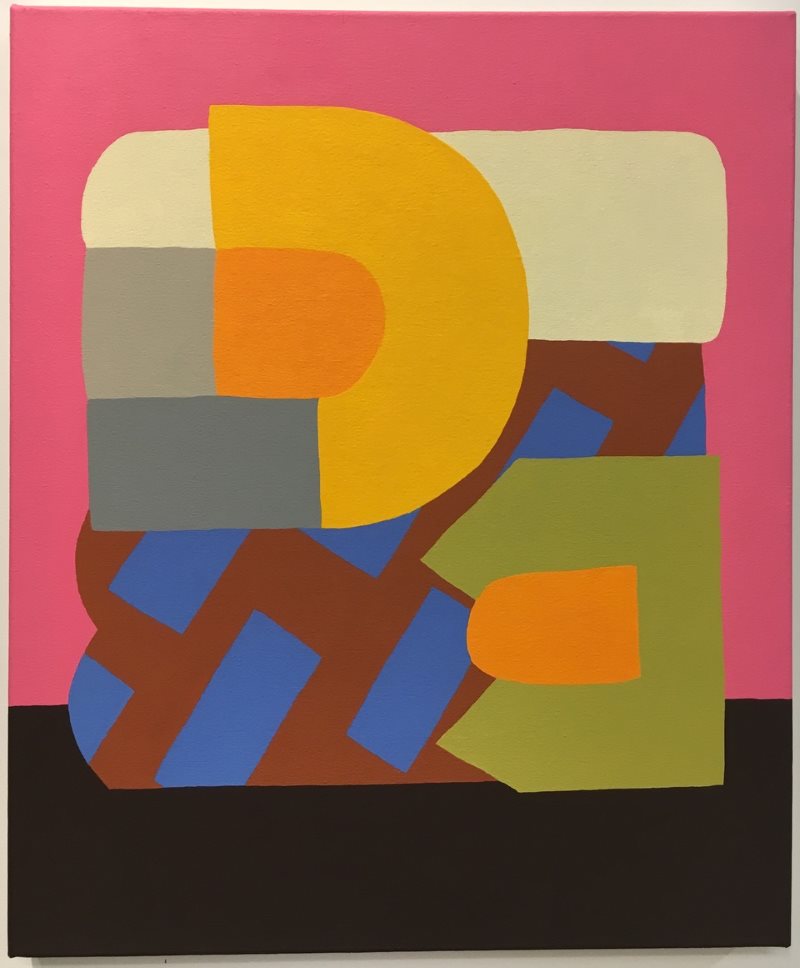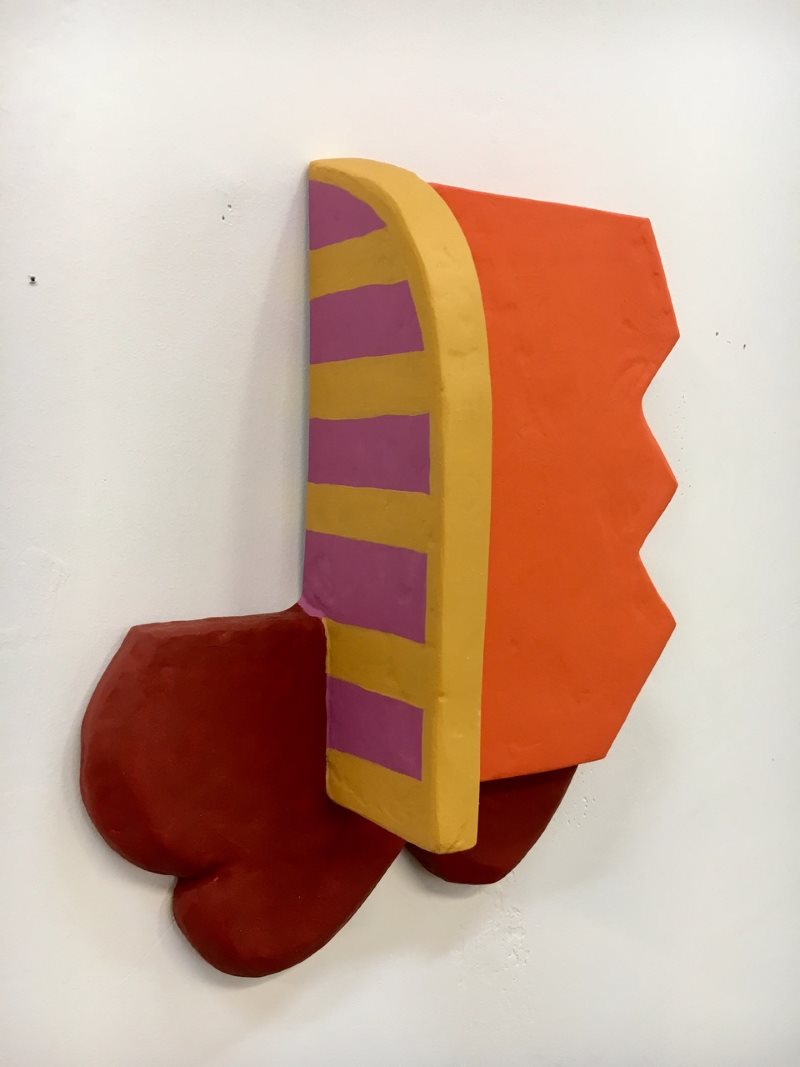 Florence artist Sean Greene has been exhibiting frequently in the U.S. in galleries such as the Brian Morris Gallery in New York, and William Baczek Fine Arts and Geoffrey Young Gallery in Massachusetts, the Artisphere in Arlington, Virginia, and New Image Art in West Hollywood, among others. He received grants from the Somerville and Northampton Arts Councils, the Artists Resource Trust and recently has been awarded a Massachusetts Cultural Council Fellowship. His work is in private collections in the U.S., the U.K., Australia, and France, as well as the corporate collection of Neiman Marcus, and the University Museum of Contemporary Art in Amherst.
---
STCC Student Art Work: Spring Showcase
Tuesday, April 24 through Saturday, May 5, 2018
Student Artists' Reception: Thursday, April 26, 10:00am-11:30pm
Each year, the Annual Student Spring Exhibition invites the Fine Arts faculty to select work to showcase their students' finest portfolios. From colorful paintings to intricate prints, charcoal drawings to tradition gelatin silver photographs, and many other outstanding design projects, all artwork represents the culmination of a semester's work in the Fine Arts Department at STCC.
Fall 2017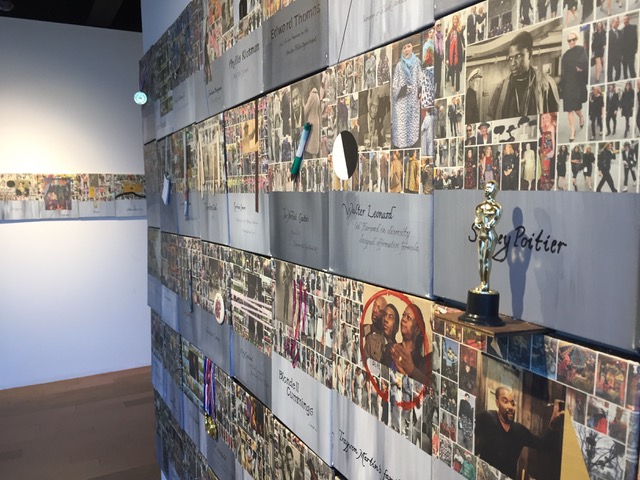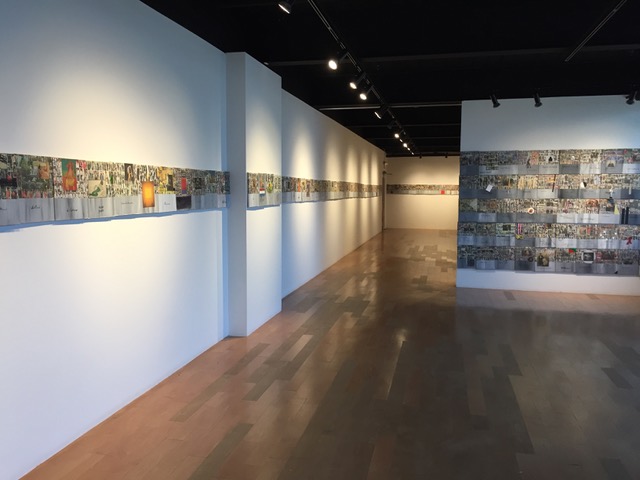 Keith Hollingworth
Homage to Art/54 African Americans
Tuesday, October 17, 2017 through Friday, November 9, 2017
Artist Talk and Reception: Tuesday, October 31, 10am-11:30am

Amherst artist Keith Hollingworth's two series of collages, 54 African Americans and Homage to Art will be on view through Thursday, November 9. A "meet and greet" reception for the artist will be on Tuesday, October 31, 10:00am to 11:30am. Since graduating from the Rhode Island School of Design in the 1960s, art has been, and continues to be at the cornerstone of Hollingworth's life. In one series on view at the Carberry Gallery, Homage to Art, he credits the many artists in the history of art with over 120 separate canvases devoted to each artist, their style of art, and a replica of their signature. The focus of the series is a recognition that many artists have served as great teachers, whether giving the viewer ideas or simply the concept of commitment, the history of art is has inspired us all.

For the past three years, Keith Hollingworth has been working on this large series of collages of African Americans. Utilizing The New York Times photographer Bill Cunningham's Sunday fashion page. The 54 collages are hung one against the other in a giant grid, giving the sense of a continuum, much like a mural. Hollingworth has stated that his intent is to show that African Americans are both part of, and apart from, American society, and that many barriers have been broken.

Hollingworth is currently a professor of art at Westfield State College.

More of Hollingworth's artwork can be viewed on his website: http://wwwkeithhollingworth.com
---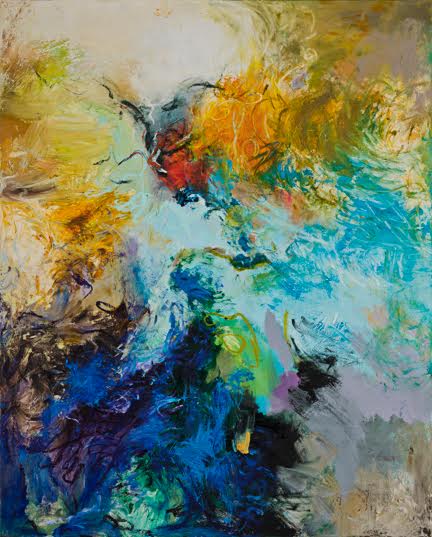 Joanne Holtje
Recent Work: Paintings and Works on Paper
Tuesday, September 12, 2017-Friday, October 6, 2017
Artist Reception: Tuesday, Sept 26, 10am-11:30am
Special Master Class/Studio Visit: Saturday, Sept 23

This collection of paintings and works on paper by Belchertown artist Joanne Holtje, produced over the past five years, exemplifies a wide range of media, content and scale by the artist. Holtje's work celebrates the physicality of paint, with an exuberant use of color and expressive mark-making. Her paintings frequently reference the landscape, some more literally than others at times, which she credits to a youth spent wandering in the woods and fields, along rivers and lakes, drinking in the full sensory experience of being in and of the natural world. She received her BA from Tufts University, and since 2006, she has exhibited in local, regional and national shows including the Massachusetts Artists Biennial, The Fitchburg Art Museum, and the Danforth Museum. Holtje has been a member of Oxbow Gallery, Northampton since 2014 and her work appears in the book, Creating Abstract Art by Dean Nimmer. http://www.joanneholtje.com
---
Spring 2017
STCC Creates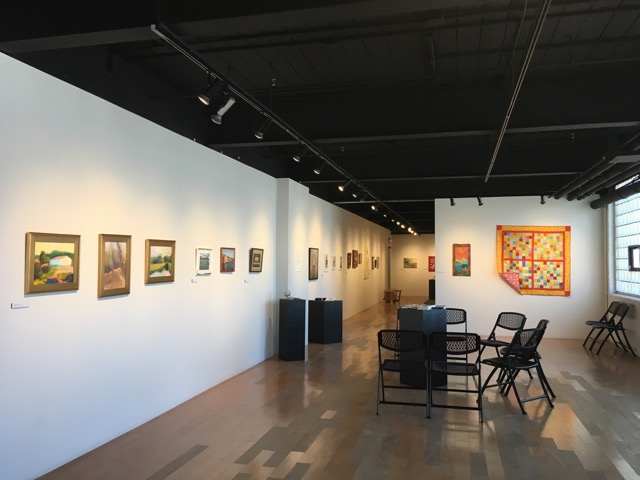 Whether an artist attempts to affect social change, express a personal thought or feeling, or tell a story, the creative work found in this exhibit exemplifies the diversity found in all the many creators presented. In honor of STCC's 50th anniversary, the Amy H. Carberry Fine Arts Gallery celebrates the creative spirit found in the people who work here at STCC, where we are all creative.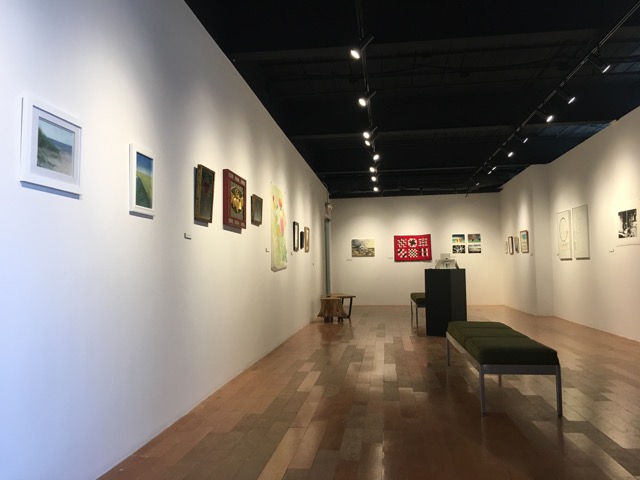 Art is universal. Art is everywhere. We are all artists, and we are all creative. This belief is at the foundation of this unique exhibition. The criteria for STCC Creates is purposefully open and inclusive: any faculty or staff, whether professional artist or amateur, was invited to submit artwork in any medium.
I want to especially thank all the individuals listed below whose work you see in this gallery exhibition for sharing their creative work. In some cases, the artwork is very personal and was not originally intended for public display, while other work has been exhibited in galleries around the globe. Their willingness to share their artwork in this forum made this unique exhibit possible. Thank you.
Kathleen Andrews, Professor of English, School of Arts, Humanities, and Social Science,
Poems and Calligraphy
Kris Kozuch, Director, Disability Services,
Digital Photography
William Garvey, Coordinator of SIMS Medical, Health and Patient Simulation
Celtic-themed Mosaic Wall Hangings
Alexis Greenblatt, Literary Specialist, Adult Basic Education
Handmade Greeting Cards
Mary Moriarty-Copeland, Staff Assistant to Dean, Student Affairs Office
Quilting
Mayre Sullivan, Technical Services Assistant, Library
Needlework
Roberta Albano, Professor, Dental Assistant
Paintings
Joan Nadaeu, Senior Director, Human Resources & Employee Benefits and Operations Center
Quilting
William Halloran, Assistant Professor, Energy Systems, School of Engineering Technologies, and Math
Wildcat O'Halloran Band Live at the Zorba Room
Theresa Berard, Adjunct Professor, World Languages/Italian, School of Arts, Humanities, and Social Science
Photography
Sondra Peron, Adjunct Professor of Photography;Gallery Coordinator, School of Arts, Humanities, and Social Science
Photography
Susan Barocas, Adjunct Professor, School of Engineering Technologies, and Math
Paintings
Frances Riddle, Assistant Professor of Art & Dept Chair, School of Arts, Humanities, and Social Science
Mixed Media Contour Drawing
David Hosmer, Adjunct Professor of Civil Engineering, School of Engineering Technologies, and Math
Digital Photography
Robert Dickerman, Dean, School of Engineering Technologies, and Math
Wood Furniture
Susan Dion, Professional Tutor, Student Success Center
Paintings and Mixed Media Drawings
Sandra Howell, Adjunct Professor, School of Arts, Humanities, and Social Science
Literature
Jaime Herrick, Chemical Hygiene Officer, Police Department
Press Flower Designs
Anne Bonemery, Dean, School of Arts, Humanities, and Social Science
Painted Glassware and Wood
Jesse Connor, Adjunct Professor, Fine Art, School of Arts, Humanities, and Social Science
Painting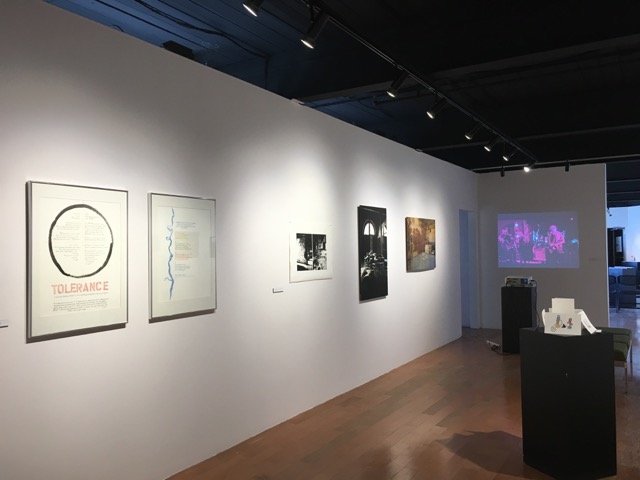 ---
$3YM@UR featured in black history month exhibit at Amy H. Carberry Fine Arts Gallery, B28
Springfield-born Marlon Seymour, also known as $3YM@UR, will be the featured solo artist during a special black history month exhibition entitled, "Gentrification," at STCC's Amy H. Carberry Fine Arts, located in B28.
The exhibit will run through Friday, Feb. 24, with three special events: a reception for the STCC community scheduled for Thursday, Feb. 16 from 10:00 a.m. to 11:30 a.m., and a special master class for fine arts students on February 21, and an evening reception and closing celebration on Thursday, Feb. 23 from 5:30 p.m. to 7:30 p.m. Everyone is welcome to attend and meet the artist.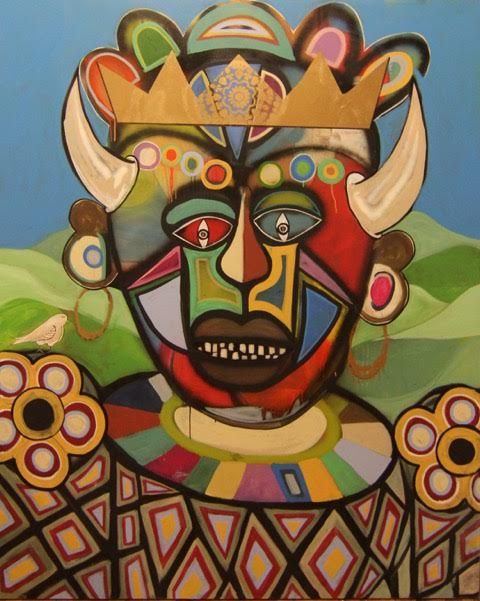 "Gentrification," highlights $3YM@UR's diversity of artistic exploration with 12 very large, colorful paintings made up of richly abundant saturated colors and vivid faces. Growing up in poverty, Seymour had little resources for fun between caring for his siblings and helping around the house. Originating as a hobby, and inspired by life's lessons, painting was a way of escaping from the stress of everyday life.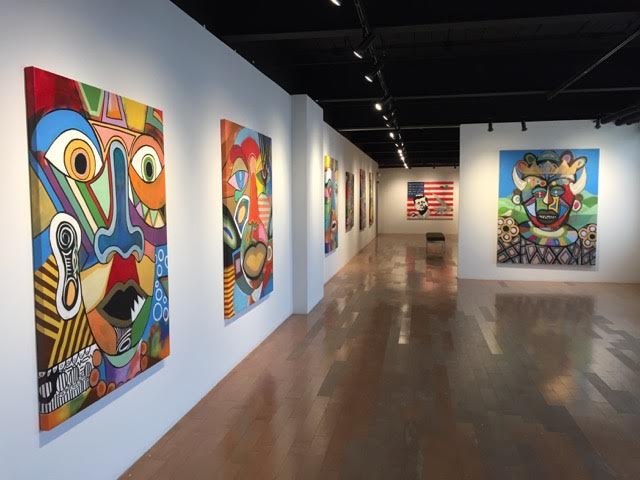 Born Marlon Seymour in Springfield, MA in 1978, he lost his mother at an early age and was adopted by his aunt. In 9th grade, he began hanging out in the streets. Seymour managed to refrain from a stereotypical lifestyle of a black man growing up in a bad environment by turning to music and painting. Today, a devoted father and abstract artist, Seymour is a man obsessed with his work and fixated by art. Self taught and still unveiling his true potential, he has painted over 700 works of art.

SPECIAL THANKS TO:Vonetta Lightfoot of Multicultural Affairs and the Black Professional Group of STCC); Rosemary Tracy Woods of the Art of the Soul Gallery in Springfield; and STCC's School of Arts, Humanities, and Social Sciences for all their support for the arts at STCC.