Multicultural Affairs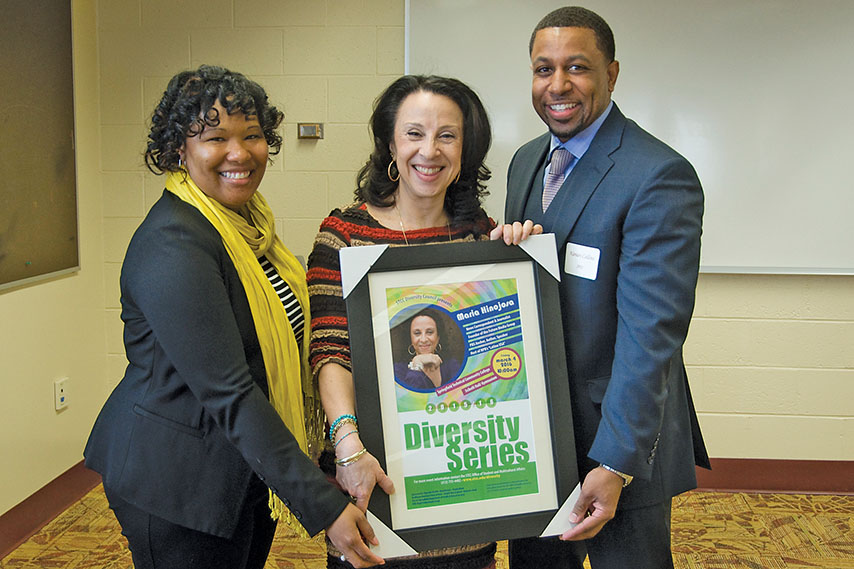 Multicultural Affairs Operations Manager Vonetta Lightfoot and Vice President of Student & Multicultural Affairs Kamari Collins present Diversity Series speaker Maria Hinojosa with a commemorative poster during her visit to STCC. Hinojosa, an award-winning trailblazer in investigative journalism, is currently the anchor and executive producer of National Public Radio's long-running weekly program, Latino USA.
Springfield Technical Community College fosters a campus environment inclusive of all people. By applying the following strategies in our daily interactions, we create a safe environment in which all can flourish:
We respect the dignity and essential worth of all individuals.

We respect the opinions and/or belief systems of others.
We respect the privacy, property, and freedom of others.
We will not tolerate bigotry, discrimination, violence, or intimidation of any kind.
We practice personal and academic integrity and expect it from others.
We choose to express ourselves in ways of positivity.
We promote the diversity of backgrounds, cultures, and ideas which are the lifeblood of the campus.
If you'd like to learn more about STCC's Diversity Initiatives and opportunities for community collaboration please contact:
Vonetta Lightfoot
Multicultural Affairs Operations Manager
(413) 755-4461
vmlightfoot@stcc.edu
If you are interested in joining our mailing list, please fill out our contact form below:
STCC Diversity Matters Contact Form