Office of Multicultural Affairs & the Multicultural Center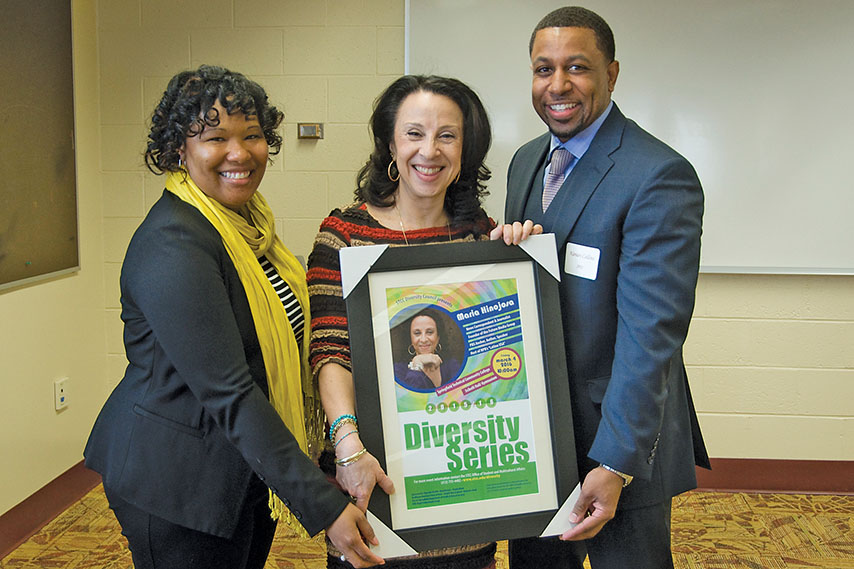 Multicultural Affairs Operations Manager Vonetta Lightfoot and Vice President of Student Affairs Kamari Collins present Diversity Series speaker Maria Hinojosa with a commemorative poster during her visit to STCC. Hinojosa, an award-winning trailblazer in investigative journalism, is currently the anchor and executive producer of National Public Radio's long-running weekly program, Latino USA.
Contact
Location: Ira H. Rubenzahl Student Learning Commons (B19), 2nd Floor, room 271
Phone: 413-755-4461
Email: vmlightfoot@stcc.edu
Hours
Office Hours:
Monday – Friday: 9:00 a.m. to 5:00 p.m.
Center Hours:
Monday-Friday: 10:00 a.m. to 4:00 p.m.
*Hours may be impacted due to holiday and other college closings
Mission
The Office of Multicultural Affairs at Springfield Technical Community College is committed to meeting the needs of all students from underrepresented student populations. Multicultural Affairs provides educational programming which includes:
Student and community engagement
Cultural activities
Academic support and retention of students
Multicultural Affairs supports the College's commitment to building a diverse and inclusive climate on campus while creating an environment that is both safe and welcoming for all students to be successful.
Multicultural Affairs Signature Programs:
The Office of Multicultural Affairs offers a number of signature culturally diverse programs and events designed to engage and enrich the campus life experience. These events are open to all students and seek to celebrate the rich cultural heritage that exists at Springfield Technical Community College.
Diversity Speaker & Performance Series
OMA Student Welcome Reception
Soul Food Luncheon
STCC Stands Social Justice Film Series
Art N' Soul Cultural Field Trips
For more information on the Diversity Speaker & Performance Series, please visit the Diversity Speaker & Performance Series page on our website.
Cultural Celebrations:
Hispanic Heritage Month
LGBTQ History Month
Native American Heritage Month
Black History Month
Women's History Month
Asian Pacific Islander American Heritage Month
Multicultural Center
The OMA Multicultural Center is a safe, multi-use, academic and social space that supports positive student engagement through activities, programs and constructive dialogue related to topics of diversity and inclusion. In addition, the Multicultural Center is a place for students to hang out with friends, study or hold student club meetings. The Multicultural Center will host events, meetings, and programming throughout the year.
Center Signature Programs:
Artist' Roundtable
Laughternoons
Tuesday Tea (Conversations on Diversity)
OMA Student Group Meetings
Movies That Matter
Reserving the Multicultural Center
The Multicultural Center is available for use and must be reserved through the Office of Multicultural Affairs at 413-755-4461. A minimum of 24-hour advance notice for events with fewer than 15 people is required to reserve the room.
Diversity Initiatives:
MILE - Male Initiative for Leadership & Education
The STCC - M.I.L.E. program is designed to provide inclusive academic support, mentoring and community engagement opportunities to male students at STCC. Student participants will connect with professionals who will serve as mentors throughout the student's time at the college. The program will consist of 1:1 and group mentoring, skill building workshops, community service, tutoring sessions, and advising.
For more information on the M.I.LE. Program, please visit the M.I.LE. page on our website.