Academic counselor builds connections with veterans, service members at STCC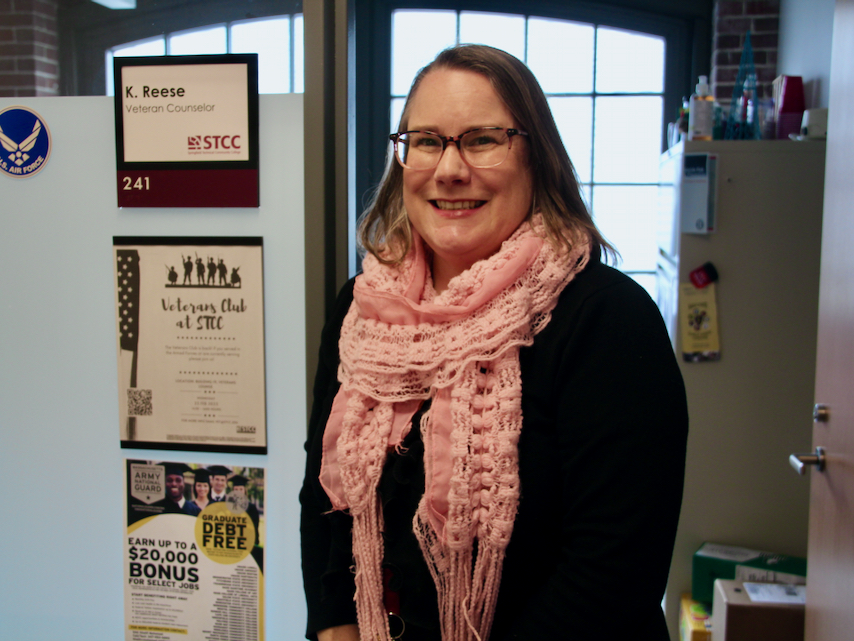 SPRINGFIELD, Mass. – You could say military service is in Kimberly Reese's blood.
She was born on a military base and grew up on different bases as the family followed her father's assignments. While serving in the Air Force, Reese earned a bachelor's and master's degree. Upon leaving the military, she took a position in higher education, where she taught microbiology and forensic science, and eventually completed a doctoral program.
While she was pursuing her doctorate, Reese saw a need to build veteran inclusivity on college and university campuses. She decided to leave her teaching position for a veteran-based position where she could put what she learned and felt passionate about into action.
In December, Dr. Reese started working as Veterans Academic Counselor at Springfield Technical Community College. In her new role, she holds many responsibilities related to assisting veterans, students who are serving in the military and military dependents. She advises student veterans and current service members on their course selections. She supports them and helps remove any barriers that may hinder their academic success.
She establishes and maintains strong relationships with military organizations, the Veterans Administration, and other groups that support veterans.
"It's been great so far," she said of her new position. "I'm thrilled to be here and be serving students in this role."
I'm thrilled to be here and be serving students in this role. Dr. Kimberly Reese,

Veterans Academic Counselor at STCC
STCC provides a number of resources for student veterans and service members, many of which are offered to non-veteran students. They include, among other resources:
Reese came to STCC from Goodwin University in East Hartford, where she was a professor. Prior to her academic career, Reese served on active duty in the U.S. Air Force and in the Connecticut Air National Guard (CT ANG).
As a woman in the military, Reese was a minority. Only 15 percent of servicemembers and veterans are women. She faced barriers herself.
"(Women) were limited with how we were classified and limited with the kinds of jobs we had," she said. "The changes that are happening now are astounding. It's far more exciting to be a woman in the military now than back then."
Students who seek support from Reese will find someone who can relate to their military experiences. She knows that military service can be a transformative experience.
"I know how hard it pushes you to become this new version of yourself," she said. "I went in as this super shy wallflower. I came out as an individual who can stand on my own two feet. I can make decisions and I can advocate for myself, which is huge. I would have never done that before going in."
At the same time, military life can be difficult – sometimes lonely and isolating, especially for women.
"Overall, women make up 15 percent of the military. There may be only a few of you within your branch, and that's your support system. That's everyone you have to help you get through, it pushes you to become a new version of yourself. … You have to establish those connections and build them quickly so it's not quite so lonely."
Reese completed her master's degree while in the military and while pregnant. She raised her daughter and waited until she was older before pursuing her Doctorate in Education (Ed.D.) with a specialization in Teaching and Learning.
"Getting my doctorate was something I always wanted to do and the timing never seemed right, which I think is something many adults struggle with," she said.
As part of her doctoral research, she completed a gender-based study comparing experiences of male and female service members and what they thought would be needed to create veteran inclusive campuses and classrooms.
She plans to have meet-and-greets to bring veterans and servicemembers together and develop relationships with community partners. She plans to organize events for holidays such as Memorial Day and Veterans Day, and has restarted the Veterans Club on campus.
In February, she brought veterans to Military Appreciation Night at the Springfield Thunderbirds hockey game.
In her role, she hopes to continue working toward inclusivity and supporting veterans, servicemembers, and military dependents.
"Hopefully, I will help remove any military-related barrier that is in their way so they have academic success," she said. "Since I've started, I have tried to build supports and partnerships. We want to build that inclusivity, and build the relationships they have with one another."
Interested in applying to STCC? Visit stcc.edu/apply or call Admissions at (413) 755-3333.
About Springfield Technical Community College
STCC, the Commonwealth's only technical community college, continues the pioneering legacy of the Springfield Armory with comprehensive and technical education in manufacturing, STEM, healthcare, business, social services, and the liberal arts. STCC's highly regarded workforce, certificate, degree, and transfer programs are the most affordable in Springfield and provide unequaled opportunity for the vitality of Western Massachusetts. Founded in 1967, the college – a designated Hispanic Serving Institution – seeks to close achievement gaps among students who traditionally face societal barriers. STCC supports students as they transform their lives through intellectual, cultural, and economic engagement while becoming thoughtful, committed and socially responsible graduates.
MEDIA CONTACT:
Jim Danko, (413) 755-4812, jdanko@stcc.edu