Alumna returns to STCC to help students succeed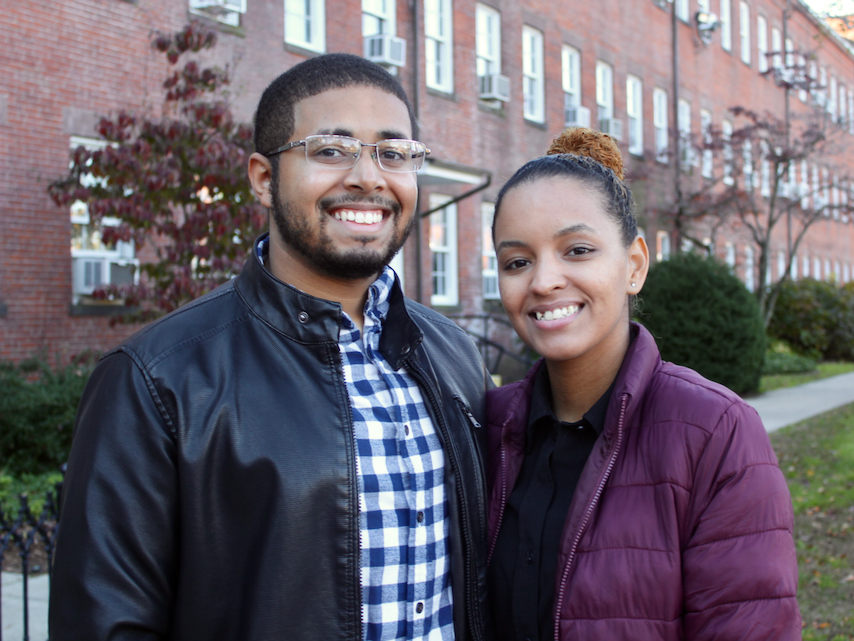 Karolyn Burgos Toribio met her husband when they were both students
SPRINGFIELD, Mass. – When she was enrolled at Springfield Technical Community College, Karolyn Burgos Toribio believed in getting involved and helping fellow students thrive. She started a club for Black and Hispanic female students. She also served as student trustee, a key leadership role.
She used to stroll around the campus green with a fellow student who is now her husband, Malachi Vivenzio. Burgos Toribio expresses nothing but warm memories of STCC.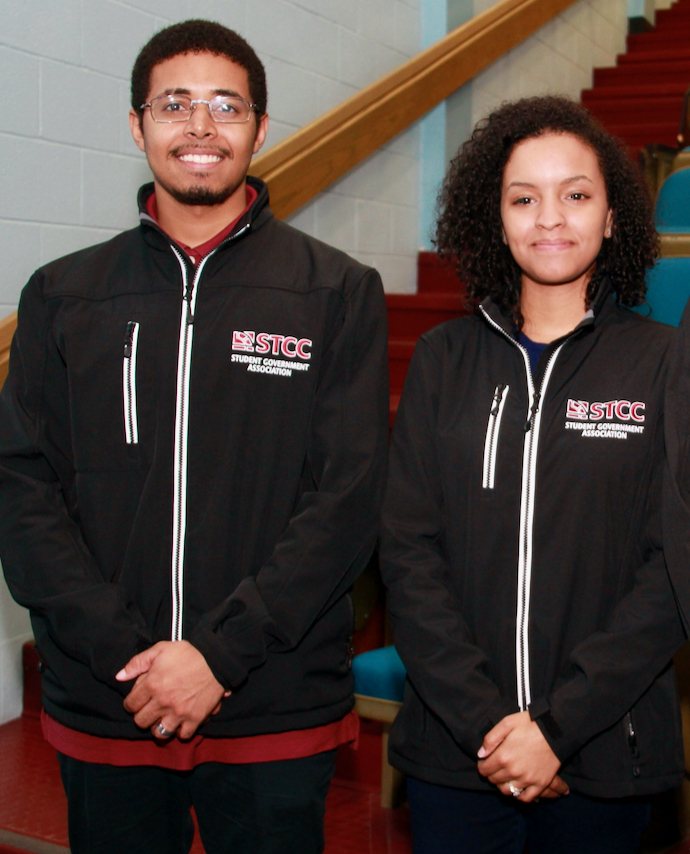 Now a proud STCC graduate, Burgos Toribio says she is thrilled to be back at the college and doing what she loves: helping students strive toward success. In October, Burgos Toribio was hired as student success navigator. She works with the LEAD Leadership and Mentoring Program.
LEAD provides female students with the opportunity to take an active role in their leadership development and educational journey.
"This feels like a continuation of what I did as a student. I like to work to help these students succeed," Burgos Toribio said.
In her role, she helps bring in speakers from the community to talk with students and inspire them. The goal of LEAD is to help not just female students, but to support underrepresented students who may be facing barriers.
"LEAD helps to provide them with opportunities to grow their networks and grow their leadership skills," she said. "It provides them with mentoring and help in school, wherever they need it."
"I really enjoy it," Burgos Toribio said.
"We're extremely pleased to be working with Karolyn," said Lidya Rivera-Early, the director of Community Engagement at STCC. "She loves to be involved and is passionate about helping students. As a recent graduate, Karolyn can relate to our students. She's a wonderful mentor to them."
Born in the Dominican Republic, Burgos Toribio and her family moved to Springfield when she was 9. She had to learn English. She only knew a few words when she settled in Western Massachusetts. But she was determined and within a year was speaking fluently and doing well in school.
"It was hard but I definitely got used to it, and here I am today," Burgos Toribio said.
Burgos Toribio went through the Springfield Public Schools, graduating from Roger L. Putnam Vocational Technical Academy. She considered going to a four-year college, but decided STCC was the affordable alternative.
It is tremendous to welcome Karolyn back to STCC, and to hear about the success Malachi is having at CRRC. These two individuals are remarkable STCC alums, and simply put, Karolyn and Malachi are also incredible human beings. John B. Cook,

STCC president
She ended up loving the experience and not regretting her decision. Burgos Toribio not only got involved in student activities and earned a degree; she found the love of her life: Malachi Vivenzio.
Vivenzio, a Springfield Central High School graduate who grew up in the city, enrolled at STCC around the same time as Burgos Toribio. He enjoyed robotics and is close to completing his associate degree in Electrical Engineering Technology.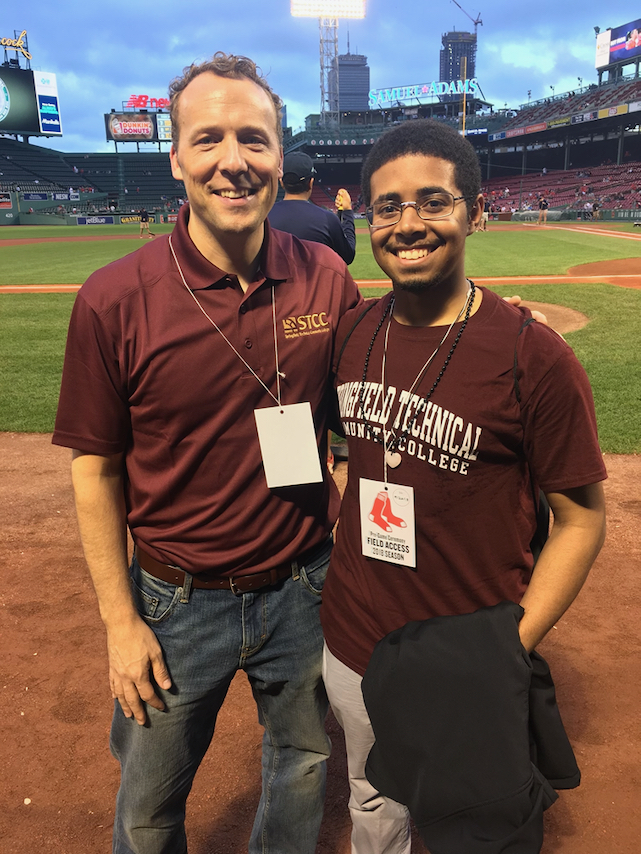 Like Burgos Toribio, Vivenzio enjoyed getting involved and serving his fellow students. He was elected vice president of the Student Government Association and previously served as chair of the Campus Activities Board (CAB).
"When we met, I was CAB chair and she was student trustee," said Vivenzio, who explained that the students involved in campus activities and leadership position were friendly and tight with each other.
"As time progressed, all the members of the group actually knew I liked her, but they didn't know I wanted to ask her out," Vivenzio said. "So I asked her out, and we started going on dates. We would walk around the campus green and go to different events. STCC brought us together. I'm not going to lie. I do kind of owe it to STCC. I wouldn't have been able to meet her if I was not able to attend the college."
Vivenzio and Burgos Toribio were married in 2018 while still students at STCC.
"It was pretty fast," Burgos Toribio said. "We used to go on walks around the green. Behind the Armory, we would do little picnics sometime. The college was a big part of our relationship."
One of their favorite memories was traveling to Fenway Park in Boston in 2018 with other students and STCC President John B. Cook. They celebrated Community College Night and cheered on the Red Sox.
When Vivenzio earned his certificate of completion in Electrical/Robotics Technology, he went to the commencement ceremony with Burgos Toribio, who was receiving her degree in Liberal Arts/General Studies.
In her role as student trustee, she handed the certificate to her husband. She smiled when describing the moment and expressed gratitude to former Trustee Frank Quigley who encouraged her to ceremoniously hand Vivenzio his certificate.
Today, Vivenzio works as a test technician at CRRC, an East Springfield-based supplier of rail transit equipment. He applies the knowledge from his STCC courses to the work he does helping to produce Orange and Red Line cars for the MBTA in Boston. CRRC also produces subway cars for the Los Angeles County Transportation Authority.
"I love it," Vivenzio said of his work. "It presents a different challenge every day. It's never the same problem. We could be working on a problem for a whole day or whole week. I look forward to working together with a team to solve problems."
Vivenzio hopes to finish course work at STCC to earn his associate degree and then transfer to Western New England University.
Like her husband, Burgos Toribio wants to continue with her education and plans to seek a bachelor's degree and possibly go further. She loves working in higher education, where she feels at home.
President Cook was delighted to hear about Burgos Toribio and Vivenzio. He enjoyed working with them when they were student leaders and recalled the good times at the Red Sox game for Community College Night.
"It is tremendous to welcome Karolyn back to STCC, and to hear about the success Malachi is having at CRRC. These two individuals are remarkable STCC alums, and simply put, Karolyn and Malachi are also incredible human beings," Cook said.
Burgos Toribio and Vivenzio both cite the "community feeling" of STCC as their favorite memories.
"That's what I love about the college, the feeling of coming together," Vivenzio said. "And there's the dynamic and diversity of the college itself. Everyone brings different backgrounds and experiences, but it's not about one person. It's a group that sticks together. That unity is what makes us different. It's what makes us unique, and it's what I love about STCC."
Interested in applying to STCC? Visit stcc.edu/apply or call Admissions at (413) 755-3333.
About Springfield Technical Community College
STCC, the Commonwealth's only technical community college, continues the pioneering legacy of the Springfield Armory with comprehensive and technical education in manufacturing, STEM, healthcare, business, social services, and the liberal arts. STCC's highly regarded workforce, certificate, degree, and transfer programs are the most affordable in Springfield and provide unequalled opportunity for the vitality of Western Massachusetts. Founded in 1967, the college – a designated Hispanic Serving Institution – seeks to close achievement gaps among students who traditionally face societal barriers. STCC supports students as they transform their lives through intellectual, cultural, and economic engagement while becoming thoughtful, committed and socially responsible graduates.
MEDIA CONTACT:
Jim Danko, (413) 755-4812, jdanko@stcc.edu