Asphalt Academy at STCC paves the way to construction careers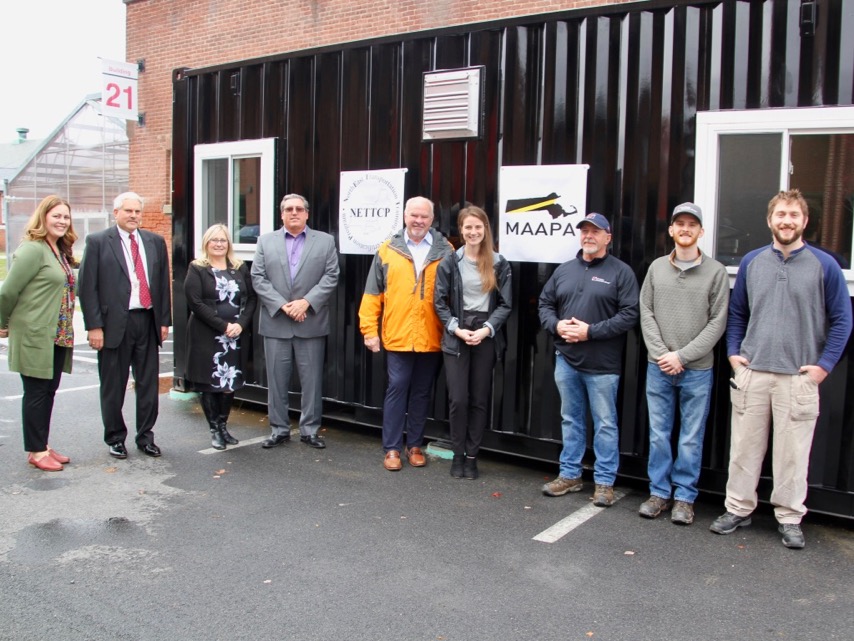 From left, Gloryvee Diaz, internship coordinator at STCC, Elliot Levy, senior director of Workforce Development, and Barbara Washburn, interim dean of the School of STEM, stand in front of the asphalt lab with industry partners.
SPRINGFIELD, Mass. – Springfield Technical Community College plans to open a mobile lab on campus to meet a demand in the construction industry for trained asphalt technicians and inspectors.
Students will train in the mobile lab as they pursue certification as hot mix asphalt plant technicians and hot mix asphalt paving inspectors. The jet-black lab, which resembles a boxcar without wheels, is located next to a civil engineering technology classroom on the STCC campus.
The college plans to offer courses in 2020. The program is designed for students without prior asphalt training.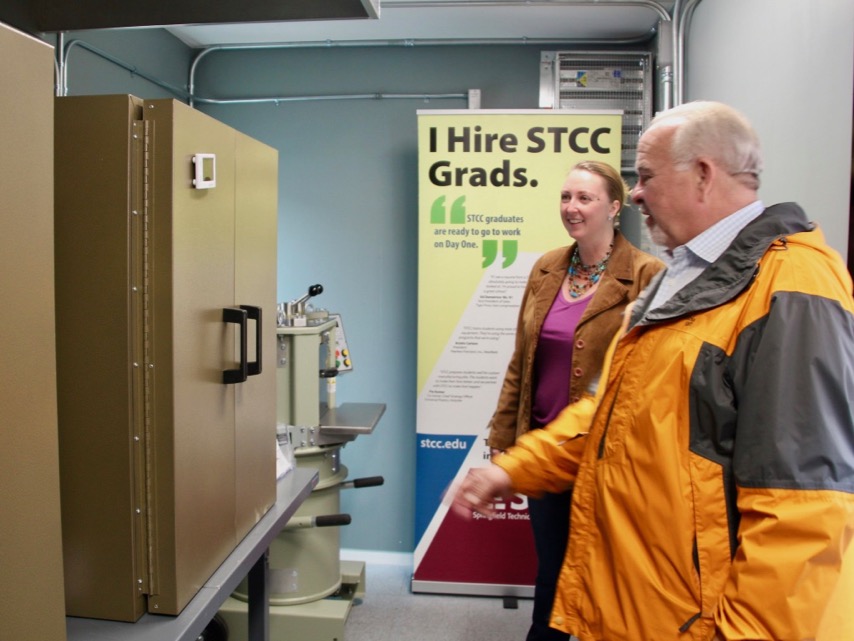 STCC will be the only community college in the state with asphalt certification training, said Jim Reger, executive director of Massachusetts Aggregate and Asphalt Paving Association (MAAPA), which provided funding for the mobile lab.
The training is made possible through collaborative efforts with Massachusetts Department of Transportation (MassDOT), MAAPA and the NorthEast Transportation Technician Certification Program (NETTCP).
"There is a tremendous need for asphalt technicians," Reger said. MAAPA represents owners and operators of hot mix batching plants and quarries in Massachusetts.
Reger explained that new specifications from MassDOT will require more licensed technicians and inspectors who will be in demand for jobs working in the field or at asphalt production facilities.
Janet Callahan, president of Palmer Paving Inc., initiated the idea of an Asphalt Academy while serving as Chairwoman of MAAPA. She echoes Reger's sentiments that the industry needs trained technicians and inspectors. Asphalt training only has been available in the eastern part of Massachusetts.
"We really wanted to establish something for people in the western or central part of the state," she said. "This is critical for our industry."
Callahan added, "There are not enough inspectors in the market right now. As a business owner, I know how difficult it is to fill these positions."
Students who enroll in the program will be able to choose between two courses, which will be taught by NETTCP instructors:
Hot mix asphalt plant technician certification, which is for individuals responsible for the sampling and testing of hot mix asphalt at a production facility.
Hot mix asphalt paving inspector, which is for individuals responsible for inspecting, sampling and testing of hot mix in the field.
Also in development is a 420-hour asphalt pre-apprenticeship program designed to introduce people to the asphalt industry. The program would align with MAAPA's 2000-hour asphalt apprenticeship program and would offer advanced certification.
For more information about the program, including prerequisites needed to enroll, visit https://www.stcc.edu/wdc/asphalt-academy/ or contact the Workforce Development Center at (413) 755-4225 or wdc@stcc.edu.
About Springfield Technical Community College
Founded in 1967 and located on 35 acres of the Springfield Armory National Historic Site, STCC is a major resource for the economic vitality of Western Massachusetts. As the only technical community college in Massachusetts, STCC offers a variety of career programs unequalled in the state. STCC's highly regarded transfer programs in business, advanced manufacturing, healthcare, liberal arts, and STEM fields continue to provide the most affordable options for students pursuing a four-year degree. With an annual enrollment of about 7,000 day, evening, weekend, and online students, STCC is a vibrant campus rich in diversity.
For more information about STCC, visit www.stcc.edu. Follow us on Facebook, Twitter (@S_T_C_C) and Instagram (@stccpics).
MEDIA CONTACT:
Jim Danko, (413) 755-4812, jdanko@stcc.edu