Early college program would give high-school students credits and chance to earn a degree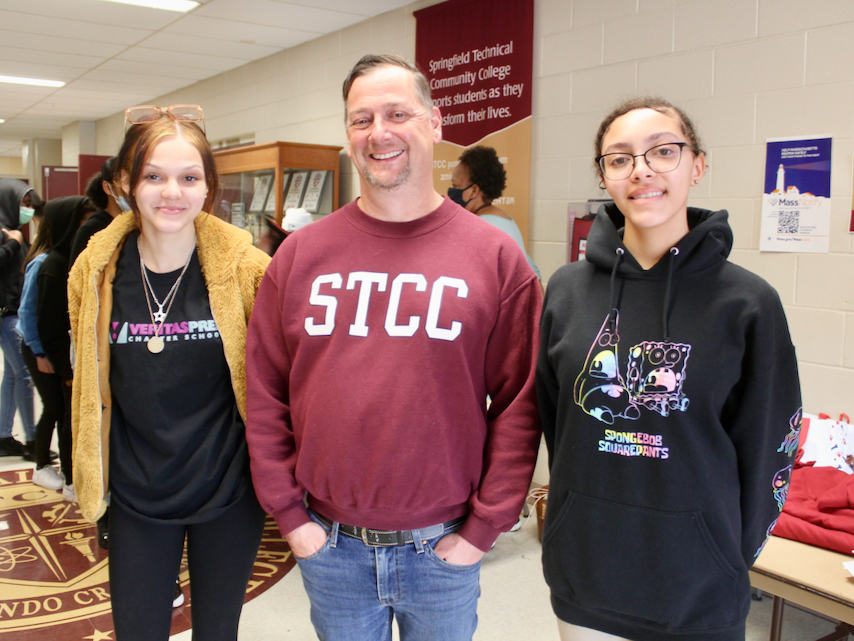 SPRINGFIELD, Mass. – An early college program under development would put students at Veritas Prep Charter School on track to earn 30 to 60 credits – and even an associate degree – by the time they graduate from high school.
While the program is still in the design phase, eighth-graders from Veritas Prep went on a field trip to Springfield Technical Community College on April 28 to visit classrooms and labs and hear STCC students and staff describe the college experience.
Once the planning is complete and approved, the Veritas Prep students would be part of a unique local program unlike any other in the region in its design and one of few in the state.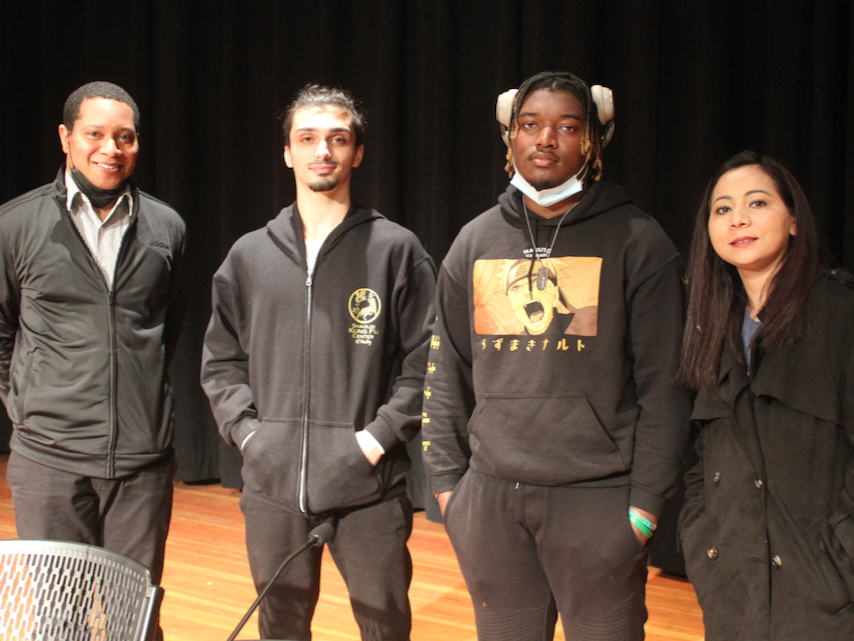 Veritas is now designing components of a "wall-to-wall" college program, which means all students participate. Veritas, STCC and Worcester State University will subsequently apply for Early College designation from the Massachusetts Department of Elementary and Secondary Education for the 2023-2024 school year.
Meantime, STCC will begin implementing some early college activities this fall for Veritas' inaugural ninth-grade class.
Early college programs in Springfield and Holyoke were among those to receive state grants in an effort to substantially increase the number of high school students who take college courses and earn college credits at no cost before they graduate high school. Veritas Prep Springfield in partnership with STCC and Worcester State University received $150,000, the Baker-Polito Administration announced on March 28.
This new "immersive early college" model would provide students with an opportunity to earn a minimum of 30 college credits prior to graduating high school, according to the Baker-Polito Administration, which announced new early college programs and several grants totaling more than $1.3 million.
Pamela Westmoreland, Director of Early College Initiatives at STCC, said Veritas would be part of an ambitious wall-to-wall early college plan. While still enrolled in high school classes, students will take some classes from STCC and Worcester State. College faculty will teach at Veritas Prep, but students also will take some classes on the STCC campus. Students who don't receive degrees will have free college credits and a significant head start on their college education.
If you want something that is low cost and close to home, this is the place to go. Giovanni White,

STCC student
STCC's other early college program with the High School of Commerce generally allows students in 10th through 12th grade who choose to participate to take up to 20 credits, which is about one or two classes per semester. The Veritas program includes all its students in 9th through 12th grade.
STCC President John B. Cook said early college programs provide a lasting benefit for students and the Greater Springfield community.
"We are excited to be working on this partnership with Veritas Prep and Worcester State," Cook said. "Like our other early college program, this gives students an opportunity to learn from professors in college classrooms and earn credits without paying anything out of pocket. What's particularly exciting about our partnership with Veritas Prep and Worcester State is that students can earn at least 30 credits and possibly an associate degree."
Rachel Romano, Executive Director of Veritas Prep, said the program will inspire students' interest and position them to leave high school with accrued college knowledge and credits.
"Veritas Prep is thrilled to partner with STCC and Worcester State," Romano said. "Not only will our students leave high school with college credits and experience, but they will have developed habits that will set them up for continued college and career success. Too few Springfield students complete college degrees, and this innovative model will enable students to earn a set of strategic credits that build toward a degree and are transferable to public universities."
The goal is for half the students to receive a two-year associate degree while others will have a substantial number of college credits.
In a visit to STCC, Veritas Prep eighth-grader Shanyll Mary Colon said she was excited about the possibility of pursuing free college credits – and possibly a degree – at the same time she's working toward her high school diploma.
"It's a great opportunity, because instead of getting to go to college later on, you get to go early," 14-year-old Shanyll said. "It's better to start off early in life."
Classmate Angelysmari "Angie" Mateo, also 14, said, "This gives us a chance to do things that people haven't been able to do before."
Three STCC students shared their experience with the Veritas students in an assembly in the auditorium at Scibelli Hall. Two STCC students, Giovanni White and Sebastian Vega, are part of STCC's Early College program with The High School of Commerce.
Giovanni White, who is studying mechanical engineering technology, said the college offers the opportunity to choose from a wide variety of academic disciplines.
STCC, the only technical community college in Massachusetts, offers unique programs in science, technology, engineering and math (STEM) and healthcare as well as transfer opportunities in business, social services, liberal arts and more.
"For anybody who's planning to go to STCC, it has a wide variety of classes, and if you want something that is low cost and close to home, this is the place to go," said White of Springfield.
STCC student Sebastian Vega, who is studying heating, ventilation and air conditioning (HVAC), said he came to STCC excited about finding a pathway to a trade.
"For anyone looking for a trade-oriented career path, STCC is the answer for you," he said. "It's very well-rounded, so you have a very good chance of finding anything you're thinking of."
Indra Darjee, who is not a native English speaker, said the college supports all students, including those who don't speak English as a first language.
"There is a lot of opportunity," Darjee said. "If you are struggling with an assignment, don't give up. If you have questions, ask a professor. Once you dig in, you will find a lot of opportunities."
Interested in applying to STCC? Visit stcc.edu/apply or call Admissions at (413) 755-3333.
About Springfield Technical Community College
STCC, the Commonwealth's only technical community college, continues the pioneering legacy of the Springfield Armory with comprehensive and technical education in manufacturing, STEM, healthcare, business, social services, and the liberal arts. STCC's highly regarded workforce, certificate, degree, and transfer programs are the most affordable in Springfield and provide unequaled opportunity for the vitality of Western Massachusetts. Founded in 1967, the college – a designated Hispanic Serving Institution – seeks to close achievement gaps among students who traditionally face societal barriers. STCC supports students as they transform their lives through intellectual, cultural, and economic engagement while becoming thoughtful, committed and socially responsible graduates.
MEDIA CONTACT:
Jim Danko, (413) 755-4812