Paintings by Belchertown artist Joanne Holtje featured at Amy H. Carberry Fine Arts Gallery
SPRINGFIELD, Mass. – Belchertown artist Joanne Holtje's recent work is featured in an exhibition titled "Recent Work: Paintings and Works on Paper" at Springfield Technical Community College's (STCC) Amy H. Carberry Fine Arts Gallery.
The exhibit, which opened Sept. 12, will run through Friday, Oct. 6. A reception for the artist is scheduled for Tuesday, Sept 26 from 10 a.m. to 11 a.m. A special "master class" at Holtje's Holyoke studio for honors students is planned for Sept 23.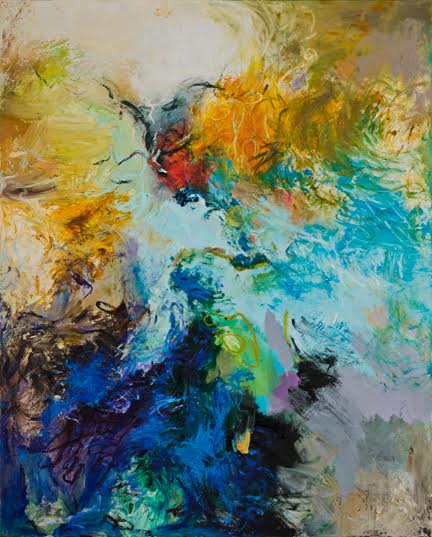 This collection of paintings and works on paper by Holtje, produced over the past five years, exemplifies a wide range of media, content and scale. Holtje's artwork celebrates the physicality of paint, with an exuberant use of color and expressive mark-making. Her paintings frequently reference the landscape, some more literally than others, which she credits to a youth spent wandering in the woods and fields, along rivers and lakes, drinking in the full sensory experience of being in and of the natural world.
Holtje spent her childhood exploring the woods, fields and riverbanks of her hometown, Concord, Mass. She received her bachelor of arts from Tufts University, and after a brief adventure on the West Coast, returned to make the Bay State her home. Since 2006 she has exhibited in local, regional and national shows including the Massachusetts Artists Biennial, The Fitchburg Art Museum and the Danforth Museum.
Holtje's work appears in the book, "Creating Abstract Art: Ideas and Inspiration for Passionate Art-Making," by Dean Nimmer. She has been a member of Oxbow Gallery, Northampton since 2014. http://www.joanneholtje.com
This exhibition at the Amy H. Carberry Fine Arts Gallery is made possible with support from Anne Bonemery, Dean of Arts, Humanities, and Social Sciences, and Diane Sabato, Coordinator of STCC's Honors Program.
This exhibit is free, open to the public and handicapped accessible. The Amy H. Carberry Fine Arts Gallery is open Tuesday through Friday 12:30 p.m. to 4:30 p.m., and Saturday 10 a.m. to 2 p.m.
About the Gallery
The Amy H. Carberry Fine Arts Gallery at Springfield Technical Community College presents six exhibits each academic year, featuring works by artists of local and national repute as well as STCC student work. The gallery is located in Building 28, first floor, on the Pearl Street side of the STCC campus. The gallery is supported in part by funding from the School of Arts, Humanities, and Social Sciences. Find the Amy H. Carberry Fine Arts Gallery on Facebook or follow on Twitter @STCCArtGallery.
About Springfield Technical Community College
Founded in 1967 and located on 35 acres of the Springfield Armory National Historic Site, STCC is a major resource for the economic vitality of Western Massachusetts. As the only technical community college in Massachusetts, STCC, a designated Hispanic Serving Institution and an Achieving the Dream Leader College, offers a variety of career programs unequalled in the state. STCC's highly regarded transfer programs in business, engineering, liberal arts, science and technology continue to provide the most economical options for students pursuing a four-year degree. With an annual enrollment of more than 8,500 day, evening, weekend and online students, STCC is a vibrant campus rich in diversity.
For more information about STCC, visit www.stcc.edu. Follow us on Facebook and Twitter (@S_T_C_C).
Media Contact:
Jim Danko, jdanko@stcc.edu, (413) 755-4812