Portable ultrasound allows STCC students to train at home during COVID-19
SPRINGFIELD, Mass. – Springfield Technical Community College Professor Eun Soo Lee was worried this past spring her sonography students wouldn't be able to attend in-person labs or clinical sites to obtain hands-on experience with ultrasound scanning.
In the midst of COVID-19 related disruptions, Lee brainstormed and came up with an idea. Why not purchase a portable ultrasound scanner that could be circulated among the seniors? They could share the machine, scan family members and get the clinical experience they needed from the safety of their own homes.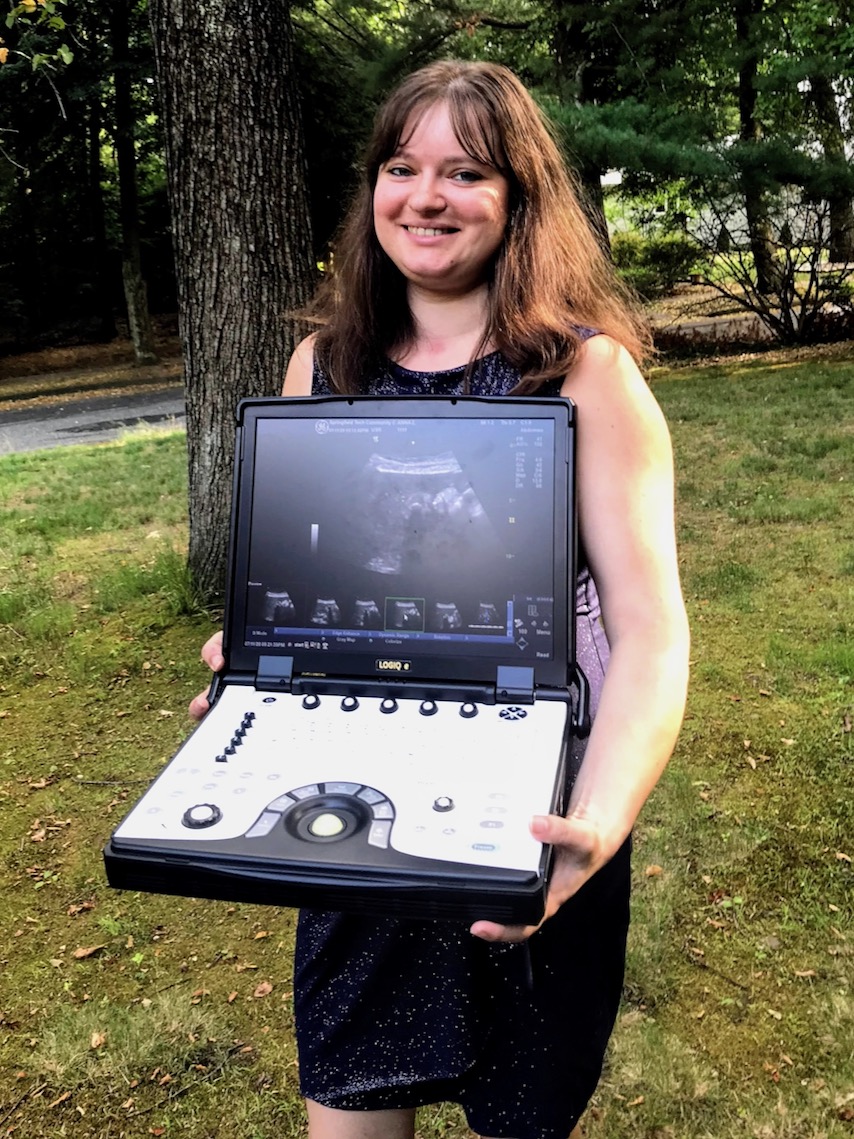 An ultrasound scanner uses high-frequency sound waves to capture images of internal body structures.
"We were just trying to survive during this unprecedented period," said Lee, an associate professor in the Diagnostic Medical Sonography program at STCC. "When our seniors were not allowed to go to their clinical sites or to in-person labs on campus in the spring semester, I was very worried that they might not be able to do any ultrasound scanning this summer semester, which would put our seniors at a great risk of staying another semester in order to graduate."
The portable ultrasound was a hit with students in the weeks after the COVID-19 pandemic forced administrators to restrict access to campus. As a safety measure, students could not train in labs or at clinical sites in the area.
STCC sonography student Anna Zgerya, of Enfield, Conn., said she was worried about graduating after COVID-19 restrictions meant she could not participate in clinical training in the spring.
With this machine, we could practice as much as we want at home, which is really a good deal for students Anna Zgerya,

sonography student at STCC
"With this machine, we could practice as much as we want at home, which is really a good deal for students," Zgerya said. "I have three kids, a husband and parents. I practiced on all of them. My friend is pregnant, and I checked to see how the baby is doing.
"She and her husband could see the baby together," Zgerya said, noting the husband could not join his wife for regular doctor checkups due to the coronavirus restrictions.
After the spring semester ended, STCC approved low density labs on campus beginning with summer sessions. The college announced it would continue to offer a combination of on-campus low-density labs and online classes this fall. Instruction plans were made in light of the Commonwealth's four-phased approach to reopening the Massachusetts economy.
Lee said she acquired the portable ultrasound at the beginning of the summer semester, which allowed her to offer off-campus scanning to seniors."
The portable ultrasound continues to benefit students, even with low-density labs being offered. The students can practice at home as much as they want, Lee explained.
"Fortunately Chris Scott (the dean of the School of Health and Patient Simulation) purchased a machine for us and we've been using it during the freshmen lab on campus and off campus at seniors' residences this summer. And most of our clinical sites started to take students back this summer so I feel so fortunate about it," Lee said.
Scott praised Lee for thinking of ways to help students during challenging times.
"I applaud Professor Lee for coming up with a great idea that ties in with STCC's mission to support students as they transform their lives," Scott said. "We are doing everything we can during unprecedented times to help our students succeed, and I encourage and support innovative ideas from our faculty and staff."
To learn more about the Diagnostic Medical Sonography program, visit stcc.edu/explore/programs/dmis.as/ Interested in applying to STCC? Visit stcc.edu/apply or call Admissions at (413) 755-3333.
About Springfield Technical Community College
Founded in 1967 and located on 35 acres of the Springfield Armory National Historic Site, STCC is a major resource for the economic vitality of Western Massachusetts. As the only technical community college in Massachusetts, STCC offers a variety of career programs unequalled in the state. STCC's highly regarded transfer programs in business, advanced manufacturing, healthcare, liberal arts, and STEM fields continue to provide the most affordable options for students pursuing a four-year degree. With an annual enrollment of about 7,000 day, evening, weekend, and online students, STCC is a vibrant campus rich in diversity.
For more information about STCC, visit www.stcc.edu. Follow us on Facebook, Twitter (@S_T_C_C) and Instagram (@stccpics).
MEDIA CONTACT:
Jim Danko, (413) 755-4812, jdanko@stcc.edu