Retiring STCC professor reflects on a long and rewarding career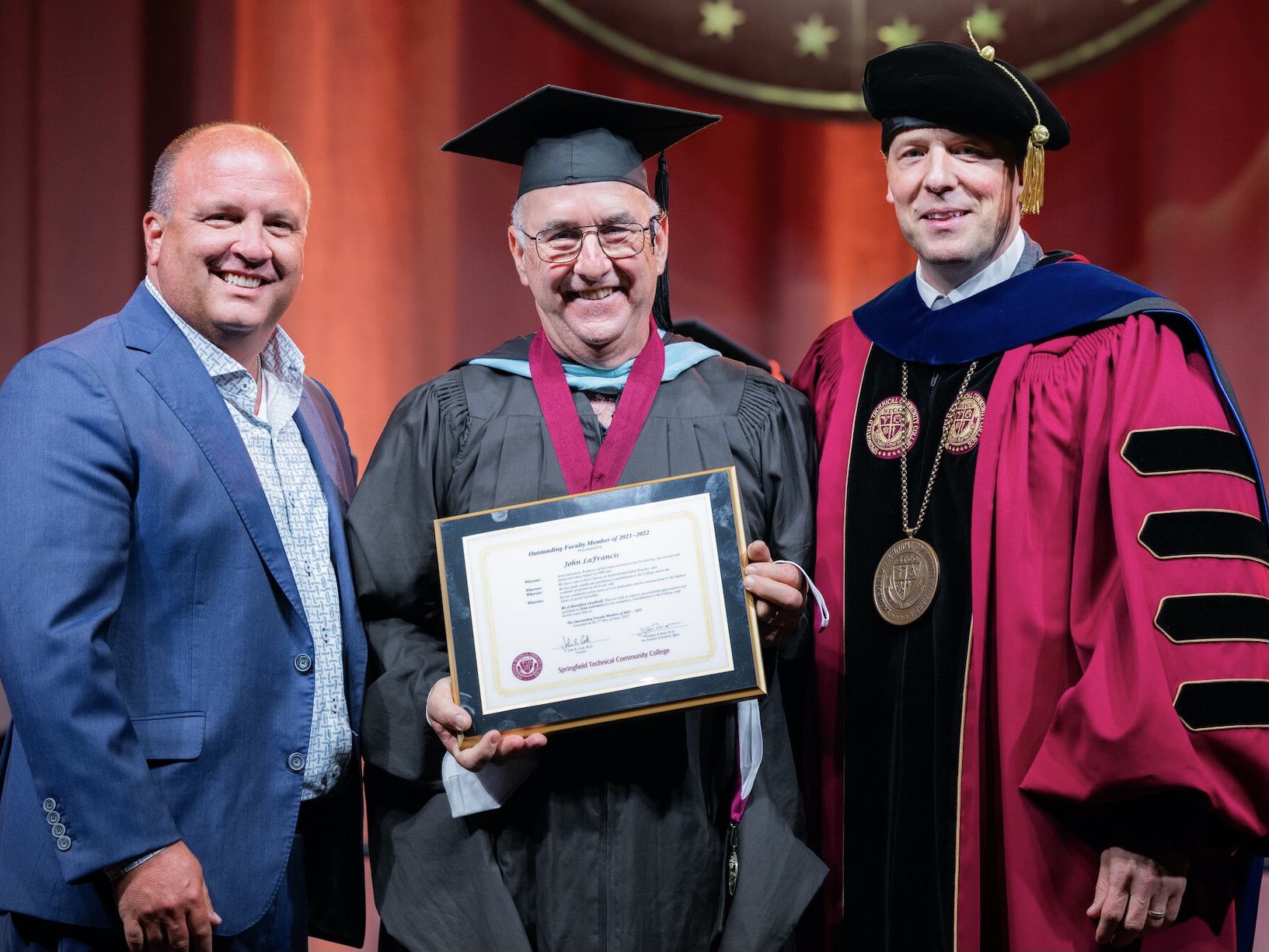 SPRINGFIELD, Mass. – When he was an hourly worker at Pratt & Whitney in the 1980s, John LaFrancis wondered why he was always being asked to train the new person.
"There are 40 people in this department. How come I get the new guy again?" LaFrancis recalled thinking at the time.
It dawned on him that somebody noticed a quality that LaFrancis himself wasn't aware of: He had a talent for teaching.
A few years later, in 1990, LaFrancis took a faculty position at his alma mater, Springfield Technical Community College. He loved it. He flourished in the role, eventually becoming professor and coordinator of the Mechanical Engineering Technology Department. Whether he was helping students or setting up the lab with new equipment, he brought a passion and commitment to the work, colleagues and former students said. He continued teaching until retiring in June 2022.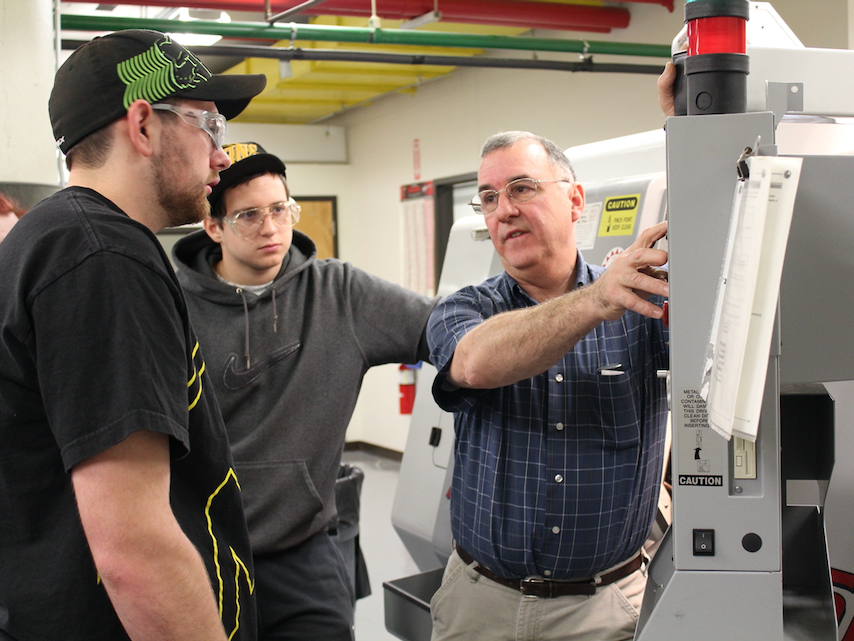 At this year's Commencement celebration, on June 2, STCC President John B. Cook announced LaFrancis was the college's Outstanding Faculty Member of 2021-2022. Cook congratulated LaFrancis as he handed him the award.
Each year, STCC honors one faculty member who has made significant and distinct contributions to the college and academic programs.
"The college, and specifically John's students, will miss him, but his legacy within the MET program remains strong and long-lasting," said Lara Sharp, dean of the School of STEM at STCC, who spoke of LaFrancis' accomplishments at the Commencement.
MET student Barndon Boudah said LaFrancis went the extra mile to see students successfully met their academic and career goals.
"Professor LaFrancis showed me that an education at STCC was something that was not only going to be worthwhile but was going to be taken seriously," he said.
One of LaFrancis' students, Thomas Minor, ended up getting hired at STCC and will serve as the Mechanical Engineering Technology department coordinator.
"John started off as a mentor and became a friend over the years," Minor said. "The only reason that I'm here today is because of John. As happy as I am that John gets to retire after many years of tremendous service to the college, I'm sad to see him go."
Minor said LaFrancis left an indelible mark on the MET program.
"He treated the MET program like a personal business, where he would take care of anything that needed to be done, regardless of how long it took or how painful the process was. He spent many hours mentoring students, preparing tooling for labs, writing tutorials for equipment, and the list goes on," Minor said.
The only reason that I'm here today is because of John. As happy as I am that John gets to retire after many years of tremendous service to the college, I'm sad to see him go. Thomas Minor,

STCC mechanical engineering technology faculty
Reflecting on his career, LaFrancis recalled when the MET program was in Building 28, which now houses the Fine Arts Department on the STCC campus. In 1999, LaFrancis and the MET staff and faculty moved to Building 111 in Springfield Technology Park across Federal Street from the STCC campus.
He was instrumental in purchasing CNC (computer numerical control) machines for the program. His tenure saw other equipment upgrades.
"2013 was the big year," he said. "We asked the state for $1.2 million to expand our program. We had four faculty at the time. We expanded the lab from six machines to 16. We increased our faculty by 50 percent."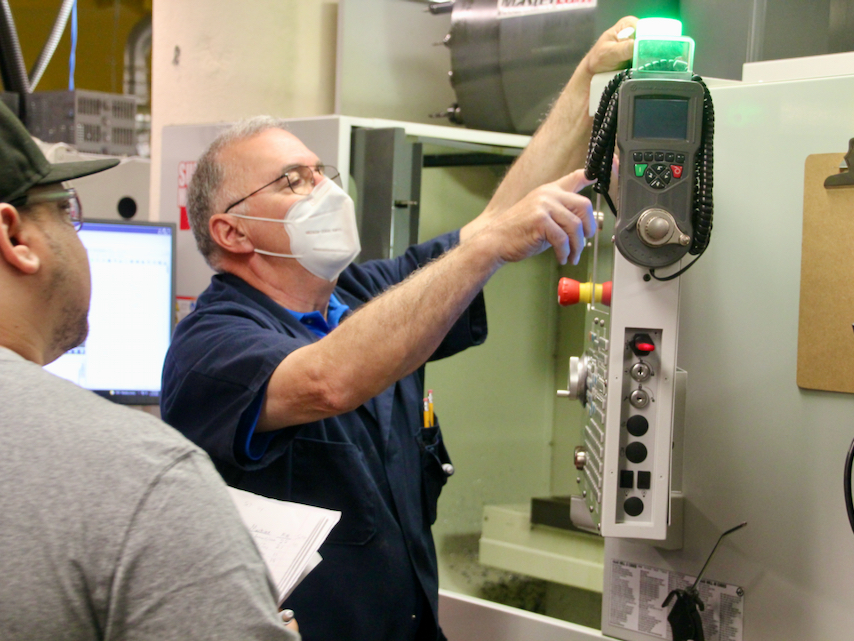 The state offered $1.2 million in funding, while STCC put in $400,000. With other funding sources, the buildout was close to $2 million.
The year 2020 was another big year in the department for new equipment. That spring, a precision inspection lab was built with money from a Massachusetts skills grant and additional funding from the college to complete the lab. With this money, five Zeiss Coordinate Measuring Machines (CMMs) were purchased for $2.4 million. Ten manual inspection stations are in this lab as well.
"This lab really enhances student's ability to understand precision inspection" LaFrancis said. "I am really proud of how this lab came together from both the teaching side of things and for the students using the lab."
LaFrancis was thrilled to see the enrollment in his program increase, which was one of his goals. Students can take day or evening classes, and pursue two-year associate degrees or one-year certificates. The program also provides training through the STCC Workforce Development Center for employees of area manufacturing companies.
LaFrancis enjoys student success stories. He recalled a student who graduated from the program and opened his own business. The student's father, who was a plumber, ended up taking classes with LaFrancis to get knowledge to help in his son's business.
"He went from being a plumber to actually learning new skills to help his son in the growth of his business," LaFrancis said. "That was pretty special."
As an STCC alumnus, Class of 1976, LaFrancis draws from his experience as a student in his role as a teacher.
"They really wanted you to learn and gave you all the opportunities to learn and to ask as many questions as you needed to ask," he said, recalling his days as a student. "As a teacher here, I try to use that as a model to follow. I want to get to know the students and be available for them. … Being a student here gave me more impetus. I've been in that chair. I also was in the chair of a part-time student because I was working full time when I continued with my bachelor's degree and master's degree."
A Springfield native, LaFrancis went through the local school system. He graduated from Springfield's Technical High School, down the street from STCC. That school closed in 1986 and was replaced by Central High School.
LaFrancis went to work after getting his STCC degree but later continued his education and received a bachelor's in engineering technology from Central Connecticut State. Later, he earned a master's in technology education from Westfield State College (now Westfield State University).
In 2012, he received the Joseph J. Deliso Sr. Endowed Chair which recognizes an STCC faculty member's commitment to quality instruction.
As he enters a new chapter as a retired professor, LaFrancis said he looks forward to spending more time in his camper somewhere out in the woods or near a lake. He and his wife, Maureen, a retired special education teacher, live in Enfield, Conn.
"I took up fly fishing a few years ago," he said. "Fly fishing is something you never master. You are always learning new things. That will keep me busy. And I would like to do some volunteer work."
But while he won't be coming into the CNC lab every day, STCC will always be a part of him.
"I've truly enjoyed my career here," LaFrancis said. "I enjoyed my time as a student, and I truly enjoyed my time as a faculty member. Being here as long as I have, people who were students in my program are now in management roles that are on our advisory board. That just gives me pleasure to see that they've grown and blossomed into their careers. For me, that was very satisfying to see people that have made great strides."
Interested in applying to STCC? Visit stcc.edu/apply or call Admissions at (413) 755-3333.
About Springfield Technical Community College
STCC, the Commonwealth's only technical community college, continues the pioneering legacy of the Springfield Armory with comprehensive and technical education in manufacturing, STEM, healthcare, business, social services, and the liberal arts. STCC's highly regarded workforce, certificate, degree, and transfer programs are the most affordable in Springfield and provide unequaled opportunity for the vitality of Western Massachusetts. Founded in 1967, the college – a designated Hispanic Serving Institution – seeks to close achievement gaps among students who traditionally face societal barriers. STCC supports students as they transform their lives through intellectual, cultural, and economic engagement while becoming thoughtful, committed and socially responsible graduates.
MEDIA CONTACT:
Jim Danko, (413) 755-4812, jdanko@stcc.edu