STCC announces spring 2021 dean's list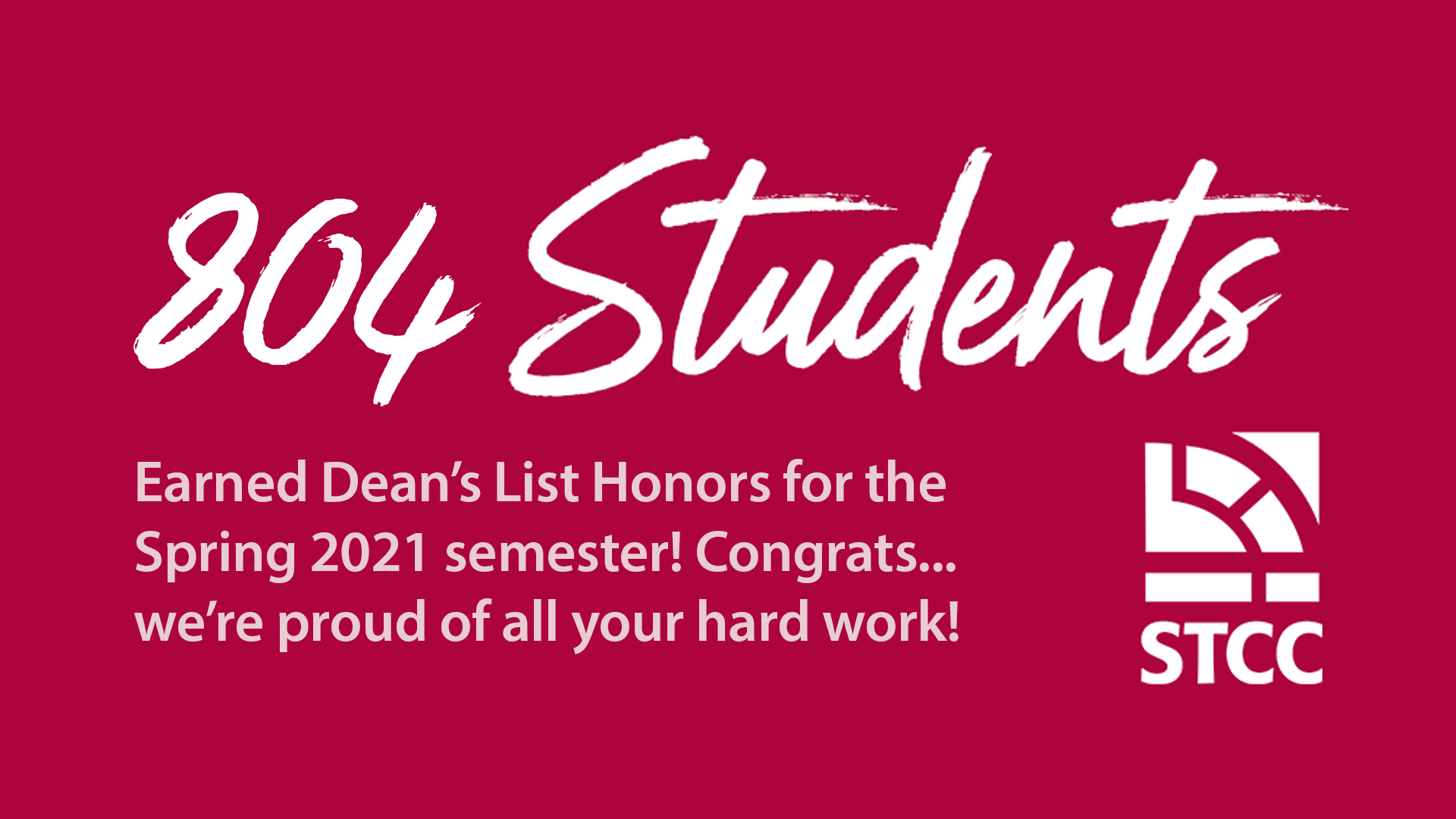 SPRINGFIELD, Mass. – Springfield Technical Community College celebrates the accomplishment of the 804 students who were named to the spring 2021 dean's list.
The dean's list is published each semester to recognize excellence in academic performance. To be considered, degree-seeking students must earn 12 or more college level credits in the current semester, or a total of 12 or more combined college-level credits earned during the fall and spring semesters, and achieve a 3.3 or above grade point average.
Student names are listed under the towns or cities in which they reside.
Agawam
Farheen Ali, Sydney Denise Anderson, Habiba Atanane, Sarah M. Blair, Maureen E. Burke, Frances A. Carattini, Felicia Katherine Coughlin, Adam M. DeBarge, Ebru Dogan, Patrick Charles Drake, James D. Griffin, Keely Guindon, Lexi T. Harbey, Camille F. Hatzis, Karli Taylor James, Kayla A. Jennison, Miranda Kamukala, Brittany Klimczyk, Benjamin Lockwood, Oksana Matsyuk, Zol Mohammad, Madison Nicole Moirano, Khaled Mokhtar, Jin Nash, Emily Nicole Ottomaniello, Domenic Pellegrino, Mason Phillips, Anastasiya Pirogova, Lydia Rose Riccio, Mechayla Ashley Rosa, Sidarthben, Nailya R. Suleymanova, Cherif C. Vilane, Wendy Wanjiru, Jackson Paul Zampiceni, Stefany Zuev.
Amherst
Leangmeylin Hok, Selvin A. Noriega Rosales, Eric Schroeder, Aiman Shahzad, Katrina Wilkinson.
Belchertown
Andrew T. Aiken, Alexander Henry Bachand, Amanda Joan Beauregard, Christopher M. Chenier, Julianna Alicia Columbo, Spencer Thomas Curtin, Lucas Jacob Czarniecki, Amy Duffy, Kristine Connie Dupras, Matthew John Henry, Korey Raymond Houle, Brenden Scott Hurley, Jeanmarie Leone, Gabrielle E. McCormack, Thomas J. Mileski, Mikasa Elise Miller, Sasha Otanez, Devon James Overgaard, Talysha Elizabeth Roberson, Cody William Rogers.
Blandford
Marissa J. Cagan
Boston
Leah Muise
Brimfield
Nicole Lee Blackmer, Adam J. Garvey, Sarah Girard, Shannon A. Metterville.
Brookfield
Karsyn Hannah Kirby
Chester
Mary Judson, Nicole Nicholas
Chicopee
Faiza Abdulzeez Abdullah, Reham M. Alasmi, Leeann Alicea, Reinaliz Arroyo, Cory B. Bailly, Touiesine Devora Baker, Joshua Barron, Tyler Beach, Kayla Hanora Blackbird, Naomi Rebecca Briganti, Nicole A. Bryan, Amanda R. Buchanan, Tyana L. Caraballo, Alexander Casimiro, Jason Alexander Chartier, Bartek Marek Ciesla, Ryan E. Clark, Mariana Nunes Coelho, Jackeline Colon, Julian Colon, Angelica Lee Colon-Maldonado, Alyssa Cote, Destinee M. Coulombe, Alyssa Jo Croteau, Chase R. Davis, Kayla D. Denette, Erik Christian Diaz, Amanda M. Dowd, Christopher Bryan Dunlap, Jr., Jordan K. Dunphy, Kylie Madison Fay, Marek Filip, Jessica Gagnon.
Kevin J. Girard, Rena L. Gomez, Evelyn Joann Gonzalez, Monique D. Gregory, Amanda Lena Jones, Andrew Karpolyuk, Angelina Kirichenko, Piotr P. Koziol, Nadezhda Kripakova, Michael Rene Kuilan, Taylor J. Labonte, Melissa C. Lambert, Justin Michael Landers, Miranda K. Lebel, Adam S. Lee, Alicja Maziarz, Brandon Wiliam Mijal, Nathaniel Morgan Mish, Gina Marie Mitchell, Daniel Vadim Mokan, Allen Thomas Molekunnel, Analiz Monzon, Tauheedah Mu-Min, Nicholas Li Murphy, Nora Aileen Murphy, Crystal M. Pares, Emma-Lee Pickett, Zoya Plunkett, Maxwell C. Pugh, Angelia Rose Raschilla, Tristan T. Rawana, Kavya Rejikumar, Adrien Eliza Rescia, Mary Robeyko, Adam Paul Rousseau, Amanda M. Santerre, Ryan Antonio Rafael Santos, Shariece Sharon Smith-Swinton, Anastasiya V. Telelyuyeva, Kayla A. Tompkins, Janey Rose Ukrainets, Jose G. Valentin, Alex Vasquez, Thomas R. Verville, Gregory P. Warzybok, Julia Williams, Madison Jane Wolohan, Maya Nergiss Younes.
Colrain
Jennifer Susan Kapitulik
East Longmeadow
Michael Thomas Adam, Hifzah Awan, Samuel Arthur Beauzile, Benjamin Robert Buehrle, Kathryn Chevalier, Conery Michele Clark, Julie Demoracski, Connor Flynn Dowd, Adam Eaton, Faiz Ahmed Farooqi, Jesse Goldman, Quoc Lam, Suzanne Larocque, Nathan B. Lee, Elsa Joy Matte, Amanda Josephine Munson, Nam Nguyen, Eddie S. Sanchez, Andrew Michael Sarnelli, Colleen K. Sarno, Marianne Sarpong, Jordan E. Tongue, Rebecca Lynn Widmer, Chelsea L. Zalewski.
East Windsor, Conn.
David Prussman
Easthampton
Adriana T. Acosta, Emily K. Baker, Nathan Thomas Crosby, David Henry Ferland, Aubrey Elizabeth Fugiel, Abigail Jackson, Stephen Andrew Lobenstine, Cristian J. Merrill, Kalli May Sadlowski, Emma-Leigh Megan Stevenson, Samuel Trombley
El Paso, Texas
Brendan R. Strong
Ellington, Conn.
Bethany Jean Bahler, Bradley W. Ellis, Keegan Mather Terry.
Enfield, Conn.
Matthew Padraig Ellis, Natalie M. Freeman, Margaret Mary Lambert, Brianna Lynn Lavoie, Sarah E. Librero, Autumn Gail Miner, Laurie E. Preste, Taylor Spooner, Rosa Marie Stychek.
Fall River
Brittany Shannon Rodgers
Feeding Hills
Anthony M. Anton, Matthew James Arigoni, Michael Joseph Destefano, Riley Fanning, Anna Romanovna Fedotova, Robert Jon Gambe, Katelyn Louise Gingras, Deon Goines, Jr., Kyle P. Green, Abigail R. Heinemann, Angelina Nichole Hunt, Joseph E. Jagodowski, Danielle P. Kupiec, Madisyn Anne Langlitz, Kristin T. Loftus, Nick Malerba, Mary Elizabeth Malone, Tammy L. Newton, Sarah B. Pliska, Ashley Renee Poitras-Marrero, Liam Patrick Sole, Ozlem Tokgoz, Donovan Villareal, Vincent Russell Whitcomb, Jr.
Florence
Zahara Aponte, Khushminder Banga, Joseph M. Connor, Jeffrey Michael Darling.
Framingham
Luis Antonio Santiago, Jr.
Granby
Sophia Gushman, Kayla Marie McCreary, Nolan Raymond, Cameron Lynn Rougeau.
Greenfield
Mirandah Alexia Baltzer Coulombe, Dylan George Burton, Ryan M. Gibson, James Matthew Sykes.
Hackettstown, N.J.
Tyler James Schrecengost
Hampden
Marco Vincent Atwater, Ann Maria Bianchi, Alexander E. Black, Anthony O. Cicero, Victoria A. Davenport, Alyssa Demetrius, Ryan Johnathon Fitzgerald, Nicholas T. Ford, Christopher Goossens, Alexander C. Laird, Daniel Michael MacGregor, Laura K. Morel, Ethan H. Moretti, Abaigh Rei O'Brien, Miranda Mayrene Polhemus, Kevin E. Rankins, Michael J. Talaia, Robert J. Villeneuve.
Harrisburg, Penn.
Madan Kharel
Hatfield
Matthew Przybyszewski
Harriman, Utah
Marisa De la Barra
Holland
Pierce Hennessey Burgess, Nicolas P. DeSantis.
Holyoke
Abdiel Acevedo, Abigail Almeyda, Arianna Yonda Ketchakeu, Ashley Lussier, Cooper Quinn Muller, Daniel Serafin Flores, David William Fleming, Denise Michelle Morales, Dialis M. Santiago, Dwayne Rhodes, Eddy H. Lam, Erika Noelle Kovalski, Kiara L. Gonzalez, Liza Adele Galazka, Louangie Bou-Montes, Magaly Diaz, Mary Elizabeth Leblanc, Naisha Mabel Caraballo, Sabrina Roman-Hernandez, Samantha Pinero, Shailene Sanchez, Yimara Liz Maldonado, Yodaris Mangual.
Housatonic
Nathan Richard Turner
Huntington
Justin Leis, Berta Warner
Hyde Park
Ricardo Pierre Magny, Stephano Pierre Magny, Monique Selden-Riley.
Indian Orchard
Poku Atta, Jasmine Dominique Brown, Debra L. Donahue, Aneta Gordievsky, Gekari Tareek Lowe-Hargrove, Aileen Millan, Talisha M. Moore, Kimberly Michelle Quinonez, Jordan Tyrese Richardson-Polk, Marilyn L. Rosa, Alexander Sanchez, Jazmine Alexsandra Sepulveda, Joshua Torres.
Irving, Texas
Rocio M. Caceres
Lakeville
Devin Lindsey Veilleux
Lee
Jack Ian Fox, Eugeniu Savaliuc
Leeds
Virginia Bromberg
Longmeadow
Kemi Latifat Anoje, Rozita Chen, Jared Ezer, Daniel Blake Harder, Patrick Jon Kelly, Brody Killeen, Savannah T. Loreto, Theresa Lynn Loschiavo, Robyn E. Miller, Bhavin Rajendra Mistry, Adrian Moniz, Michele A. Nehmer, Jenna K. Rome, Kelley-Ann Ann Ross, Amanda S. Varteresian.
Lowell
Craig Krikorian
Ludlow
Yormandy Almonte, Caleigh Ann Bingham, Zachary Roland Boyer, Lara Sofia Cadete, Agata Magdalena Cieslak, Alyssa Heather Cote, Sercan Demirci, Candace M. Desrochers, Robert F. Duquette, Alycia Katelyn Eugenio, Jonathan Noah Fortune, Noelle Celia Fradette, Pierre J. Grenier, Fred Samuel Hallo, Sydney Taylor Howard, Julianna B. Johnson, Ashlyne Wambui Khayesi, Amber Lynn Lafrancis, Ashley A. LaPatin, Robert Paul Lizak, Benjamin P. Lovell, Sara Elizabeth Maria, Cristian Antonio Matic, Kerri Lynn McCauley, Alexis C. Melling, Melissa A. Methot, Xiaoyu Yang Moutinho, Dale A. Pereira, Jake Leanor Pereira, Ariana E. Quesnel, Sebastian A. Rivera, Matthew James Saloio, Anthony Vieira, Sydney Therese Webb, Evan Christopher Wurszt.
Monson
Amanda Long Nu Barrett, Nicole Marie Bedard, Arianna Grace Buchanan, Jan-Michael Demaio, Alijhalis Love Dias, Matthew F. Donovan, Nicholas James Farquhar, Frances M. Hayden, Katie Rose Jones, Jessica A. Lara, Lauren R. Nothe, Stacey Lee Piwcio, Joshua M. Raymond, Lily Helen Rondeau, Darrleen P. Welden
Montague
Sarah Toomey
Needham
Swanson Bloodworth
North Adams
Desire Wanjiku Wanyoike
Northampton
Nova Denoncourt, Stephanie M. Gleason, Kate Frances Jones, Nathaniel Mohrman, Calyx A. Moore.
Orlando, Fla.
Melesa K. Stephens-Norris
Pahokee, Fla.
Jordyn Dawn Walkes
Palmer
Amanda Jane Ciecko, Madison Kiley Degnan, Kaitlyn M. Douglas, Savannah Nicole Granger, Nathan Paul Keith, Zachary Michael Menard, Jennica Sablak, Kaylah Elizabeth Sheppard, Michael Alex Thivierge, Beth A. Valley, Caleena Rose Welsh
Peterborough, N.H.
Reef Rogers
Pittsfield
Penny Ankamah, Selina Marie Guerrero, Jennifer S. Lander
Reading
Nathanael J. Davenport
Somers, Conn.
Michael William Dalessio Jr., Caleb Cecil Harmon.
South Deerfield
Brandon James Boudah
South Hadley
Matthew Robert Badger, Leon Davis, Nathan R. Dennis, Fiordaliza Guzman, Hannah Elizabeth Kincaid, Amber Calyn Lewinski, Emelie Alibaya Lyszchyn, Mariela Del Carmen Moreno-Saravia, Carly Grace Opalenik, Stephanie A. Smith, Zachary T. Tebo, Megan Mary Vieira
South Windsor, Conn.
Bena Michele Salerno
Southampton
Kayla Frances Burgielewicz, Catherine Marie Hotham, Rebecca Lee Murphy, Shawna Renee Sullivan, Lauren Rae Willhoite
Southwick
Isabelle Iris Belisle, Scott Burns, Benjamin Conner Cleland, Sean Knowlton, Kellie Marie Laroche, Lyudmila Solokhin, Christopher Michael Turgeon, Darina Viktorchuk.
Spencer
Allison Lucille Wiater
Springfield
Shaniya Toynett Aaron, Eduardo Arturo Acosta, Rosanna Dominga Acosta, Bridget Akrasi, Omar M. Alhalabi, Shahed Mohamad Said Alhalabi, Pricilla Elaine Alvarado, Oriamor Alvarado-Hernandez, Lilliana Alvarez, Alyahna Arce, Steven Arias, Jessica Marie Arroyo, Denise Ayala, Sharayvia Ayala, Juwayriyah B. Ayed, Qwamarie V. Baez, Cesar Augusto Beard Espinosa, Mia Gabrielle Bechard-Vigo, Ayanna A. Belnavis, Annalydia D. Bermudez, Wendolyn D. Billingsley, Ben William Blair, Ari R. Blanton, Malissa M. Boone, Christine Kelly Borrero, Kasper Borucki, Kayla A. Bourque, Lestasha Bradford, Autumn Tayler Bradway, Latavia Ariona Brown, Lee Rafael Reyes Brual, Lee Gabriel Reyes Brual, Shanequa L. Bruce, Michael S. Buckley.
Brie Amber Bulley, Jesselle Latriece Burgess, Vincent Richard Bussolari, Jenna Calderon, Nathan Allen Cantino, Olga Caraballo, Hajar Carter, Asmaa Carter, Jade Castillo, Ann M. Chapman, Mihail Chelsau, Breeanna Leigh Clarke, Nataliz E. Claudio, Leah Shaniece Cole, Stephanie Marie Colon, Janece Chanel Cooley, Jayda Marie Correa, Sergio Cruz, Ebony Karisma Cuttino, Lilibeth A. De La Mota, Adrian Del Rio, Joanna Del Rosario, Alixandrea Leigh Del Valle, Osvardo Delvalle, Jr., Nathan Omid Djavi, Franz H. Dolegeal, Mina Salah Dreah, Tiba Salah Dreah, Destini Marie Duran, Emilee Ann Egan, Malak Elkadri, Paul Douglas Emerson, Tatiana D. Errar.
Niriani Yexeni Escalante, Ulysses David Escobar, Laisha Penelope Espinal, Eric Kwabena Essel, Courtney Nikki-Rae Evans, Kelsey Famiglietti, Kiana Lyn Felix, Carter Field, Abdiel Ivan Figueroa, Jose Miguel Flores, Brian Patrick Ford, Shawna Sherona Gabbidon, Javier Enrique Garcia, Maria A. Garcia, Brittney S. Gill, Tianna Marie Glucksman, Altagracia Gomez, Amelia Gonzalez, Ana Paula Gonzalez, Marilyn Gonzalez, Jorge Raul Gonzalez, III, Angie Granger, Patrick D. Graves, Gloria Guerrero, Casey Hallowell, Alexander Michel Hamel, Noah Andrew Hanks, Mason Harris, Elorm Akua Hayibor, Mary Hebert, Ian Anthony Henry, Yariniz Marie Hernandez, Erick R. Herrera Alvarez, Shameeka M. Higgs, Mairyn Hill, Daqonda Humphries, Marie Anne Jacques.
Brooklyn Sinclair Jones, Denissa Zuleyma Juarez Escalera, Daniel Lukasz Karczynski, James Stuart Karl, Brian Edward Kelley, Willie A. Kinlaw, Jr., Lya Kolb, Bernard Vincent Kopecky, Jr., Svetlana A. Korobkov, Sadie Marie Kristopik, Lillian Thi Lam, Jeremy M. Ledoux, Torry Lee, Shenieka Olivia Lewis, Gianna Liberti, Nathanial William Lopes, Brandon E. Lopez, Kimberly M. Lopez, Angel Gabriel Lugo Cappas, Jennifer MacIsaac-Purchase, Georgina Stephanie Maende, Emily Maldonado, Nahiomy Liz Martinez, Yovanny Martinez, Efy Ruby Matamoros, Caleb Mattsson-Boze, Franklin Phillip Mayhew, Paskel Renae McDonald, Lindsay M. McMahon, Aracelis Medina, Genesis Marie Medina, Liannybeth Medina, Julio Mejias.
Jose L. Millan, Jr., Rafael Gabriel Miranda, Sharmake Abdikadir Mohamed, Tyler Zachary Morales, Ala Mourad, Brandon Lee Moya, Eric Moya, Davonte L. Narcisse, Mario Santos Nascimento, Khai Quang Ngo, Baoxuan Ngoc Nguyen, Khuong Duy Nguyen, Ngoc Dan Thanh Nguyen, Susan Nguyen, Tim Brandon Nguyen, Samuel Kevin Mwaura Njambi, Martine Noble, Nya M. O'Neal, Anaeli Ocasio, Hadiya Kamil Ogal, Jesse Olsson, Gina Orengo, Jalen Dash Ortiz, Jenny Lee Ortiz, Jocelyn Areya Ortiz, Maria Rosa Ortiz Perez, Anthony Jose Ovalles, Kesha M. Padilla, Christopher Robert Pandoli, Samara Davina Anne Park, Kush Patel, Shanice Larinda Paulk, Nicole Ashley Pelletier, Jonathan David Peloquin, Adriana Pena-Pascual, William J. Penkala, Jr.
Almanda Perez, Osmerlyn Eliodoro Perez, Danielle M. Plumadore, Zoyie Plunkett, Melanie A. Poehler, Gary Robert Provencher, Jerriah Seline Prude, Jayson Alexander Quinones, Erin D. Rady, Anna Luisa Ramos, Cedric D. Rankins, Julie Marie Renaud, Paul Anthony Reynolds, Iliana Marianita Rivera, Irleany Marie Rivera Ruiz, Kalia Arraya Roberson, Amaya Michelle Rodriguez, Armando Miguel Rodriguez, Danyari Rodriguez, Noeshla M. Rodriguez, Rosa Iris Romero Santiago, Yasmeen S. Ross, Ihsan S. Salman, Michelle Andrea Sanchez, Shaylene Sanchez, Yolimar Sanchez, Sebastian De Jesus Sanchez Capellan, Sara Seekins, Lai'shaa Ymonie Sepulveda, Fayadh Prince Shah, Kathryn Marie Sharpe, Meredith A. Siana, Anthony Clinton Sikand.
Stephanie A. Silk, Jazzmine Simmons, Brooklyn Slater, Avanell Smith, Eileen Smith, Travis J. R. Smith, Lennox D. Stampp, Jr., Brianna Helen Stellato, Natasha Marie Suarez, Lorenza Mariel Sullivan, Amy K. Sumowski, Camillle Taylor, Tyreese John Thomas, Matthew Isaiah Toledo, Roxana Toledo, Alissa Marie Torres, Brianna Torres, Elizabeth Torres, Jordan Andre Torres, William N. Torres, III, Ashley N. Tosado, Bryan Trinh, Justina Trinidad, Mohamed K. Turay, Brittany M. Turner, Marissa Vancini, Emelyn Carmen Vasquez, Jayda Lynn Vazquez, Mykaeila Ivelise Vega, Nathan L. Velazquez, Marian A. Villalobos, Sanders P. Voltaire, Salma Wangamati, Vincent Washington, Robin M. White, Destiny Elaine White-Spencer, Chiniqua K. Williams Kenyatta Williams, Barrett Allen Williamson, Victor Ian Williamson, Kaycee Wilson, Melissa R. Wood, Lakya Taliyah Wyche
Sturbridge
Samantha Hunt
Suffield
Nathan Sickle
Sunderland
Gillian Rose Ledoux
Three Rivers
Corin Mae Latulippe, Lilly G. Wlodyka
Turners Falls
Sarahbean Ann Muzzi, Joel Rodriguez
Vernon, Vt.
David Chartier
Ware
Jamie L. Dauksewich, Jacquilynne R. Mendes, Grace Ellen Mitchell, Kathryn Elizabeth Pluta, Austin Cody Steele.
Webster
Paul W. Thomas
West Brookfield
James Michael Woods
West Halifax, Vt.
Kaylynn Marie Gaskell
West Springfield
Maimuna Alhassan, Bryan Michael Bengle, Casey R. Bridges, Brogan S. Brodsky, Mahailey Silvia Butler, Allan D. Cangelosi, Iryna Cherykava, Andrea Clark, Christian Duquette, Amy L. Everett, Max J. Forgette, Alexandra J. Fuller, Jeffrey D. Gagnon, Anita Gritskevich, Sofiya Khodunova, Katherine Jessica Koshechko, Mark Francis Krejmas, Jr., Tessa Kimberly Lombardi-Williams, Cole Christopher Lozinski, Isaiah Antonio Martinez, Alexander Russell McCabe, Nielle Garcia Montoya, Zachary Louis Morin, Lady Viviana Ortiz, Kevin Pham, Michelle Ritucci, Ilie Rosulschi, John Joseph Ryan, Jr., Nicholas J. Sanders, Briana Shyann Smith, Jharna Tamang, Charles Matthew Taylor, Thao Thai, Dina Timofei, Nicole Vila, Songul M. Yakhuzova, Maryam Yusuf.
West Suffield, Conn.
Sarah Cunningham
West Warren
Samuel Ray St. Laurent
West Warwick, R.I.
Joao Vitor Ivankio Sudul
Westborough
Min Tae Kim
Westfield
Bhima Devi Acharya, Aminah Bergeron, Liliya Ivanovna Biley, Katrina Brockington, David Scott Chalmers, Samantha Rachel Cunha, Candice Lynette Curran, Pasha Divorenko, Keyana Marie Dorsey, Shaunna E. Feyre, Kayla Garvey, Marina Anatoliy Gavrilyuk, Thea Glenzel, Artsem Ivanou, Solomiya Kirik, Allen Richard Kominsky, Willard Joseph Kopatz, Victoria Heather Kravchuk, Melanie Mary Lysenko, Kyrylo Malov, Jack Masciadrelli, Christina Menard, Rosali Mendez, Raphael Paul Morganelli, Alice Mosijchuk, Ciara Murphy, Ahmed Naser, Ethan Michael Pighetti, Daniel Racine, Joseph A. Russo, Nicole Marie Ruszala, Muaz Sadique, Roshan Shankar, Mary A. Stefanik, Tatyana Stepanchuk, Karyna O. Stets, Sarah M. Sullivan, Joshua Charles Eddy Towse, Jedi L. Vazquez
Wheelwright
Janelle Paradis
Wilbraham
Juan A. Alvarez, Rebecca Ellen Andre, Aidan Caban, Allison B. Catellier, Connor D. Courtney, Jack David Dumala, Anna K. Dyrkacz, William Cameron Kline, Ashley Lauer, Kailey Elizabeth Leclerc, Sofia Marie Manuel, Shelby S. Pace, Janan K. Patel, Alexander Charles Perry, Gracie Erica Pighetti, Grant E. Rauscher, Kirsten Leah Ryan, Heather Michelle Sasen, Natalie L. Scott, Isabella Rose Silva, Caleigh Ann Smith, Daniel Eric Tracy, Madison Nicole Trombley, Brooke Carly Vartanian, Jon Roman Wegrzynek, Zeinab Younes.
Interested in applying to STCC? Visit stcc.edu/apply or call Admissions at (413) 755-3333.
About Springfield Technical Community College
STCC, the Commonwealth's only technical community college, continues the pioneering legacy of the Springfield Armory with comprehensive and technical education in manufacturing, STEM, healthcare, business, social services, and the liberal arts. STCC's highly regarded workforce, certificate, degree, and transfer programs are the most affordable in Springfield and provide unequalled opportunity for the vitality of Western Massachusetts. Founded in 1967, the college – a designated Hispanic Serving Institution – seeks to close achievement gaps among students who traditionally face societal barriers. STCC supports students as they transform their lives through intellectual, cultural, and economic engagement while becoming thoughtful, committed and socially responsible graduates.