STCC art gallery to feature abstract art by L.G. Talbot in September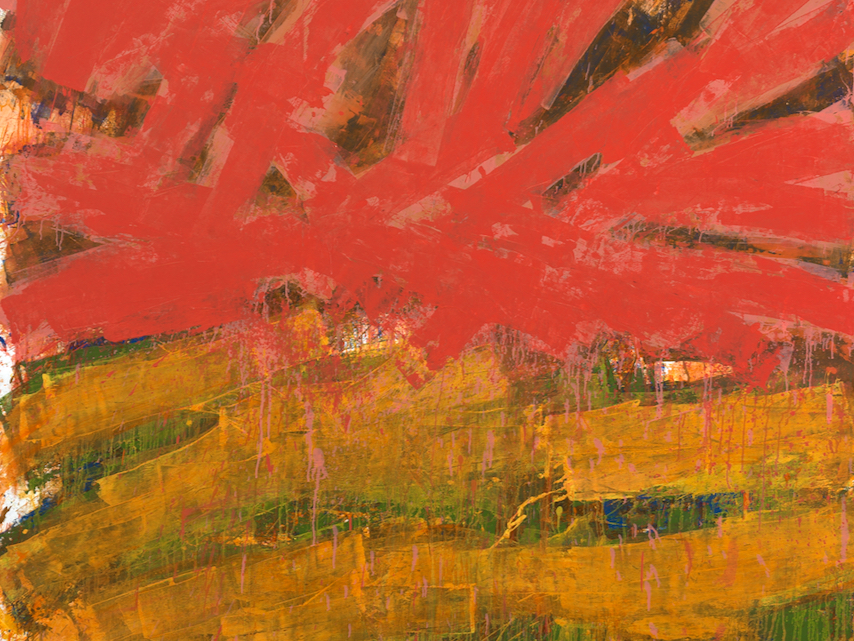 SPRINGFIELD, Mass. – The Amy H. Carberry Fine Arts Gallery at Springfield Technical Community College presents the exhibition "Abstracted" by Canadian-born artist L.G. Talbot on view Sept. 6-Sept. 30.
"My paintings convey a distillation of lived experience," Talbot says on her website. Her canvases explore a bold color palette and thickly textured compositions of pure abstraction.
Talbot's recent paintings from 2021 and 2022 represent a shift in practice due in part to the pandemic. Before the pandemic, Talbot sketched compositions with charcoal, then erased and drew directly on the canvas again with thick black oil bars to demarcate borders.
Now, working exclusively with palette knives, she establishes color fields more quickly and builds up layers of paint in more muted, earth tones. Consequently, physical engagement with materials and an elegant economy in composition have become signature aspects of Talbot's larger-than-life-sized oil paintings that now define her practice.
Originally trained as a ceramicist, Talbot holds a master's degree from Lesley College in Boston and a B.F.A. from the University of Tennessee in Chattanooga. She attended the Penland School of Craft, Bakersville, N.C., studying under Robert Turner, and the Appalachian Center for Craft at Tennessee Tech University, Smithville, Tenn.
Her work has been exhibited in numerous solo exhibitions, including the Five Points Gallery in Torrington, Conn., and at Hampden Gallery at the University of Massachusetts, Amherst, as well as group exhibitions throughout New England. Visit lgtalbot.com to learn more.
Carberry Conversations, presented by Springfield Technical Community College's Amy H. Carberry Fine Arts Gallery, continues on Friday, Sept. 9, 12:15 p.m. with a virtual conversation between associate professor and gallery coordinator Sondra Peron and exhibiting artist L.G. Talbot.
The event will be held over Zoom. Visit stcc.io/conversations for a registration link.
All Carberry Conversations are free and open to the public via Zoom. Please register in advance.
Carberry Conversations is a series of virtual talks throughout the academic year between Peron and several past exhibiting artists whose work has been on view at the Amy H. Carberry Fine Arts Gallery since 2013 and STCC's very own art faculty. Conceived in response to the ongoing pandemic, these conversations function as a space to connect working artists and photographers to STCC and the Greater Springfield community covering a wide variety of topics.
The exhibition and associated events are supported in part by the School of Liberal and Professional Studies (LAPS) and the Fine Arts (A.A.) program.
About the Gallery
The Amy H. Carberry Fine Arts Gallery at Springfield Technical Community College features works by artists of local and national repute as well as STCC student work. The gallery is located in Building 28, first floor, on the Pearl Street side of the STCC campus. The gallery is supported in part by funding from the School of Liberal and Professional Studies. Find the Amy H. Carberry Fine Arts Gallery on Facebook or follow on Twitter @STCCArtGallery.
About Springfield Technical Community College
STCC, the Commonwealth's only technical community college, continues the pioneering legacy of the Springfield Armory with comprehensive and technical education in manufacturing, STEM, healthcare, business, social services, and the liberal arts. STCC's highly regarded workforce, certificate, degree, and transfer programs are the most affordable in Springfield and provide unequaled opportunity for the vitality of Western Massachusetts. Founded in 1967, the college – a designated Hispanic Serving Institution – seeks to close achievement gaps among students who traditionally face societal barriers. STCC supports students as they transform their lives through intellectual, cultural, and economic engagement while becoming thoughtful, committed and socially responsible graduates.
MEDIA CONTACT:
Jim Danko, (413) 755-4812, jdanko@stcc.edu