STCC Back to Business Career and Transfer Fair opens door to opportunities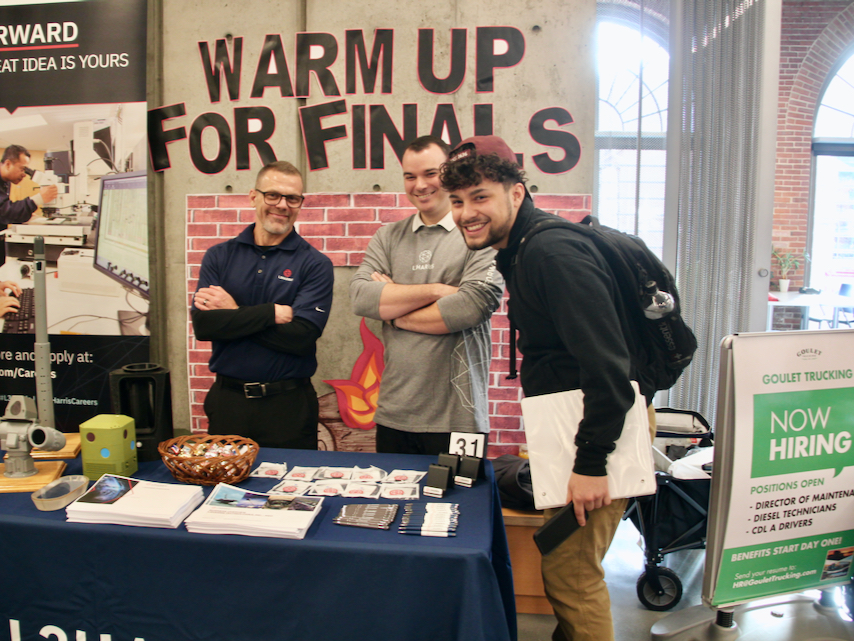 SPRINGFIELD, Mass. – Springfield Technical Community College helped the region get "back to business" with a career and transfer fair that attracted students, alumni and friends of the college.
The STCC Back to Business Career and Transfer Fair on Thursday, Dec. 8, featured 39 employers and 10 colleges and universities. Representatives set up tables and answered questions. Some STCC student groups also were on hand to recruit for their organizations.
"We're supporting students today by putting before them some of the top employers from the region and beyond," said Dr. Shai Butler, Vice President of Advancement and External Affairs. "They have job openings and career opportunities. In addition, we have colleges and universities here to help them with their academic plans after STCC."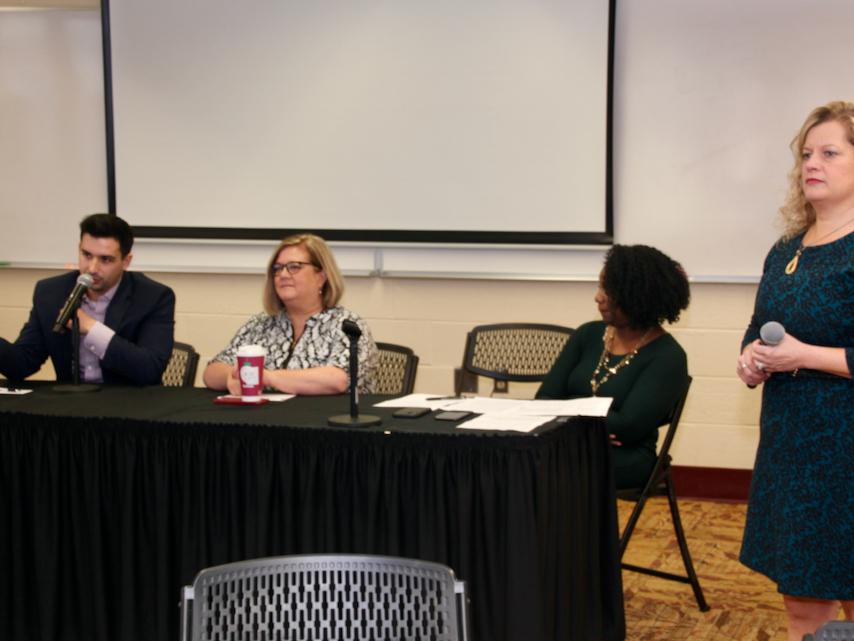 The day started early with a breakfast for employers who had a chance to hear a lively panel discussion featuring human resource experts discussing hot topics. They talked about recruitment, employee relations and retention as well as issues such as "quiet quitting," hybrid work schedules and more.
During the career and transfer fair, attendees had a chance to get professional headshots. STCC also offers resume preparation and helps students prepare for interviews.
Mariah Flores of Springfield, a nursing student, said she came to the fair to look for employment opportunities as well as talk to colleges and universities. She plans to seek a bachelor's degree after graduating from STCC in the spring.
"I am trying to broaden my horizons and see what specialty I went to focus on," she said. "It's great to see everyone here and the students engaging with everyone."
Representatives from colleges and universities talked to students about continuing their education. The University of Massachusetts, Amherst, and Westfield State University highlighted affordable transfer programs that provide seamless pathways and financial incentives to start at STCC and transfer to a state college or university. They include the MassTransfer and Commonwealth Commitment.
I am trying to broaden my horizons and see what specialty I went to focus on. It's great to see everyone here and the students engaging with everyone. Mariah Flores,

STCC student
"Many students transfer from STCC to Westfield State University because it is an affordable means to continue with their bachelor's degree," said Joanna Lenfest, assistant director, Transfer Admission, at Westfield State University. "The Massachusetts Transfer program helps to streamline the application process for students and allows a seamless transition."
UMass, Amherst, and Westfield State University are the top four-year transfer institutions for STCC students.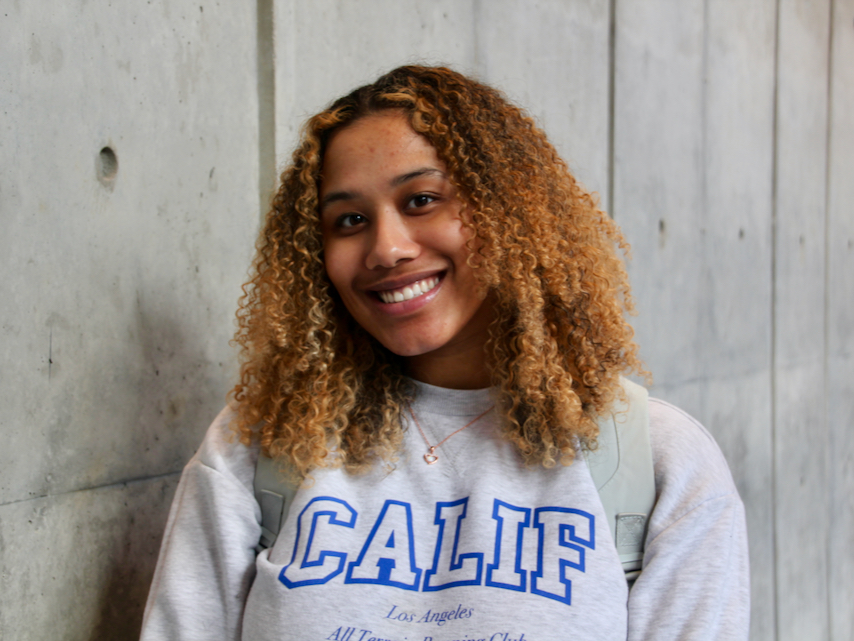 "We can help students make sure they are choosing the right classes at STCC that apply to their degree, so they stay on track and graduate on time," said Rosalee Scannell, associate director of MassTransfer admissions at UMass Amherst. "Through the MassTransfer program, STCC students can save money and make progress towards their bachelor's degree."
STCC's associate degree programs offer hundreds of pathways for transferring to a four-year college and university. STCC is the most affordable college in Springfield.
Jennifer Brown, president of the STCC Foundation Board of Directors and Senior Manager of Professional Sales at Masis Professional Group, met with students at the fair to talk about careers and employment.
"We're seeing a flow of students come through, and talking to a number of who are looking for part-time work while they're going back to school. They also are sharing what program they're in at STCC and what they might be looking to do after they graduate," Brown said. "This is definitely an opportunity to plant some seeds with some great talent."
Companies are hiring and are eager to talk with students and graduates of STCC, Brown said.
"The students I spoke with asked about hybrid opportunities and remote work – I think mainly because of a work-life balance," she said. "Others are open to going into an office. It's a matter of balancing it out with school and home life, We're seeing that over in the workplace as well."
Michael Harvey, senior recruiter at Eppendorf, a life science company that makes products for labs and hospitals, said the career fair at STCC presents an opportunity for students to network with employers.
"I'm glad schools like STCC are doing this for their students to give them an opportunity to see what's out there in the marketplace," Harvey said.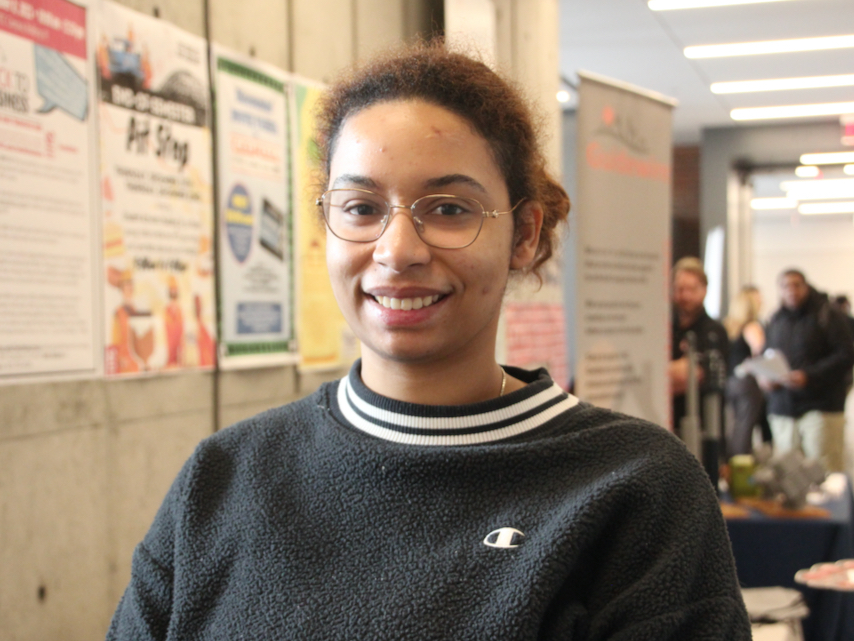 He said Eppendorf is looking to hire STCC students for a number of positions, including assembly, manufacturing, machine operator and general office jobs, among other positions.
Student Valeria Cruz of Springfield, who is studying human services and social work, said she came to the career fair to learn more about employment opportunities.
"I will be graduating next semester so I feel like it's something I have to start keeping track of," Cruz said.
Cruz said she appreciates that STCC hosted the Back to Business Career and Transfer Fair.
"I really like STCC," she said. "Out of all the community colleges, this is probably one of the best ones. I feel like the guidance the school provides is like no other place, and I really like that."
Interested in applying to STCC? Visit stcc.edu/apply or call Admissions at (413) 755-3333.
About Springfield Technical Community College
STCC, the Commonwealth's only technical community college, continues the pioneering legacy of the Springfield Armory with comprehensive and technical education in manufacturing, STEM, healthcare, business, social services, and the liberal arts. STCC's highly regarded workforce, certificate, degree, and transfer programs are the most affordable in Springfield and provide unequaled opportunity for the vitality of Western Massachusetts. Founded in 1967, the college – a designated Hispanic Serving Institution – seeks to close achievement gaps among students who traditionally face societal barriers. STCC supports students as they transform their lives through intellectual, cultural, and economic engagement while becoming thoughtful, committed and socially responsible graduates.
MEDIA CONTACT:
Jim Danko, (413) 755-4812, jdanko@stcc.edu