STCC biotech program opens the door to a career in a growing field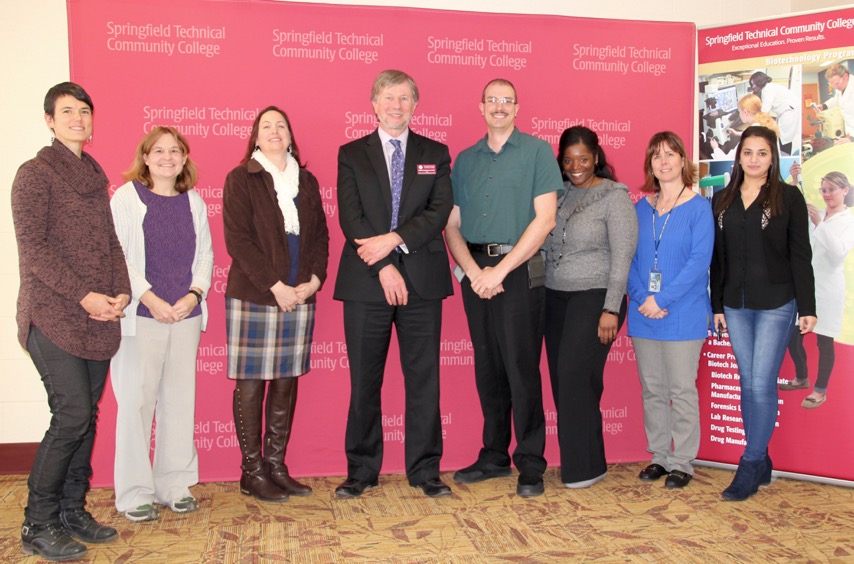 SPRINGFIELD, Mass. – At a time when biotechnology jobs are hitting an all-time high in Massachusetts, Springfield Technical Community College offers one of the few degree-granting programs in Western Massachusetts that can train students for careers in the booming industry.
To raise awareness about the program, STCC on Nov. 20 hosted a Biotechnology Career Exploration Luncheon for students and a tour of STCC's state-of-the-art biotech labs.
The career exploration event featured insights about the STCC program and biotech industry from current students, alumni, and employer and four-year college representatives.
"There are more opportunities now than ever to get good jobs in Massachusetts," said Dr. Lisa Rapp, biotechnology department chair at STCC. "The state has the highest concentration of biotechnology and pharmaceutical companies in the world."
While the industry is growing rapidly, Rapp noted that biotechnology often is not on the radar of people considering their career options. The STCC program may be a good option for any high school or college student interested in science or anyone considering a career change who wants to be a part of an exciting field.
Biotechnology encompasses a broad range of applications that use living organisms such as cells and bacteria to make useful products. Current applications of biotechnology include industrial production of pharmaceuticals such as vaccines and insulin, genetic testing, DNA fingerprinting and genetic engineering of plants.
There are more opportunities now than ever to get good jobs in Massachusetts. The state has the highest concentration of biotechnology and pharmaceutical companies in the world. Dr. Lisa Rapp,

Biotechnology department chair at STCC
According to the industry trade group MassBio, jobs in the Massachusetts biotechnology and pharmaceutical (biopharma) industry grew 4.8 percent in 2016. Companies created more than 3,000 new jobs that year.
Employment in the industry has grown 28 percent since 2007, according to MassBio. Over the past 10 years, the state has invested $1 billion into life sciences. Massachusetts Gov. Charlie Baker recently renewed the state's commitment to the industry when he announced a five-year, $500 million life sciences "2.0" initiative.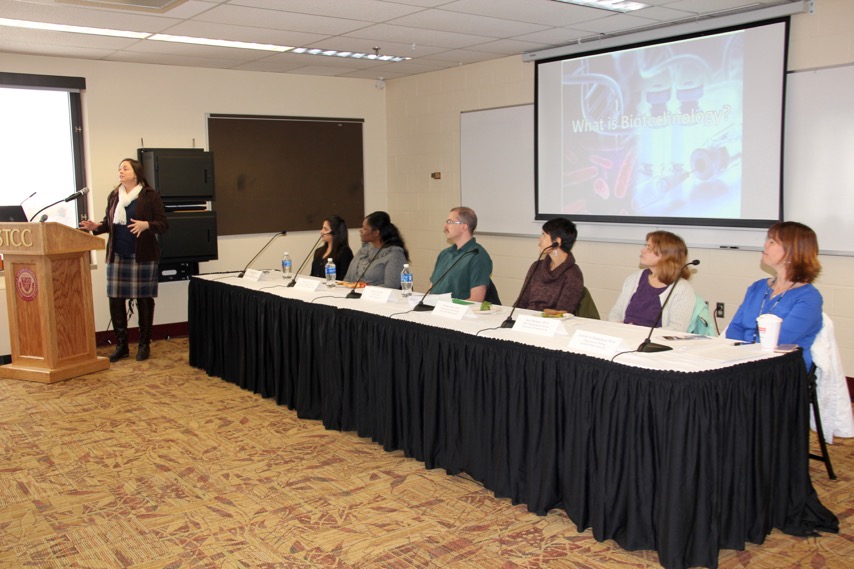 Since 2012, STCC has received $375,000 in grants to enhance the biotechnology program. Students use cutting-edge equipment and supplies to learn current techniques used in the biotech and pharmaceutical industries.
"Our curriculum is designed to meet the ever-expanding need for trained biotechnology personnel, Rapp said.
Students who complete the two-year program earn associate degrees in biotechnology and can apply for jobs in the biopharma industry. Graduates can also consider applying to four-year institutions to pursue higher degrees in biotechnology.
"The growing field of biotechnology requires skilled lab scientists and researchers across the Commonwealth," said Dr. Jennifer A. Hanselman, professor and chair of the Department of Biology at Westfield State University.
Dr. Amy Springer, lecturer and chief undergraduate advisor at UMass Amherst, said, "Biochemistry and molecular biology principles are critical in a number of growing fields in health and technology, and having a fundamental knowledge in these topics provides a student with translatable skills suitable for a range of areas, including discovery research, medical diagnostics, treatments and engineering, and environmental science."
If you're interested in applying to STCC's Biotechnology program or have questions, call Admissions at (413) 755-3333. You can also apply online at www.stcc.edu/apply.
About Springfield Technical Community College
Founded in 1967 and located on 35 acres of the Springfield Armory National Historic Site, STCC is a major resource for the economic vitality of Western Massachusetts. As the only technical community college in Massachusetts, STCC, a designated Hispanic Serving Institution and an Achieving the Dream Leader College, offers a variety of career programs unequalled in the state. STCC's highly regarded transfer programs in business, engineering, liberal arts, science and technology continue to provide the most economical options for students pursuing a four-year degree. With an annual enrollment of more than 7,700 day, evening, weekend and online students, STCC is a vibrant campus rich in diversity.
For more information about STCC, visit www.stcc.edu. Follow us on Facebook and Twitter (@S_T_C_C).
PHOTO CAPTIONS:
TOP PHOTO
From left: Heather Reed, Ph.D., undergraduate program director for the Department of Microbiology, UMass Amherst; Amy Springer, Ph.D., lecturer, chief undergraduate advisor, UMass Amherst; Lisa Rapp, Ph.D., Biotechnology Program chair, STCC; Robert Dickerman, Ph.D., dean of the School of Science and Engineering Transfer, Nathan Gumlaw, STCC alumni, scientist, Staff I, Sanofi Corp., Framingham; Tawana Jewell, STCC alumna; adjunct professor, Department of Biological Sciences; and former supervisor of microbiology, Avista Pharma Solutions, Agawam; Jennifer A. Hanselman, Ph.D., associate professor and chair, Department of Biology, Westfield State University; and Sundus Rehman, current Biotechnology Program student, STCC.
BOTTOM PHOTO
Dr. Lisa Rapp, STCC Biotechnology Program chair, speaks at a Biotechnology Career Exploration Luncheon.
MEDIA CONTACT:
Jim Danko, (413) 755-4812, jdanko@stcc.edu