STCC celebrates 2021 graduates with a festive on-campus parade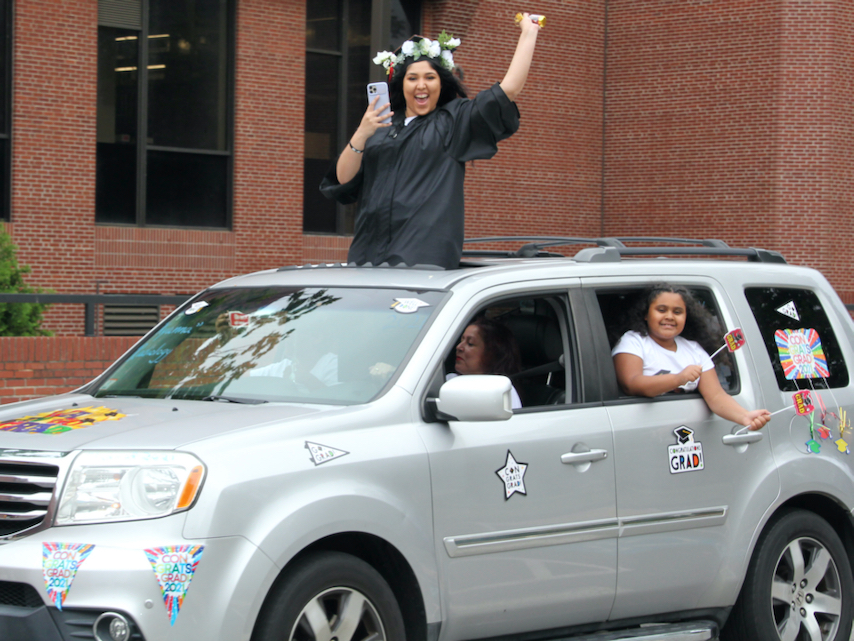 SPRINGFIELD, Mass. – Springfield Technical Community College students who spent a year studying mostly from home arrived on campus in cars for a parade celebrating their accomplishments in the face of pandemic-related challenges.
Many of the roughly 200 graduates drove through the campus on June 3 wearing their caps and gowns in cars decorated with balloons, streamers and signs congratulating them. Faculty, staff, administrators and members of the Board of Trustees lined Mary Killeen Bennett Way, which is the main road on campus, to cheer on graduates.
"The parade for us as students is a way of saying we beat the pandemic because we didn't let it ruin our accomplishment," said STCC graduate Benjamin MacKay of Hampden. "The parade is like the winners circle for us. Seeing all the faculty and staff that got us here congratulating us is a very rewarding experience. It's like a rite of passage, and the beginning of our lives."
Alessande Anderson of Springfield, who serves as the student representative to the Board of Trustees, said she and her graduating class were thrilled STCC organized a parade in their honor. The parade comes after a year of mostly online learning. Typically, STCC holds a commencement for graduates at the MassMutual Center in Springfield in the spring. Due to the pandemic, the college is holding a virtual commencement that will be streamed on YouTube on June 18 at 6 p.m.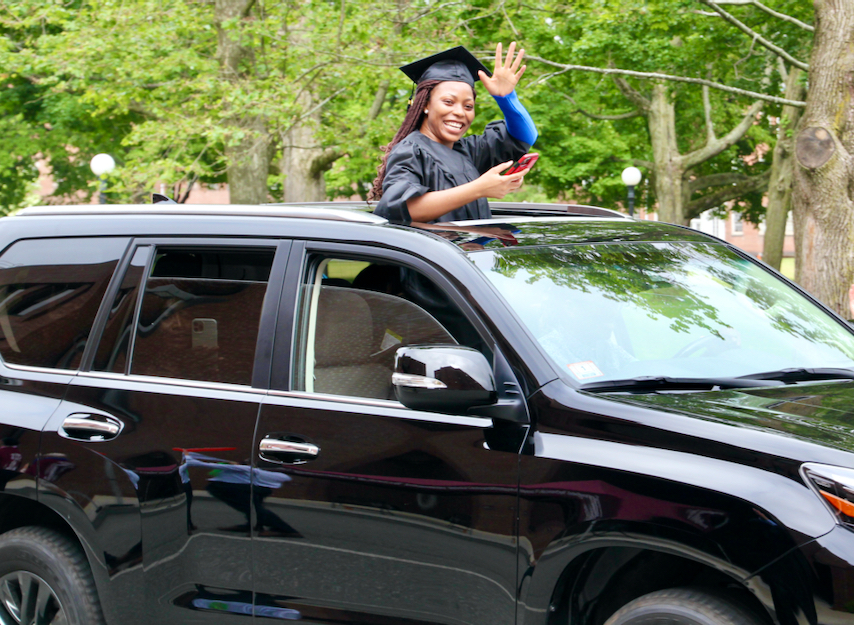 "COVID rules and regulations have been lifting, but we still can't have our normal MassMutual celebration with the stage and everything," Anderson said. "Luckily enough, the STCC community is just so great that they found a way to work around it."
Coming to campus to support the students were dozens of STCC's faculty and staff including President John B. Cook and members of the Board of Trustees.
Trustee and Board Vice Chair Elizabeth "Betty" Oleksak-Sposito applauded the students as they drove by.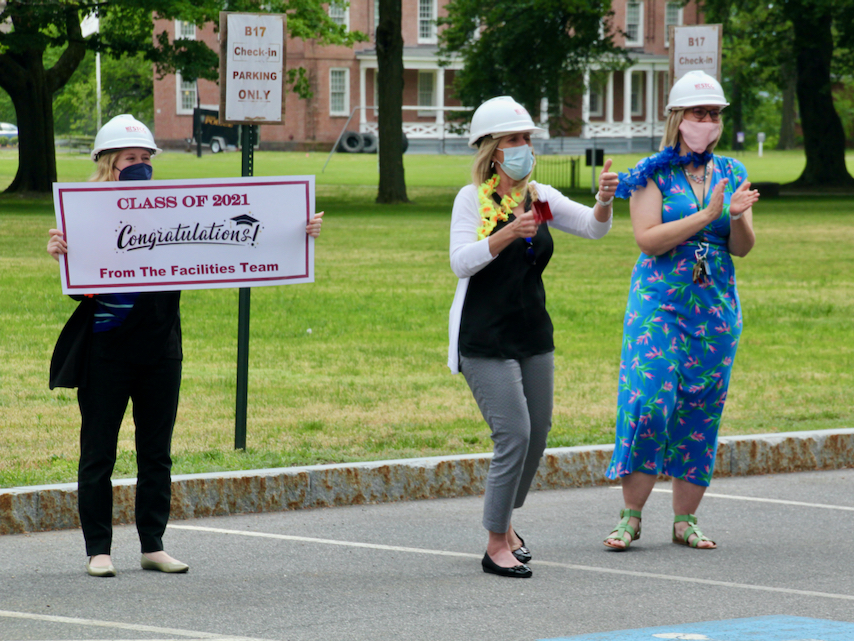 "So happy to have attended the graduation parade to celebrate the STCC class of 2021," Oleksak-Sposito said. "After studying through the COVID-19 pandemic, the students deserved a joyous event for their success achieved during tough times. It was fun waving and cheering them as they passed by.
Oleksak-Sposito, like some of the faculty and President Cook, wore academic regalia to honor the students.
Cook said, "The parade was a wonderful way to celebrate the accomplishments of our students. We are so proud of them for persevering during a challenging year. The air was filled with energy and positivity. It really felt like a sign of good things to come as we work to move past the pandemic."
STCC, the only technical community college in Massachusetts, is known for hands-on programs in the fields of health and science, technology, engineering and mathematics (STEM) as well as transfer programs in liberal arts. Despite the challenges of the pandemic, STCC in 2021 was ranked as the fourth best community college in the nation and second best in Massachusetts, according to Academic Influence, a college ranking system.
Interested in applying to STCC? Visit stcc.edu/apply or call Admissions at (413) 755-3333.
About Springfield Technical Community College
STCC, the Commonwealth's only technical community college, continues the pioneering legacy of the Springfield Armory with comprehensive and technical education in manufacturing, STEM, healthcare, business, social services, and the liberal arts. STCC's highly regarded workforce, certificate, degree, and transfer programs are the most affordable in Springfield and provide unequalled opportunity for the vitality of Western Massachusetts. Founded in 1967, the college – a designated Hispanic Serving Institution – seeks to close achievement gaps among students who traditionally face societal barriers. STCC supports students as they transform their lives through intellectual, cultural, and economic engagement while becoming thoughtful, committed and socially responsible graduates.
MEDIA CONTACT:
Jim Danko, (413) 755-4812, jdanko@stcc.edu