STCC celebrates graduates who passed their high school equivalency exam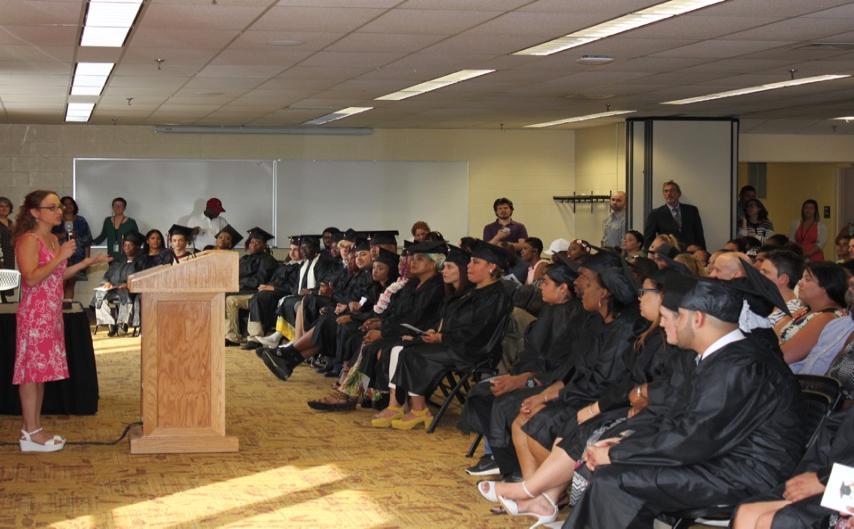 Instructor Alexis Greenblatt addresses graduates at the 2017 HiSET Celebration at STCC.
SPRINGFIELD, Mass. – Wearing his cap and gown, Sophear Chhoun stood at a podium at Springfield Technical Community College and told fellow graduates: "I dreamed this day would come."
Chhoun, who left high school 12 years ago, had just earned his HiSET (high school equivalency test) certificate, which will help pave the way to a better future.
One of the 61 students who passed the test this summer, Chhoun was the student speaker at the 2017 HiSET Celebration at STCC on July 26. In April 2016, he enrolled in free classes through the Springfield Adult Learning Center (SALC) at STCC, which offers Adult Basic Education Services. He's now looking forward to studying criminal justice at STCC in the fall.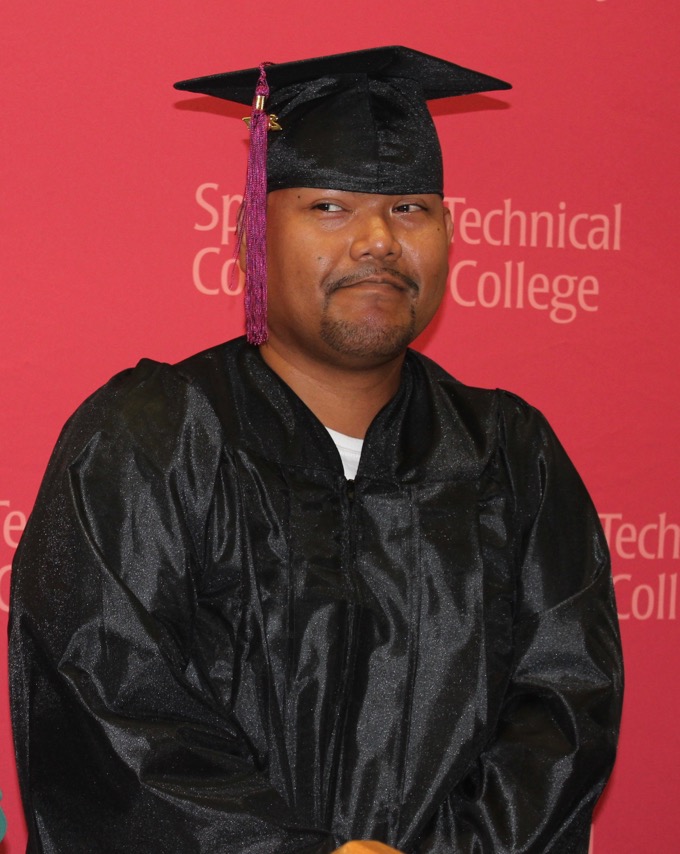 "You guys can do whatever you want as long as you put your mind to it," Chhoun told his classmates.
"He's proven himself to be a determined and dedicated student," said Barbara Bradbury, who along with Ana Sanchez is one of the Adult Basic Education coordinators at STCC. "He always knows how to make his classmates smile."
The Adult Learning Center at STCC prepares students to take the HiSET, which is actually five tests: social studies, reading, writing, math and science.
"It's about 12 years of combined knowledge," said Alexis Greenblatt, a SALC instructor. "You don't just take a test for one class – you don't just take a biology test – you're tested on chemistry, biology and physics. And you don't just take one little math test. You don't just take algebra. You have to know adding, subtracting, multiplying and dividing. You have to know algebra, geometry, proportions and ratios and statistics and probability. It's everything you learned from the time you were a kid up until you graduated. It's so much."
Greenblatt said adults who enroll in classes to prepare for HiSET likely faced an obstacle that prevented them from earning a high school diploma when they were younger: a learning disability, an unexpected pregnancy, a difficult home life or bullying, to name a few hardships.
You guys can do whatever you want as long as you put your mind to it. Sophear Chhoun,

2017 HiSET graduate
"If you're going to school and you're hungry or you're not safe or you have a struggle or something that gets in the way, you don't get to finish," Greenblatt told the graduates. "And I don't think there's a person who said, 'That's going to be great to not finish.'"
Dr. Arlene Rodriguez, vice president of Academic Affairs at STCC, congratulated the graduates for passing the HiSET exam and thanked their families for supporting them.
"You passed an even harder test the minute you walked in the door," Rodriguez said. "That is the hardest test. It's not an easy thing to do, to interrupt your life, to say, 'Stop, I'm going to do this for me and I need this.' So you passed an amazing test of character already."
For more information about enrolling in free classes to prepare for the HiSET, contact the Springfield Adult Learning Center at STCC: (413) 755-4300.
About Springfield Technical Community College
Founded in 1967 and located on 35 acres of the Springfield Armory National Historic Site, STCC is a major resource for the economic vitality of Western Massachusetts. As the only technical community college in Massachusetts, STCC, an Achieving the Dream Leader College, offers a variety of career programs unequalled in the state. STCC's highly regarded transfer programs in business, engineering, liberal arts, science and technology continue to provide the most economical options for students pursuing a four-year degree. With an annual enrollment of more than 8,500 day, evening, weekend and online students, STCC is a vibrant campus rich in diversity.
For more information about STCC, visit www.stcc.edu. Follow us on Facebook and Twitter (@S_T_C_C).
Media Contact:
Jim Danko, jdanko@stcc.edu, (413) 755-4812