STCC celebrates Hispanic Heritage Month with speakers and events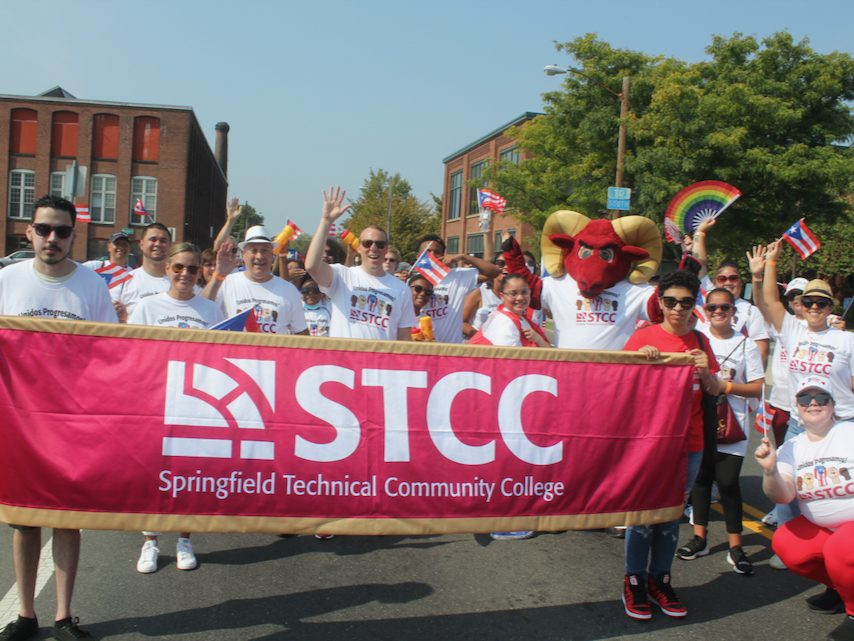 SPRINGFIELD, Mass. – Springfield Technical Community College will celebrate Hispanic Heritage Month Sept. 15-Oct. 15 with free events open to students and the public.
Events include guest speakers and an exhibit at the campus art gallery by a Mexican-born artist. In addition, STCC will send a contingent to participate in the Springfield Puerto Rican Parade on Sept. 17.
Vice President of Student Affairs Darcey Kemp said the events scheduled for Hispanic Heritage Month expose students and the Springfield community to diversity and show the accomplishments of people who might have backgrounds similar to their own.
"We are proud to recognize and celebrate the many contributions of people who identify as Hispanic, Latina/Latino/Latinx," Kemp said. "We hope to inspire our students and people in the community with the events planned over the next month."
STCC, the only technical community college in Massachusetts, is a federally designated Hispanic Serving Institution, which means at least 25 percent of the students identify as Latina/Latino/Latinx.
The following are planned for Hispanic Heritage Month:
Art gallery exhibit at STCC, Sept. 5-Oct 6: The Amy H. Carberry Fine Arts Gallery at STCC presents an exhibition titled "The Shell in the Clouds / El Caparazón en las Nubes" by Mexican-born artist Pável Acevedo. The gallery is in Building 28, the first floor. Acevedo, based in Los Angeles, will be in Springfield Sept. 20 and 21 for a series of in-person events focused on Hispanic Heritage Month, including an artist talk, meet and greet community reception, student engagement activities, demonstration of printmaking techniques, and a live Zoom broadcast of a Carberry Conversations interview. For more information, visit io/carberry.
National Hispanic Serving Institution Week (Sept. 11-17): This week commemorates the contributions of over 500 Hispanic-Serving Institutions nationwide, including STCC, in their work to advance postsecondary student success for all students.
Springfield Puerto Rican Parade, Sept. 17: Students, alumni, faculty, staff and friends of STCC are invited to join a contingent that will march in the parade beginning at 11 a.m. Marchers will depart between Main and Wason Avenue and pass through downtown ending at Boland Way and Main Street.
Carberry Conversations, Sept 20, 3 p.m.: A live Zoom broadcast of a conversation between professor and gallery coordinator Sondra Peron and exhibiting artist Pavel Acevedo.Link to Zoom interview: io/conversations.
We the Women (Hispanic Heritage Tapping into Our Creativity), Sept. 27, 12:15 p.m.: This speaker series, held in the Student Learning Commons (Building 19 Forum), celebrates achievements by women leaders. The series features Mydalis Vera, a self-published author who was born to a Puerto Rican mother with limited English proficiency. Vera is a passionate writer dedicated to bridging the gap between English and Spanish. Her work pays tribute to the legacy of her Guerrera foremothers while shedding light on the contemporary struggles and triumphs of Guerreras.
Diversity Speaker Series, Oct. 11, 12:15 p.m.: The Division of Student Affairs presents a talk by Olga Custodio in Scibelli Hall (Building 2) auditorium. Custodio, a trailblazing Latina who shattered gender stereotypes and achieved numerous milestones in the aviation industry, will give a presentation titled "Breaking Barriers: The Inspirational Journey of Olga E. Custodio in Aviation." From becoming the first Latina to complete U.S. Air Force Undergraduate Pilot Training to her distinguished career as a military pilot and commercial airline captain, Olga's story exemplifies the power of perseverance and determination. Through her pioneering efforts, she has not only realized her own dreams but also become a mentor and advocate, inspiring the next generation, especially women, to pursue their aspirations in aviation and beyond.
As a Hispanic Serving Institution, STCC will continue to highlight Hispanic and Latino/Latina/Latinx heritage throughout the year. The college will host a Vamos a Bailar (Let's Dance) event on Nov. 12.
About Springfield Technical Community College
STCC, the Commonwealth's only technical community college, continues the pioneering legacy of the Springfield Armory with comprehensive and technical education in manufacturing, STEM, healthcare, business, social services, and the liberal arts. STCC's highly regarded workforce, certificate, degree, and transfer programs are the most affordable in Springfield and provide unequaled opportunity for the vitality of Western Massachusetts. Founded in 1967, the college – a designated Hispanic Serving Institution – seeks to close achievement gaps among students who traditionally face societal barriers. STCC supports students as they transform their lives through intellectual, cultural, and economic engagement while becoming thoughtful, committed and socially responsible graduates.
MEDIA CONTACT:
Jim Danko, (413) 755-4812, jdanko@stcc.edu