STCC Computer Information Technologies degree creates opportunity after job loss
SPRINGFIELD, Mass. – Robert Goetting had an exciting career in publishing where he worked on popular books such as "Harry Potter" and the "Twilight" series, among other bestsellers.
But due to changes in the industry, his work was outsourced. He lost his job as a book designer, editor and proofreader and started thinking about a new career.
Goetting, who has a bachelor's degree in psychology, decided to enroll in the Computer Information Technologies Securities program at Springfield Technical Community College. Goetting chose CIT because he wanted to get a foot in the door in the growing field of cyber-security.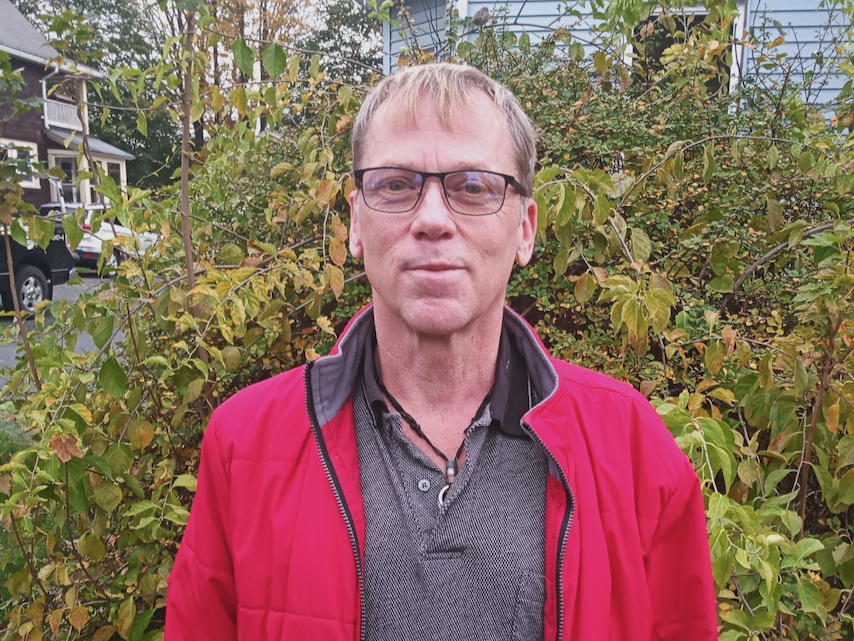 Goetting earned his associate STCC in the spring of 2020. Today, he works as an informatics educator at the Brattleboro Retreat, a psychiatric and addiction hospital in Vermont.
"I didn't even know what that was, but informatics is like data science. It's a merger of science, technology and service delivery," Goetting said. "My specific role is educating, and supporting our specific EHR (electronic health records) software package that we use for the company."
As part of his job, Goetting develops education materials for physicians and psychiatrists at the hospital in southern Vermont.
Goetting described the Brattleboro Retreat as a great place to work. He accepted the position after getting several offers. Because of the COVID-19 pandemic's impact on mental health, the hospital has seen an uptick in patients and is hiring for a variety of positions.
"We also employ nurses, medical billers and coders and social workers. In this current environment we're always looking for people," Goetting said.
Mike Hayes, principal clinical informatics analyst at The Brattleboro Retreat, said, "We are grateful to have Rob on our clinical informatics team at the Brattleboro Retreat as we support our organization's mission to provide excellent care to individuals suffering from mental illness, psychological trauma, and addiction."
After I received my degree at STCC, I received multiple job offers in the field. Robert Goetting,

STCC grad who earned a CIT degree
Hayes added, "His technical and professional skills have proven useful in our newest EHR-related education and projects. We look forward to seeing STCC on resumés in the future."
While he has a bachelor's degree in psychology, Goetting said his STCC degree helped him stand out as a candidate.
"After I received my degree at STCC, I received multiple job offers in the field. Out of 10 IT (information technology) jobs I applied for in the field, I received eight offers. And out of those eight, I received an offer for my dream job, which is the job I have now as informatics educator at the Brattleboro Retreat."
Professor Brian Candido, chair of the Computer Information Technologies program, remembers Goetting as a hard-working student. After getting laid off from his publishing job, Goetting was able to use a government program to pay for his education at STCC.
"Rob was very serious and motivated and did very well. With careful planning, he got done early," Candido said. "I'm proud of him and happy to hear he found a job he loves. The Computer Information Technologies program creates opportunities for our graduates to find dream jobs in many growing fields. It's not unusual for a graduate to receive multiple offers."
While at STCC, Goetting worked as a supplemental instruction leader, which is a peer tutor and a paying position. He was able to help students in the CIT program.
"What a wonderful opportunity for any of you that are looking to seek employment while you are obtaining your degree," he said. "I really enjoyed helping my fellow students and earning a little extra while I went to school."
Goetting looked back fondly at his time at STCC and thanked Professor Brian Candido and assistant professor Jason Alves for their support.
"Those two individuals do not need to be teaching at STCC. They don't do it for the money. They could be making a lot more working in private industry," Goetting said. "They teach at STCC because they care about the students and they want to, and they're very supportive. Both of them supported me in ways that I can't even describe."
Originally from the Midwest, Goetting relocated to New England in the mid 1990s for the beautiful scenery. He lives with his dog, Stella, in Bernardston, Mass., a small town near the Vermont border.
He keeps busy and has a variety of interests. After he graduated from STCC, Goetting wrote a juvenile fiction book called "Guardian Angel" under the pen name Bobby Elgee.
He is seeking to obtain his commercial drone pilot license and started a company called Yankee Drones. "One of my projects for one of my advanced security classes was actually hacking a drone," he said.
Goetting highlighted the value of going to STCC, which is the only technical community college in Massachusetts. STCC also is the most affordable higher education option in the region.
"STCC was very beneficial to me, considering the cost of the education and the return on the dollar," Goetting said. "Previously for 35 years I was working in the field of psychology. By obtaining a two-year degree from STCC, the next job I got – the job I have now – I more than doubled what I was making before. The education at STCC will have more than paid for itself with my first year of employment after graduating from STCC. It's a very good return on the dollar."
For more information about computer information technology programs at STCC and how to apply, visit stcc.edu/it.
About Springfield Technical Community College
STCC, the Commonwealth's only technical community college, continues the pioneering legacy of the Springfield Armory with comprehensive and technical education in manufacturing, STEM, healthcare, business, social services, and the liberal arts. STCC's highly regarded workforce, certificate, degree, and transfer programs are the most affordable in Springfield and provide unequalled opportunity for the vitality of Western Massachusetts. Founded in 1967, the college – a designated Hispanic Serving Institution – seeks to close achievement gaps among students who traditionally face societal barriers. STCC supports students as they transform their lives through intellectual, cultural, and economic engagement while becoming thoughtful, committed and socially responsible graduates.
MEDIA CONTACT:
Jim Danko, (413) 755-4812, jdanko@stcc.edu