STCC Dental Assisting program helps to meet the high demand for jobs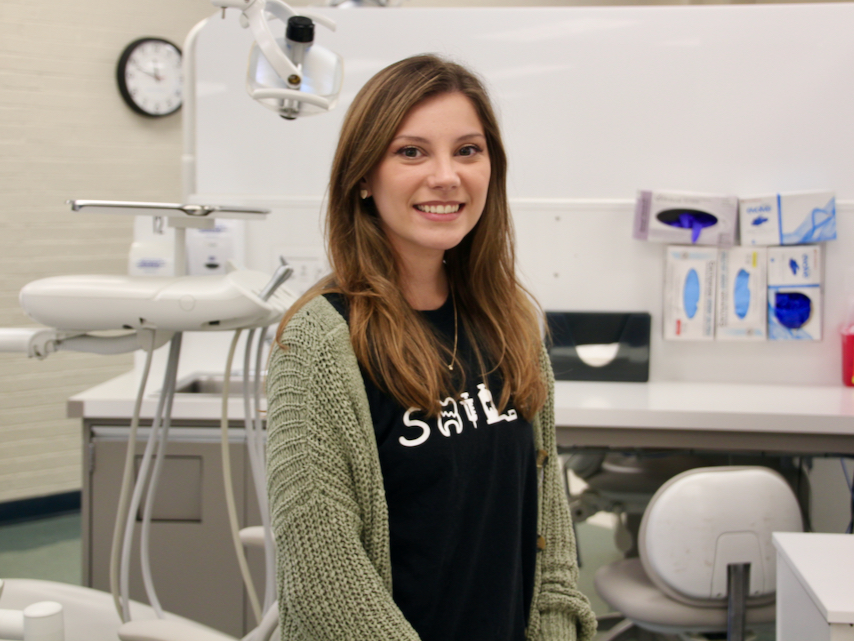 SPRINGFIELD, Mass. – For Amber Sosnicki, the Dental Assisting program was a pathway to a job in a dental office.
In her second semester, she was offered a position at a dental office – and she hasn't yet completed the program at Springfield Technical Community College.
"The job demand right now for dental assistants is crazy," she said. "Dental offices are looking to hire. You can make yourself very marketable too, because you know they need assistants. You're almost guaranteed a job when you get out."
Dental assistants prepare patients for procedures, from simple fillings to oral surgery. They assist the dentist with passing of instruments and performing suction, among other crucial tasks. They might do administrative work in the front of the office.
"You're in the heart of the office," she said. "Behind the scenes, assistants do a lot."
Sosnicki plans to apply for the Dental Hygiene program at STCC next spring. If accepted, she would become a student in the fall and pursue a two-year associate degree in dental hygiene.
"They made the Dental Assistant and Dental Hygiene programs very compatible," Sosnicki said. "The classes you take in the Dental Assistant program can transfer over to the Dental Hygiene program and give you credits."
If she is accepted into the Dental Hygiene program, she plans to work as a dental assistant, but may ask to cut back her hours because of the demands of the dental hygiene program.
Joelle Connor, Dental Assisting program chair and an associate professor, said she was excited for Sosnicki and all of her students.
The job demand right now for dental assistants is crazy. Dental offices are looking to hire. Amber Sosnicki,

STCC student
"Every student of mine has been offered a job," Connor said.
As part of the program, the students work in clinical externships in private practice. The practices all have asked the students to work for them.
"This is a great indicator of the job market, which is very hot right now," Connor said.
According to the Bureau of Labor Statistics, which measures labor market activity in the United States, the job growth rate over the next 10 years for dental assistants is 8 percent, which is faster than average.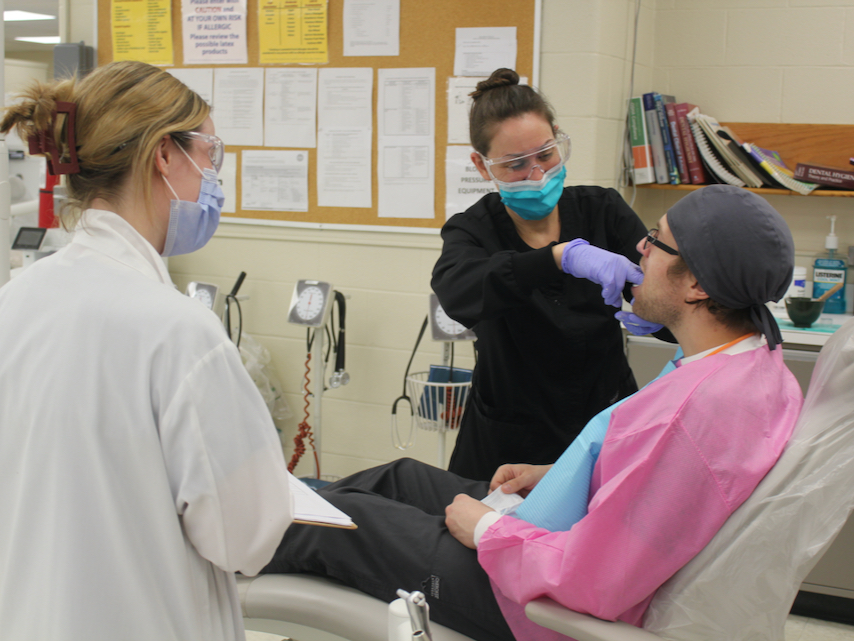 Sosnicki is thrilled to be a student in a program she loves with good job prospects. The 23-year-old said she found the Dental Assistant program after she went to a university but disliked her major.
"I wasn't enjoying myself, and I was wasting my parents' money because I wasn't happy," she said. "I took a year off and worked as a waitress while I tried to figure out what I wanted to do."
She met her boyfriend, who is a student at STCC. She decided to give STCC's Dental Assisting program a try.
"I found something I really liked," she said. "I thought about doing the prerequisites for the hygiene program, but the Dental Assisting program was such a good stepping stone. I also have a job right out of it while trying to get prerequisites done. It was a good option for me. A couple of students in the program are doing the same thing, so it's a great way to get to Dental Hygiene."
Sosnicki also recognizes that some students may not want to pursue a degree in Dental Hygiene. They don't need to, she noted. Students will be qualified for good jobs after receiving a Dental Assisting certificate.
"Dental Assisting is a career opportunity," Sosnicki said. "You don't have to do the program just to get into dental hygiene. There are amazing assistants out there, and you can make a career out of it."
Visit the STCC YouTube channel to watch a video of Amber Sosnicki discussing the program.
Interested in applying to STCC? Visit stcc.edu/apply or call Admissions at (413) 755-3333.
About Springfield Technical Community College
STCC, the Commonwealth's only technical community college, continues the pioneering legacy of the Springfield Armory with comprehensive and technical education in manufacturing, STEM, healthcare, business, social services, and the liberal arts. STCC's highly regarded workforce, certificate, degree, and transfer programs are the most affordable in Springfield and provide unequaled opportunity for the vitality of Western Massachusetts. Founded in 1967, the college – a designated Hispanic Serving Institution – seeks to close achievement gaps among students who traditionally face societal barriers. STCC supports students as they transform their lives through intellectual, cultural, and economic engagement while becoming thoughtful, committed and socially responsible graduates.
MEDIA CONTACT:
Jim Danko, (413) 755-4812, jdanko@stcc.edu