STCC hosts biotechnology high school teacher training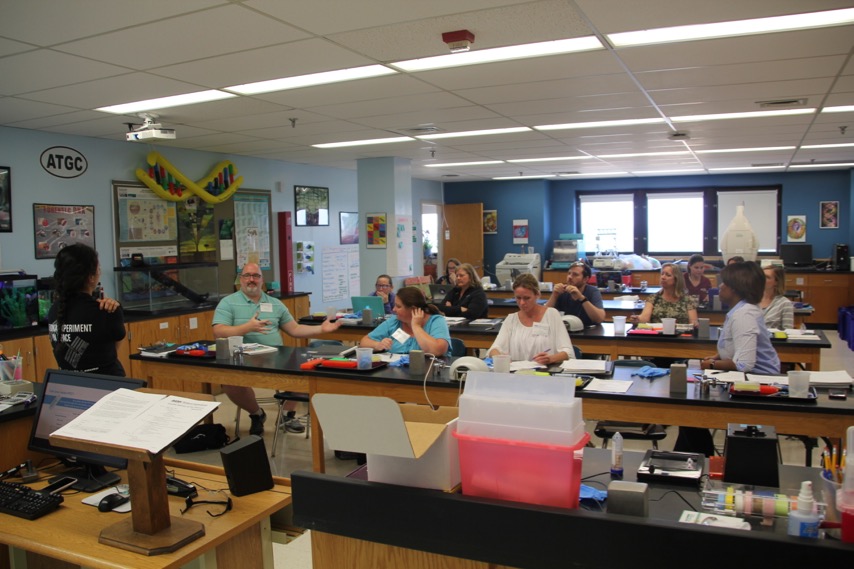 SPRINGFIELD, Mass. – East Longmeadow High School teacher Mary Jo Renear used to drive to Harvard University in Cambridge to learn how to use biotechnology equipment and molecular biology reagents.
In addition to the training during the summer, she would return to Cambridge during the school year to pick up the materials and bring them back to Western Mass.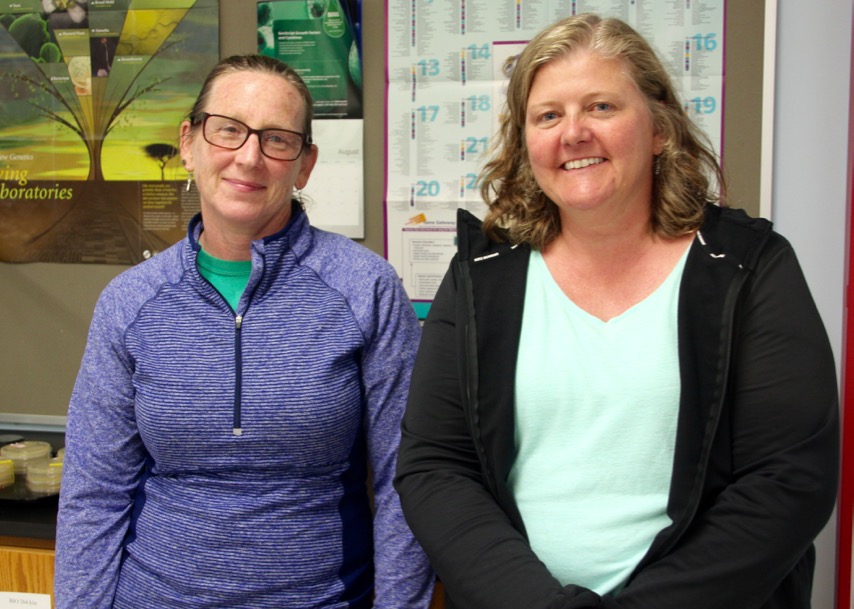 Now she drives to Springfield Technical Community College for the same training. When she needs material for her classroom, she comes to STCC, about a 15-minute drive from her high school.
"It's wonderful," she said. "It's so convenient."
This summer marked the third year STCC has hosted the Amgen Biotech Experience, a science education program that empowers teachers to bring biotechnology to their classrooms. The program – offered through the Life Sciences Outreach Program at Harvard University – provides teacher professional development, curriculum materials, biotechnology equipment, and supplies to secondary schools, according to the ABE website.
Amgen, a multinational biotechnology company, funds the program to enhance science education. The Massachusetts program began at Harvard six years ago and since has expanded to other locations in the state, including STCC.
For three days in July, Alia Qatarneh, site coordinator for the ABE program, came to STCC to train teachers how to use the equipment and reagents (chemicals and solutions) in their high school classrooms.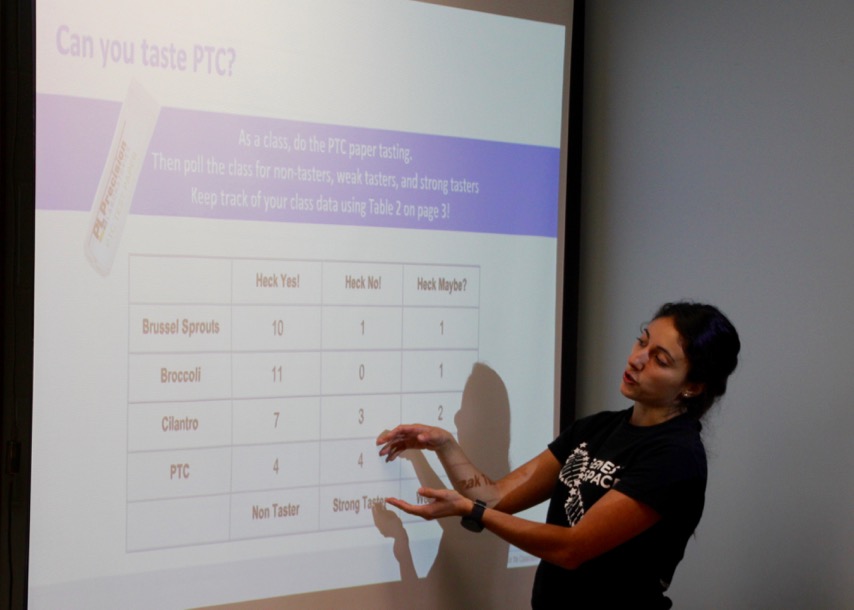 "The teachers have the need for the equipment and the reagents that we provide for the program. In the past they would have to make the two- or three-hour trek to Harvard to pick these things up," said Qatarneh, who is based at Harvard. "So to better serve those communities in Western Massachusetts and in Cape Cod, we proposed a grant to the Amgen Foundation asking to support satellite distribution sites. We have one here at STCC and one at the Marine Biological Laboratory in Woods Hole."
STCC President John B. Cook sees STCC as a good fit for the ABE program.

"We're pleased to offer our space and serve as the ABE program's Western Massachusetts location," Cook said. "At STCC, we not only have a focus on the STEM fields – science, technology, engineering and mathematics – but we have a tradition of service to our local community. It makes sense for us to open our doors to science teachers in the surrounding secondary schools."
STCC professor Lisa Rapp, the biotechnology department chair, said the ABE program at STCC makes biotechnology more accessible to Western Massachusetts students.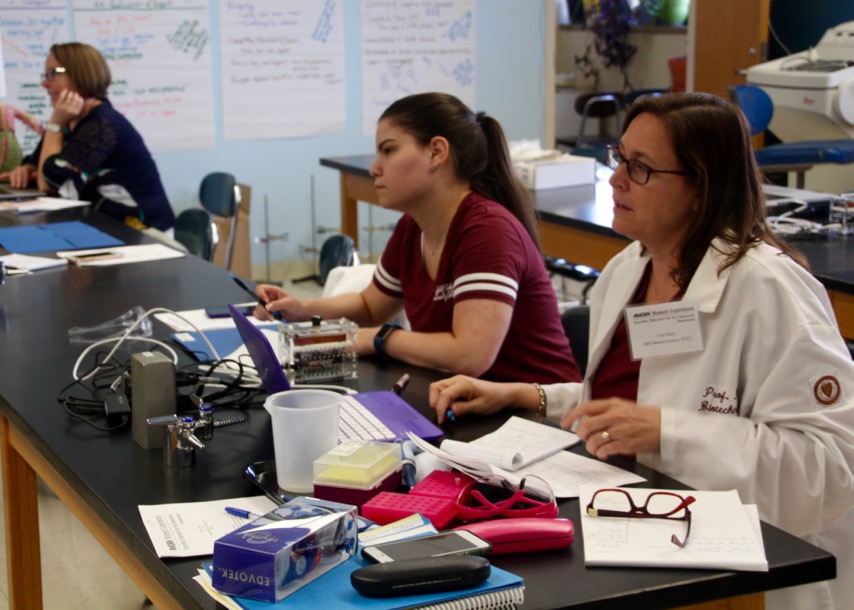 "This allows high school teachers to expose their students to biotechnology in an affordable way," Rapp said. "The students may not know how booming biotechnology is as an industry. Biotech graduates from STCC with a two-year associate degree are in demand in the job market. They can work as technicians in a range of industries, including pharmaceuticals, food and energy."
One of the program participants, Northampton High School teacher Cate Dollard, will be bringing equipment and reagents from STCC to her biology classes during the upcoming school year.
"It's amazing," Dollard said. "The students will receive skills they will be able to use whenever they're in a lab."
Dollard, who has participated in past training sessions, said her students enjoy working with the lab equipment. They're reminded of popular television shows like "CSI," where investigators use forensics to solve crimes.
The Amgen Biotech Experience program serviced about 7,000 students in New England during the 2017-2018 academic year, Qatarneh said. She said about 100 teachers participated in programs at STCC, Harvard and the Marine Biological Laboratory.
The teachers said they're thrilled when students return from college to say how much they learned in high school using the lab equipment.
"I love when they come back and say, 'We did this in freshman year in college and I was helping the other students learn to use the equipment,'" Renear said. "It shows that the education they were getting in the public school was a good education."
If you're interested in applying to STCC's Biotechnology program, visit stcc.edu/apply. If you have questions, call Admissions at (413) 755-3333.
To see jobs in this field, click here.
About Springfield Technical Community College
Founded in 1967 and located on 35 acres of the Springfield Armory National Historic Site, STCC is a major resource for the economic vitality of Western Massachusetts. As the only technical community college in Massachusetts, STCC, a designated Hispanic Serving Institution and an Achieving the Dream Leader College, offers a variety of career programs unequalled in the state. STCC's highly regarded transfer programs in business, engineering, liberal arts, science and technology continue to provide the most economical options for students pursuing a four-year degree. With an annual enrollment of more than 7,700 day, evening, weekend and online students, STCC is a vibrant campus rich in diversity.
For more information about STCC, visit www.stcc.edu. Follow us on Facebook and Twitter (@S_T_C_C).
MEDIA CONTACT:
Jim Danko, (413) 755-4812, jdanko@stcc.edu