STCC invites public to Health Careers Exploration night Nov. 16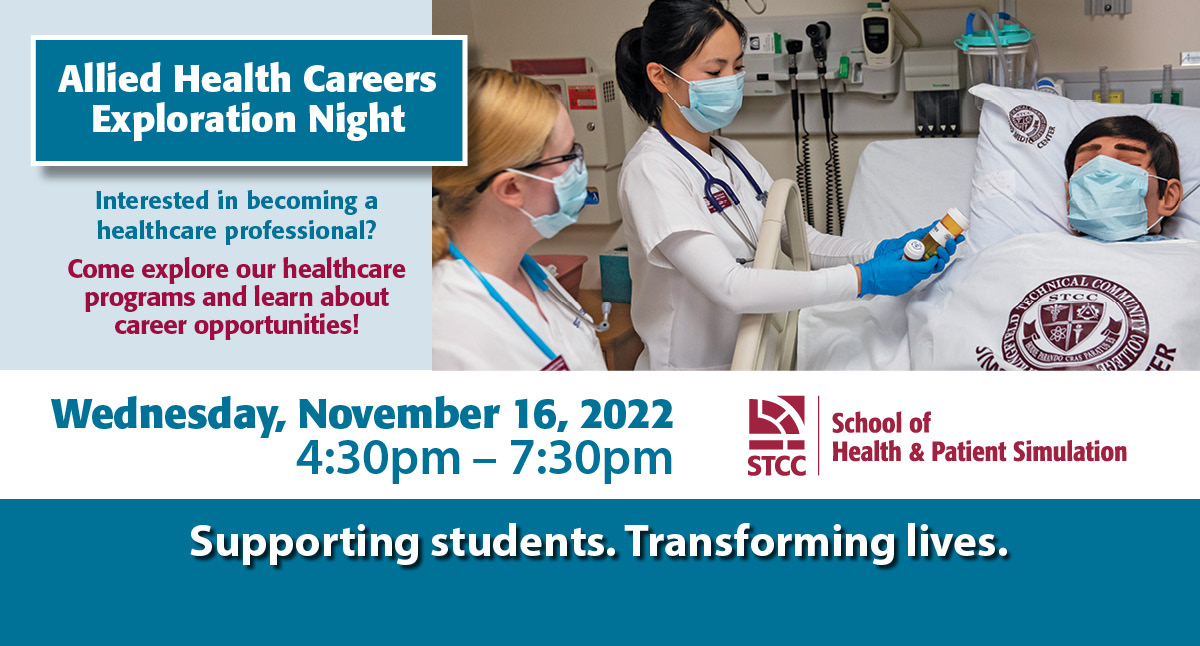 SPRINGFIELD, Mass. – Springfield Technical Community College will host Allied Health Careers Exploration Night on Wednesday, Nov. 16, an opportunity for anyone interested in becoming a health care professional to learn more about STCC's programs and see demonstrations with state-of-the-art training equipment.
Open to all students and the public, the free event will take place 4:30 p.m.-7:30 p.m. While no registration is required, visitors are asked to check in with organizers in the first-floor lobby of Building 20, on the Pearl Street side of the campus.
"We encourage anyone interested in learning more about our programs and health careers to attend," said Christopher Scott, dean of the School of Health and Patient Simulation. "We're opening our doors to high school students, STCC students who are in general studies or other majors, people thinking of changing careers – really anyone who wants to explore our programs and learn about career opportunities in the health field."
The night will feature tours of STCC's SIMS Medical Center, a nationally recognized patient simulation facility, and tours of departments. Visitors can meet faculty and current students and observe demonstrations and hands-on activities.
"This is a terrific opportunity to see if the health care field is a good fit," Scott said.
Prospective students can ask questions and experience hands-on opportunities that will allow them immersive experiences in each of the healthcare professions offered at STCC.
STCC offers more than a dozen programs to get started on the path to a health career, including:
Dental Assistant
Dental Hygiene
Diagnostic Medical Sonography
Emergency Medical Technician
Fire Science
Health Information Technology
Health Science
Medical Assistant
Medical Coding & Billing Specialist
Medical Laboratory Technician
Medical Office Administrative Assistant
Nursing
Occupational Therapy Assistant
Phlebotomy Technician
Physical Therapist Assistant
Respiratory Care
Radiologic Technology
Sterile Processing Technician
Surgical Technology
For more information, contact the School of Health & Patient Simulation. Email SHPS@stcc.edu or call (413) 755-7477.
Interested in applying to STCC? Visit stcc.edu/apply or call Admissions at (413) 755-3333.
About Springfield Technical Community College
STCC, the Commonwealth's only technical community college, continues the pioneering legacy of the Springfield Armory with comprehensive and technical education in manufacturing, STEM, healthcare, business, social services, and the liberal arts. STCC's highly regarded workforce, certificate, degree, and transfer programs are the most affordable in Springfield and provide unequaled opportunity for the vitality of Western Massachusetts. Founded in 1967, the college – a designated Hispanic Serving Institution – seeks to close achievement gaps among students who traditionally face societal barriers. STCC supports students as they transform their lives through intellectual, cultural, and economic engagement while becoming thoughtful, committed and socially responsible graduates.
MEDIA CONTACT:
Jim Danko, (413) 755-4812, jdanko@stcc.edu