STCC IT certification classes prepare students for jobs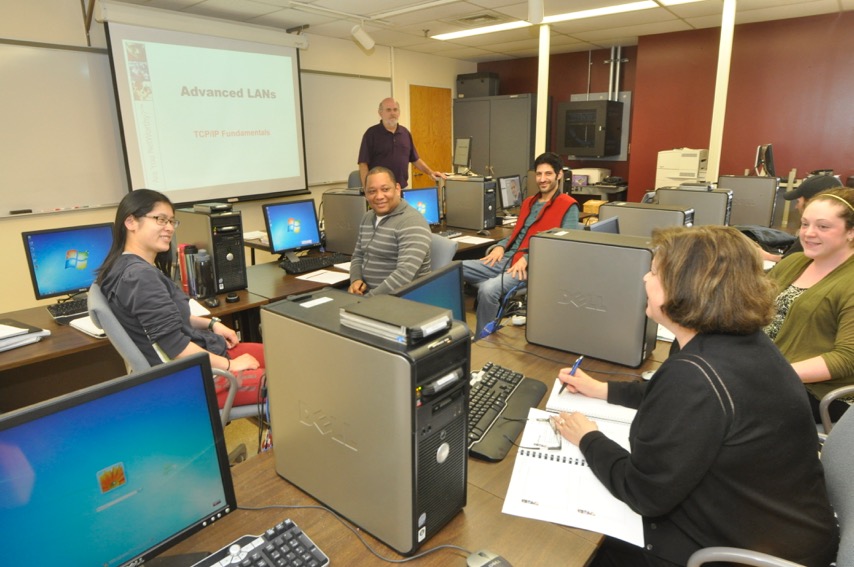 SPRINGFIELD, Mass. – At Springfield Technical Community College's Workforce Development Center, Jim Beane doesn't want to simply prepare students to get certified: He wants to prepare them for a career in the information technology field.
Beane, the director of Program Development and Professional Services for the Workforce Development Center, teaches and develops information technology (IT) certification courses at STCC, many of which are starting in October and November.
"If you need to know 10 things to get certified, I'm going to teach you 15," Beane said in a recent interview from his office. "I base my courses not on the certification, but on what you need to know to be successful in the field."
STCC offers an array of IT certifications through the Workforce Development Center, which includes noncredit programs like the ones Beane teaches, among other training opportunities. Visit the IT Certifications section of STCC's website to explore details of the information technology certifications, including dates when classes start: www.stcc.edu/wdc/it-certifications.
Most students who enroll in IT certification programs are not seeking an associate degree. Some are working in the IT field and need to acquire skills to advance in their careers. Others don't have any experience but want to get certified for entry-level jobs. Some students have lost their jobs and need to change careers.
Whatever background his students might have, Beane says the IT certification programs will give them a chance to earn the credentials needed to find employment or enhance the skills needed to take their careers to the next level.
Ashley Ryan of Westfield, who works full time during the day, has taken two certification courses taught by Beane.
Ryan said she's grateful STCC offers Workforce Development and IT courses at night, which allows her to complete her education in a non-traditional way. "Like many, I wouldn't be able to do this if STCC didn't offer courses like these."
"These certificate courses are set up for you to learn more than just how to prepare to take the certificate exam," Ryan said. "Mr. Beane shares his knowledge and experiences he has gained from his years in the field and relates that to the material given in class. The courses are very hands on, which I found exciting and helpful. Upon completion of the courses, I felt I've gained real experience I can relate to a potential job in the field – and not only a certificate based on textbook knowledge."
Beane's enthusiasm for teaching IT goes back to his years as a student at STCC. He became fascinated by the emerging technology when he was studying data processing in the early 1980s.
"As a matter of fact, I was in the class that opened the first IBM PCs here on campus, and basically I never left," he said. "I thought, 'These are cool. How do these work?" They were the old IBM PCs that had one floppy drive, 128K, which is crazy slow. But we thought it was crazy fast at the time."
After graduating from STCC, Beane worked part-time at the college for a few years before receiving a full time position in 1986, when information technology was still in its infancy. He received his bachelor's degree from Western New England College in 1989.
If you need to know 10 things to get certified, I'm going to teach you 15. I base my courses not on the certification, but on what you need to know to be successful in the field. Jim Beane,

IT certification instructor and program developer
"In the 1980s, I thought, 'I'll get into this and work at it hard for three years, then I can sit back," Beane said with a laugh. "Thirty-something years later, and I'm still working just as hard to stay up with it."
In the early 1990s, Beane worked in various computer-related roles at STCC. He grew interested in a new development called IT certifications. A trade association called the Computing Technology Industry Association (CompTIA) had recently formed and established certifications to set a standard in the industry.
Beane has earned more than a dozen IT certifications. He develops IT certification courses at STCC knowing that he has to update the curriculum constantly. In a rapidly changing industry, IT certification exams must be revised every three years.
"The first program I started at STCC was the PC/Network Technician Certification program," Beane said. "It's morphed over the years. After every run, I look at it and I see where the industry's going and I change it as needed.
"Since 1990, I've had to rewrite these programs maybe 15 times," Beane said. "We always have to stay on top of the curve."
The CompTIA membership allows STCC to offer discounted vouchers. "That's a big deal for most people," Beane said. "We're always watching for those kinds of things – how to best serve the student."
To better serve his students, Beane wants to make sure anyone enrolled in his classes gets more than just the bare credentials. That's why he bundled the PC/Network Technician Certification, which includes CompTIA A+ (the top certification to get an IT job) and two other certifications (CWTS Wireless Certification and Microsoft MTA Networking Certification).
"If people going through this program come out the other end," Beane said, "they're going to get interviews."
Beane created other certification programs designed for students with higher-level IT skills. One program was approved by the Massachusetts Unemployment Division, which means students can collect their unemployment insurance while training at STCC. In addition to learning about IT, students will receive resume writing and interview skills.
Regardless of the program students choose, they won't be required to sit through 40 hours of course work per week. The certification programs run 12 hours a week, which Beane said makes it easier to retain information.
"Our pass ratios are astronomical in the industry," Beane said. "We're well above 85-90 percent pass rates."
One of Beane's greatest joys, he said, is hearing from students who went through his program years ago.
"It's very rewarding when people call me up, or stop in my office," he said. "It might be someone who went through my program five or six years ago. They come in and say, 'Thanks, again. Without you, I wouldn't know where I'd be. I got a whole career from you. That's nice. I enjoy that."
To enroll in an IT certification program or to find out more information, visit www.stcc.edu/wdc/it-certifications or call 413-755 4225. To discover other programs offered through the Workforce Development Center, visit www.stcc.edu/wdc.
About Springfield Technical Community College
Founded in 1967 and located on 35 acres of the Springfield Armory National Historic Site, STCC is a major resource for the economic vitality of Western Massachusetts. As the only technical community college in Massachusetts, STCC, a designated Hispanic Serving Institution and an Achieving the Dream Leader College, offers a variety of career programs unequalled in the state. STCC's highly regarded transfer programs in business, engineering, liberal arts, science and technology continue to provide the most economical options for students pursuing a four-year degree. With an annual enrollment of more than 7,700 day, evening, weekend and online students, STCC is a vibrant campus rich in diversity.
For more information about STCC, visit www.stcc.edu. Follow us on Facebook and Twitter (@S_T_C_C).
Media Contact:
Jim Danko, (413) 755-4812, jdanko@stcc.edu