STCC launched vibrant career for director of nursing program at UConn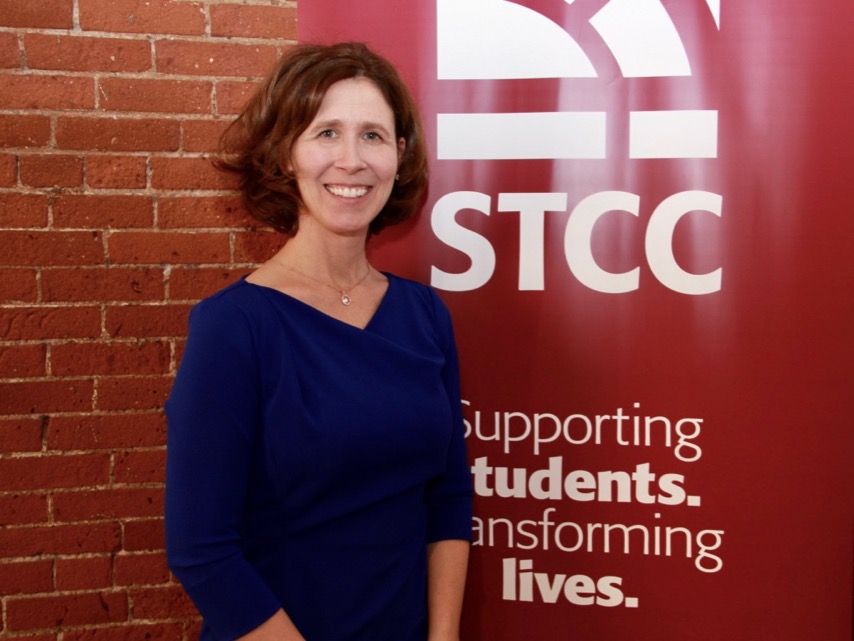 SPRINGFIELD, Mass. – Carrie Morgan Eaton considered going to a four-year university to get a nursing degree, but her parents offered some advice that she would cherish years later.
"They said Springfield Technical Community College has a fantastic nursing program. Why don't you apply?" Eaton said.
Eaton ended up applying to a four-year university – and to STCC. She was accepted to both, and chose STCC because it was the most affordable option.
"I came to STCC, probably not realizing how hard it was going to be," she said. "The nursing program was rigorous. It was the hardest two years of my life. In all of my education, through to my Ph.D., the two years of associate degree were very difficult. STCC prepared me well."
STCC helped Eaton get started on a journey in a career in nursing. She began as a pediatric nurse, then became a labor and delivery nurse after giving birth to her first child. She ended up going back to college and earned a Ph.D. in nursing.
Today, Eaton works as director of Simulation-Based Education at the University of Connecticut School of Nursing and also serves on the faculty. She continues to work as a labor and delivery nurse at Saint Francis Hospital in Hartford.
Her role as an educator and nurse has given her a unique perspective in the midst of the COVID-19 pandemic.
"As a bedside nurse and university professor, I feel the impact of the coronavirus pandemic on many levels," Eaton said. "Women who are expecting are apprehensive about their pregnancy and giving birth in a hospital during a pandemic. With tight precautions in place, visitors are limited in the delivery room, making the role of the nurse more valuable than ever before."
Eaton said the senior students are anxiously anticipating the opportunity to join the nursing workforce.
"I don't believe the global pandemic has deterred them in any way," she said. "Nursing is the most trusted profession, and now more than ever, the heart of what nurses do is in the forefront. The World Health Organization has rightfully recognized 2020 as the Year of the Nurse and Midwife. I have found senior nursing students are determined to practice nursing, even in the midst of an outbreak of a novel virus. There's nothing I love more than an undergraduate student who eventually becomes a nursing colleague. It makes me proud to be a nurse and a professor."
A resident of Union, Conn., she recently reflected on her time at the college and how it shaped her career. Eaton graduated from the nursing program at STCC in 1998. She recalled the professors were tough and demanding – traits that she says helped her in her career.
"They made me an excellent nurse and a better person," she said.
Some of her former professors, including Jacqueline McColgan, continue to teach at STCC and remember having Eaton as a student.
"The Department of Nursing faculty remember Carrie as a very conscientious student who was self-directed in achieving her goals and was a pleasure to work with," McColgan said. "We congratulate her on her many achievements in the nursing profession and we are proud that she is one of our graduates."
STCC's nursing program provides a pathway to a two-year associate degree. Students who graduate can seek employment or continue on for a bachelor degree or higher.
Eaton eventually received a doctorate in nursing, but she first worked in the field after earning her associate's degree. She said STCC students should not feel ashamed about getting a two-year degree.
Springfield Technical Community College is a wonderful place to receive your education. They produce fantastic nurses. They're caring and compassionate. Carrie Morgan Eaton,

STCC Nursing School Graduate, Class of 1998
"Everyone is always going to say, why didn't you get your bachelor's degree or why would you choose to get an associate degree? I heard it for many years," Eaton said. "They'd ask me why did you choose two year? I'd say, how many student loans do you have? And they would tell me the enormous amounts of debt that they have, and I would say I don't have any. Being strong in your convictions and realizing the education you receive at STCC is comparable and as strong as you would get at a bachelor's degree program."
STCC's nursing program represents an ideal option for students who might not want to commit to four years or don't have the finances to support a four-year degree, Eaton said.
"I tell them about my experience … and I tell them not to hesitate to apply. It's really an exceptional program. The name precedes itself," she said. "It's very hard to get into. It's rigorous and it has been for many, many years."
As director of Simulation-Based Education at UConn's School of Nursing, Eaton is a strong believer in using robotic technology to train students. STCC is home to the Northeast's largest patient simulation training facility. The SIMS Medical Center at STCC provides a clinical setting to train students as well as healthcare providers.
She recalls doing patient simulation at STCC when she was a student in the 1990s.
"It makes a world of difference for students if you know that you can go in and practice, practice, practice until you reach perfection – before you're working on the human patient. It makes a significant difference. It increases confidence. It's important for patient safety. It's actually a lot of fun," she said.
"Springfield Technical Community College is a wonderful place to receive your education," Eaton added. "They produce fantastic nurses. They're caring and compassionate. It takes a lot to get through the two years. I think they should be proud they are from Springfield Technical Community College. It speaks volumes."
Interested in applying to STCC? Visit stcc.edu/apply or call Admissions at (413) 755-3333.
About Springfield Technical Community College
Founded in 1967 and located on 35 acres of the Springfield Armory National Historic Site, STCC is a major resource for the economic vitality of Western Massachusetts. As the only technical community college in Massachusetts, STCC offers a variety of career programs unequalled in the state. STCC's highly regarded transfer programs in business, advanced manufacturing, healthcare, liberal arts, and STEM fields continue to provide the most affordable options for students pursuing a four-year degree. With an annual enrollment of about 7,000 day, evening, weekend, and online students, STCC is a vibrant campus rich in diversity.
For more information about STCC, visit www.stcc.edu. Follow us on Facebook, Twitter (@S_T_C_C) and Instagram (@stccpics).
MEDIA CONTACT:
Jim Danko, (413) 755-4812, jdanko@stcc.edu