STCC nursing student ready to step up to COVID-19 challenges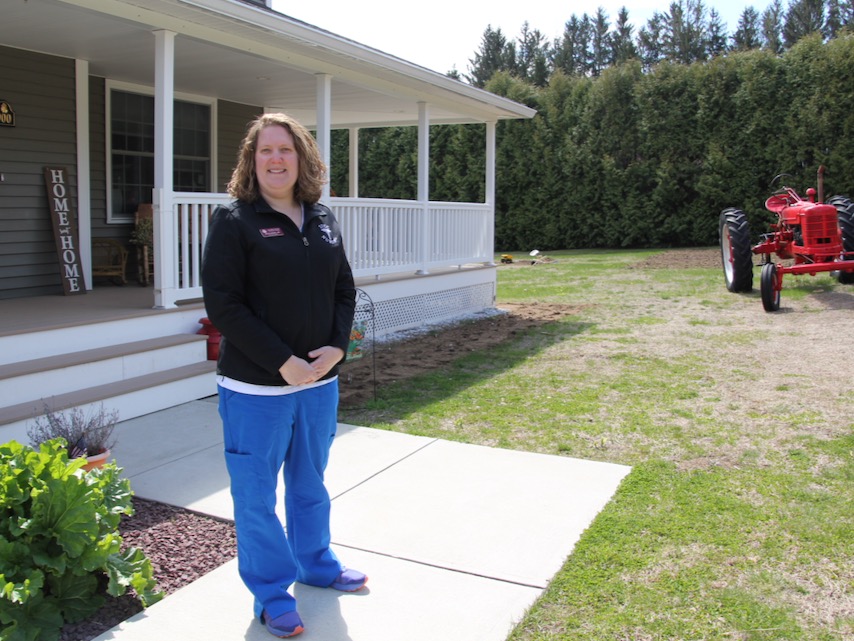 STCC nursing student Monica Aldrich, who will graduate at the end of May, stands in front of her home in Feeding Hills.
SPRINGFIELD, Mass. – Springfield Technical Community College nursing student Monica Aldrich is no stranger to working on the front lines during a pandemic.
Aldrich has served as a firefighter-paramedic for the town of Amherst for the past 14 years.
"I worked two 24-hour shifts each week throughout nursing school," said Aldrich, a Feeding Hills resident who will graduate at the end of May. "That does give you a different perspective as a student. It's different when you go out and see what's happening, as opposed to being confined at your home."
Over recent months, she has transported COVID-19 patients to the hospital. When a patient is suspected of being ill with coronavirus, Aldrich and her colleagues put on personal protective equipment, including goggles, a full gown and often a full face shield. They must wear the highly protective N95 masks on COVID-19 calls.
"When we come back, 'deconning' the ambulance takes a lot of time," she said, referring to decontaminating the vehicle. "Then we change our uniform and we'll shower. It is interesting, but it is stressful and it's time consuming."
Despite the challenges and inherent risks many healthcare professionals face, Aldrich loves working in her chosen field. She has been fascinated with the medical profession since she was a teenager.
"All of it started when I was really young and I thought about going to medical school. This is going to sound so corny, but I loved 'Rescue 911' as a kid," she said, referring to the early 1990s reality TV show about first responders and hosted by William Shatner.
Aldrich grew up in Agawam. After graduating from the former Cathedral High School in 2000, she went to Springfield College and in 2004 earned two bachelor's degrees: one in sports biology and another in emergency medical services management.
She started working as a firefighter-paramedic in 2006 with the thought that one day she would pursue a nursing degree. She met Richard Aldrich, who also works as a paramedic. They got married and now have two children, Madison, 3, and Jacob, 5. Two years ago, as her oldest was beginning preschool, she decided it was time. With encouragement from her husband, she applied and was accepted to the STCC nursing program.
It's a great program. They are not kidding when they tell you that you have to apply yourself. Monica Aldrich,

STCC nursing student
"I've been wanting to do it as long as Rich has known me," she said. "He pushed me forward. I had a few friends who had gone through the program and they talked very highly of it."
Aldrich, who was 35 years old when she returned to school, found the nursing program to be as advertised: rigorous and demanding.
"It's a great program," she said. "They are not kidding when they tell you that you have to apply yourself."
Aldrich described studying for many hours and fully immersing herself in the program when she wasn't working her job as a firefighter-paramedic.
"I missed both of my kids' first days of school because I was doing clinicals (interactions with patients in healthcare facilities)," she said.
Aldrich praised the professors for their commitment to supporting students. "They've all given us their personal phone numbers. That's not generally done, but it's vital and important," Aldrich said.
The nursing program at STCC offers a combination of classroom lectures and hands-on training in patient simulation in the nationally recognized SIMS Medical Center. Students also participate in clinical rotations in a variety of hospitals.
Due to the COVID-19 pandemic, STCC temporarily restricted access to campus and transitioned to remote learning for the remainder of the spring semester. Nursing students on the cusp of graduation had to adjust to a new way of learning.
"It was definitely not the way I envisioned finishing nursing school – at home at a computer," she said. "I think the professors have done a really good job at trying to integrate (computer applications and remote instruction) to give us a clinical aspect when we obviously can't be in the clinical field."
Aldrich said she will miss participating in traditions and ceremonies like the nursing pinning and the commencement, which is typically held at the MassMutual Center in Springfield. Like most colleges, STCC had to transition from face-to-face activities and events to virtual ones.
"It's been a big adaptation for everyone," she said. "I feel like the faculty are doing their best to help us get through it."
After earning her degree, Aldrich will start looking for work as a nurse. Her goal is to one day work in an emergency room or an intensive care unit.
"One of my big long-term aspirations is to take part in disaster planning as an RN (registered nurse) for hospitals," she said. "I can put all my past experience to use while working as a nurse."
Lisa Fugiel, director of nursing at STCC, said she was impressed with the way Aldrich juggled working, parenting and schooling.
"The nursing program is a full-time commitment," she said. "We suggest to incoming students that they work less than 20 hours a week. Monica is one of the few who worked full time. That's a credit to her stamina and determination to push herself and do her very best. Any healthcare facility will be lucky to have her as part of their team."
Fugiel said her senior students are looking forward to joining the nursing workforce, despite the challenges that lie ahead.
"This is certainly a unique time to be starting a career as a nurse," Fugiel said. "I don't think they are regretting their choice as they prepare to enter the workforce during a global pandemic. If anything, the COVID-19 crisis has underscored the value they bring. I'm proud of our students and the nurses who are on the front line. Now more than ever they are needed."
Interested in applying to STCC? Visit stcc.edu/apply or call Admissions at (413) 755-3333.
About Springfield Technical Community College
Founded in 1967 and located on 35 acres of the Springfield Armory National Historic Site, STCC is a major resource for the economic vitality of Western Massachusetts. As the only technical community college in Massachusetts, STCC offers a variety of career programs unequalled in the state. STCC's highly regarded transfer programs in business, advanced manufacturing, healthcare, liberal arts, and STEM fields continue to provide the most affordable options for students pursuing a four-year degree. With an annual enrollment of about 7,000 day, evening, weekend, and online students, STCC is a vibrant campus rich in diversity.
For more information about STCC, visit www.stcc.edu. Follow us on Facebook, Twitter (@S_T_C_C) and Instagram (@stccpics).
MEDIA CONTACT:
Jim Danko, (413) 755-4812, jdanko@stcc.edu